APSU Sports: Austin Peay Women's Track and Field

Columbus, OH – Austin Peay State University women's track and field team saw several athletes move up on the conference best lists at Friday's Buckeye Tune-Up at French Field House.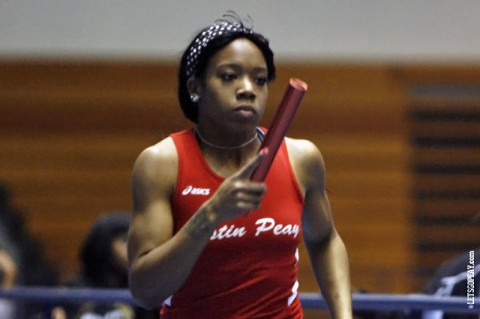 The 4x400m relay team had the top Lady Gov performance, Friday. Junior Taelor Slaugher, senior Chantelle Grey and freshmen Breigh Jones and Kymmalett Ross won the event with a 3:51.79 run, besting the field by more than a second and a half. The track conversion moved the mark down to 3:48.76, third-best in the Ohio Valley Conference.
"With the conversion (from the unbanked track), that mark goes down quite a bit," said head coach Doug Molnar. "We had a lot of really good times today that look even better once they're converted. It was a really great meet overall."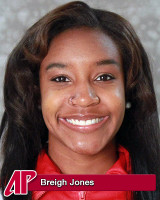 In the 400m dash, Jones had a huge personal-best with a 56.63 run. After conversion, that mark becomes a 55.89 mark, which not only leads the OVC but is four-hundredths of a second behind Chiamaka Obi's 2010 school record.
Junior Xiamar Richards should finish the weekend with a big leap up the conference standings in the 3000m run. She placed third with a personal-best 10:19.30 run (10:14.04 with the conversion), which moves her from 15th to sixth in the OVC in the event.
Sophomore Erika Adams placed third in the 60m dash with a personal-best 7.70 mark; that mark moves her into sixth among OVC athletes based on marks entering competition, Friday.
Ross and Adams both earned top-five marks in the 200m dash; Ross finished fourth (25.73), with Adams (25.81) right behind her in fifth. Ross now sits ninth in the OVC, with her converted mark of 25.34 less than two-tenths of a second behind a top-eight position.
Grey broke the school record in the 600m run, a non-regulated NCAA Championship event, with a 1:32.91 mark.
Senior Lauren Lyles had two top-eight finishes, Friday. Her 9.03 hurdles mark placed her seventh in the 60m event, and she followed that with a third-place, 5.59m long jump. She led the long jump after the first round of attempts.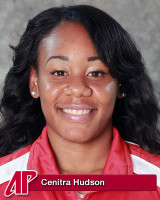 Senior Cenitra Hudson's 11.53m mark in the triple jump was a season-best that placed her fourth in Columbus.
"There were some really quality teams at this meet," Molnar said. "Ohio State, Ohio and Wright State gave this meet a really deep field, and I think we competed well. That's a great confidence-builder for us going into next weekend."
The Lady Govs hit the track looking for a big day at next weekend's OVC Indoor Track and Field Championships, which begin Friday at Eastern Illinois' Lantz Fieldhouse.