Nashville's Josh Prince Hits Ninth Home Run In Losing Effort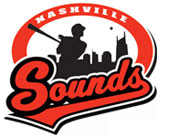 Nashville, TN – The Nashville Sounds were edged 4-2 by the Albuquerque Isotopes, who plated three late runs in Tuesday night's game at Greer Stadium.
Tied 2-2 in the seventh, Albuquerque's Dee Gordon knocked an RBI single into left field to give the 'Topes a one-run advantage. The run came against Sounds reliever Zack Kroenke (4-13), who took the loss after 1 1/3 innings pitched.
Albuquerque added to its lead in the following inning when Alex Castellanos hit a solo home run off the guitar scoreboard in left field. The jack was the right fielder's 16th of the season and only the fourth allowed by Kyle Heckathorn this season.
The Sounds scored first in the game when catcher Blake Lalli scored from third on a strikeout wild pitch in the second inning. Lalli singled to reach base, moved to second on a walk issued to Cole Garner, and got to third on a passed ball.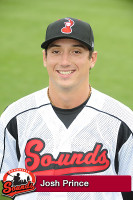 Albuquerque leveled the game in the top of the third with Elian Herrera's RBI-single down the right-field line, which scored Damaso Espino; but the Sounds regained the lead when Josh Prince hit his ninth home run of the season. The shot was a solo homer to left-center field that put the Sounds up 2-1 in the fifth inning.
In the sixth inning, the 'Topes scored a controversial run without recording a hit in the frame. Castellanos was hit by a pitch to start the inning and stole second before Sounds third baseman Robinzon Diaz committed two errors that allowed Castellanos the game-tying run.
On the play, Justin Sellers hit a soft line drive that deflected off Diaz's glove for the first error, which led the defender into the base paths with Castellanos running from second base. Diaz tried to hold up, but third base umpire Gerard Ascani ruled that Diaz interfered with the runner's progress and charged him with his second error and allow the runner an extra base.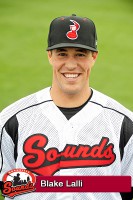 Sounds starting pitcher R.J. Seidel limited the Isotopes to two runs, one earned, on five hits across 5 2/3 innings of work. The righty fired nine strikeouts to match a career-high, having also fanned nine batters on May 25th, also against Albuquerque.
Reliever Michael Olmsted pitched a scoreless ninth inning, but loaded the bases on a single and two walks before recording the final out.
Isotopes' starter Jonathan Sanchez (3-1) picked up the win, holding Nashville to two runs on three hits over six innings of work. Reliever Javy Guerra picked up the save, his sixth.
The Sounds will look to retake the series lead Wednesday night at Greer Stadium against the Albuquerque Isotopes. Throwing for Nashville in game one will be lefty Aaron Laffey (4-4, 5.50) opposite the Isotopes' RHP Matt Magill (2-0, 2.90). The night will be a Great Clips #WebWednesday, where fans can receive ticket specials via the Sounds social media platforms.
Box Score
Albuquerque Isotopes (58-46) 4, Nashville Sounds (37-67) 2
July 23rd, 2013
1
2
3
4
5
6
7
8
9
R
H
E
Albuquerque Isotopes
0
0
1
0
0
1
1
1
0
4
9
0
Nashville Sounds
0
1
0
0
1
0
0
0
0
2
4
2
a-Flied out for De La Cruz, K in the 9th.
BATTING
HR: Castellanos, A (16, 8th inning off Heckathorn, 0 on, 0 out).
TB: Castellanos, A 4; Herrera, E; Espino 3; Sellers; Gordon, D 3.
RBI: Herrera, E (38), Gordon, D (25), Castellanos, A (47).
2-out RBI: Herrera, E.
Runners left in scoring position, 2 out: Gwynn 2; Castellanos, A 2.
SAC: Sanchez, J 3.
GIDP: Herrera, E.
Team RISP: 3-for-10.
Team LOB: 8.BASERUNNING
SB: Sellers (1, 2nd base off Seidel/Lalli), Castellanos, A (13, 2nd base off Seidel/Lalli).
CS: Gordon, D (7, 2nd base by Kroenke/Lalli), Gwynn (7, 2nd base by Olmsted/Lalli).
PO: Gordon, D (1st base by Kroenke).FIELDING
PB: Espino (1).
DP: (Espino-Sellers).
a-Grounded out for Kroenke in the 7th. b-Grounded out for Olmsted in the 9th.
BATTING
HR: Prince (9, 5th inning off Sanchez, J, 0 on, 1 out).
TB: Lalli; Prince 4; Garner; Davis, B.
RBI: Prince (35).
Runners left in scoring position, 2 out: Seidel; Davis, B; Gennett.
Team RISP: 0-for-5.
Team LOB: 7.BASERUNNING
SB: Prince (14, 2nd base off De La Cruz, K/Espino).
CS: Diaz, R (2, 2nd base by De La Cruz, K/Espino).FIELDING
E: Diaz, R 2 (3, fielding, interference).
DP: (Gennett-Prince-Morris, H).
Pickoffs: Kroenke (Gordon, D at 1st base).
WP: Sanchez, J.
HBP: Castellanos, A (by Seidel), Davis, Ke (by Sanchez, J).
Pitches-strikes: Sanchez, J 92-55, De La Cruz, K 29-14, Guerra, J 21-12, Seidel 97-65, Kroenke 20-13, Heckathorn 15-9, Olmsted 31-16.
Groundouts-flyouts: Sanchez, J 5-3, De La Cruz, K 1-2, Guerra, J 2-0, Seidel 5-1, Kroenke 3-0, Heckathorn 1-0, Olmsted 0-1.
Batters faced: Sanchez, J 25, De La Cruz, K 7, Guerra, J 4, Seidel 24, Kroenke 5, Heckathorn 4, Olmsted 6.
Inherited runners-scored: Kroenke 1-0.
Umpires: HP: Joel Hospodka. 1B: Tom Woodring. 3B: Gerard Ascani.
Weather: 89 degrees, partly cloudy.
Wind: 1 mph, Varies.
T: 3:24.
Att: 3,555.
Venue: Herschel Greer Stadium.
July 23, 2013