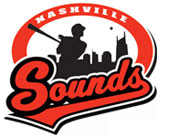 Nashville, TN – The Nashville Sounds held the visiting Tucson Padres to only three hits in the team's seventh shutout victory of the season: a 3-0 win Tuesday night at Greer Stadium.
The Sounds wrap the homestand winning seven of the eight to complete their winningest homestand greater than four games since the 2003 season.
In 2003, the Sounds went 6-0 vs. Iowa and Albuquerque in the season-opening homestand with two rainouts from April 3rd-10th and then went 8-1 from June 17th-24th against Iowa and Colorado Springs.
First baseman Hunter Morris put the Sounds on the board in the first inning with his two-run homer to the opposite field. The jack was Morris' 22nd of the season, which makes him one off the league leader, Brock Peterson.
Eugenio Velez, who singled to reach base, also scored on the play to give Nashville the 2-0 lead.
Velez added to Nashville's lead with a two-out double in the fifth inning that landed just fair down the right-field line to score Kentrail Davis for the 3-0 advantage. Davis had reached base with a two-out triple to right-center field.
Sounds lefty Chris Narveson (4-6) kept the Padres off the board though seven innings, allowing only two hits for his fourth quality start over his last five games.
The 31-year-old fanned eight batters and walked only two en route to his fourth win of the season.
Narveson has not allowed a run in his last 16 2/3 innings pitched, stretching back to the final 2 2/3 innings of his July 27th start, the longest scoreless streak by a Sounds starting pitcher this season.
Relievers Mike Olmsted and Jesus Sanchez helped combine for the shutout, each logging a scoreless inning. Sanchez notched his fourth save, while Olmsted extended his scoreless streak to seven consecutive appearances.
Following a league-wide off day Wednesday, the Sounds will pick back up on Thursday out west to begin a four-game series with the Colorado Springs Sky Sox (Rockies affiliate). Throwing for Nashville will be RHP R.J. Seidel (2-4, 4.90) opposite the Sky Sox RHP Jeff Manship (6-8, 4.95).
Baseball returns to Greer Stadium on Friday, August 16th, for Elvis Night and postgame fireworks.
Box Score
Nashville Sounds (46-72) 3, Tucson Padres (60-58) 0
August 6th, 2013
1
2
3
4
5
6
7
8
9
R
H
E
Tucson Padres
0
0
0
0
0
0
0
0
0
0
3
0
Nashville Sounds
2
0
0
0
1
0
0
0
x
3
7
1
a-Walked for Andriese in the 6th. b-Popped out for Merchan in the 8th. c-Grounded out for Brach in the 9th.
BATTING
TB: Francisco, B; Wilson, M; Decker, C.
Runners left in scoring position, 2 out: Allen.
Team RISP: 0-for-1.
Team LOB: 6.FIELDING
Pickoffs: Andriese (Velez at 2nd base).
BATTING
2B: Velez (4, Andriese).
3B: Davis, Ke (2, Andriese).
HR: Morris, H (22, 1st inning off Andriese, 1 on, 2 out).
TB: Velez 3; Davis, B; Morris, H 4; Statia; Davis, Ke 4.
RBI: Morris, H 2 (61), Velez (5).
2-out RBI: Morris, H 2; Velez.
Runners left in scoring position, 2 out: Statia; Prince 3.
SAC: Diaz, R; Narveson.
Team RISP: 2-for-8.
Team LOB: 6.BASERUNNING
SB: Davis, Ke (4, 2nd base off Andriese/Robinson, Ch).
PO: Velez (2nd base by Andriese).FIELDING
E: Olmsted (2, fielding).
Tucson Padres
Player
IP
H
R
ER
BB
SO
HR
ERA
Matt Andriese (L, 1-5)
5.0
5
3
3
2
5
1
4.14
Tommy Layne
1.2
2
0
0
1
3
0
4.50
Brad Brach
1.1
0
0
0
0
1
0
3.09
Totals
8.0
7
3
3
3
9
1
4.53
IBB: Velez (by Layne).
Pitches-strikes: Andriese 76-49, Layne 28-19, Brach 11-9, Narveson 99-62, Olmsted 12-9, Sanchez, Je 15-8.
Groundouts-flyouts: Andriese 8-0, Layne 2-0, Brach 0-2, Narveson 8-2, Olmsted 3-0, Sanchez, Je 2-0.
Batters faced: Andriese 21, Layne 8, Brach 4, Narveson 25, Olmsted 4, Sanchez, Je 4.
Inherited runners-scored: Brach 3-0.
Umpires: HP: Jordan Ferrell. 1B: Kolin Kline. 2B: Cory Blaser. 3B: Chris Segal.
Weather: 82 degrees, overcast.
Wind: 1 mph, Varies.
T: 2:30.
Att: 2,398.
Venue: Herschel Greer Stadium.
August 6, 2013