Tampa, FL – Year Two of the Taylor Mott era begins in Florida as Austin Peay State University's volleyball team will play four matches in the season-opening USF Invitational hosted by South Florida, Friday-Saturday.
The Lady Govs will begin the season with a 10:00am (CT), Friday contest against Miami followed by a 3:30pm outing against Ball State. Austin Peay's Saturday at the tourney begins with a 1:00pm affair against host USF before a 3:30pm tournament-concluding contest against The Citadel.
Numbers-wise, Austin Peay returns 10 members from last season's team that posted a 17-16 overall mark and finished second in the Ohio Valley Conference's West Division with a 10-6 league record. That group of 10 includes four returning starters, each of which should be on the floor to start the 2013 campaign.
"I think we have a team that has a quite a few high intensity players," said Mott. "I think the characteristic of this team, and last year's team, is that they play really hard. When people see us play they want to see a team that will not quit on any ball. Hopefully that's what we'll see this weekend – we want to see that intensity from the first point to the last point."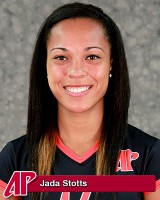 Junior outside hitter Jada Stotts, a preseason All-OVC pick, will lead the group of returnees after posting 419 kills and 355 digs while playing in nearly every set last season.
She will be supported by junior setter Cami Fields who did play every set last season en route to a 1,254-assist campaign that saw Stotts and outside hitter Nikki Doyle, who graduated last spring, become the first pair of hitters to record 400 kills each in the same season since 1996.
Both of the Lady Govs starting middle blockers will return in 2013. Senior Lauren Henderson will seek to build on the end of her 2012 campaign where she posted five consecutive double-digit kill outings and finished the season with 257 kills and a team-best 82 blocks.
Junior Hillary Plybon battled inconsistency in 2012, finishing the season with 186 kills and 63 blocks but finished the campaign with 77 kills in her final nine matches – all starts.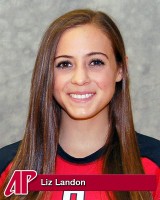 Austin Peay will return both players that started at libero during the 2012 season – sophomore April Adams and junior Liz Landon. Lady Govs head coach Taylor Mott has tapped Adams as her starter at libero in 2013 and it is an important choice. Mott has spent the short preseason emphasizing defense and passing to her team in an effort to give the offense more opportunities.
"I believe we have improved in the preseason but two weeks is not usually enough time to get fully ready," Mott said. "I think we have made some improvements, but I we will know more after this weekend and where we stand. I am anxious to see how we really do when we're playing someone besides ourselves."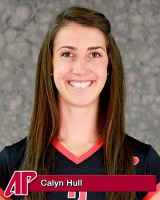 The Lady Govs will have to fill the holes left by the graduation of Doyle and right-side hitter Alex Sain, who combined for 580 of the team's 1593 kills last season. In their place will step senior outside hitter Calyn Hull and redshirt freshman right side Sammie Ebright. Hull saw limited action in 2012 while Ebright missed the campaign to attend to academics.
The Lady Govs bench is a young group with three freshmen among the six reserves. Junior middle blocker Liz Landon and sophomore setter Aubrey Marsellis should get the first opportunities off the bench while sophomore Samantha Strother also will be available while Mott will look for the freshman trio of Lizzy Bales, Syd Litchfield and Peyton Walker to continue their development while being ready to join the fray if called upon.
Scouting the Field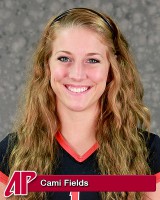 Austin Peay will begin the campaign with a formidable challenge, squaring off against Miami which posted a 25-6 mark last season and returns four players named to the preseason All-Atlantic Coast Conference squad. Junior middle blocker Emani Sims highlights the group of Canes returnees, earning AVCA All-America honors after recording 160 blocks last season.
The Lady Govs then face off against Ball State, which will be opening its 2013 season with Friday's match. The Cardinals also return 10 letterwinners from a team that finished 14-17 overall with a 7-9 mark in the Mid-America Conference last season. Austin Peay volleyball fans will see a familiar face on the Ball State bench as Corey Carlin, a former APSU head coach and former Morehead State assistant, is a BSU assistant head coach.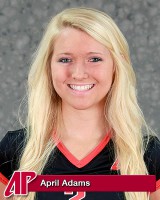 Host South Florida begins life in the new American Athletic Conference with sophomore outside hitter Erin Fairs, the 2012 Big East Freshman of the Year, returning after leading USF with 316 kills last season. She is one of only six letterwinners returning from last season's squad, but five of the Bulls starters return.
The Citadel returns six letterwinners, including three starters, from a 2012 squad that battled to a 6-28 overall mark but was held winless in Southern Conference play. Libero Erin Bucherl is the lone senior on The Citadel squad and returns after leading the team with 334 digs last season.
"I hope that we learn this team will compete no matter what," said Mott. "We will face a wide range of teams and talent levels. We will be tested tremendously by Miami and USF but Ball State and The Citadel will pose significant challenges as well.
"I want us to walk away from this weekend knowing we worked hard from the first point to the last point. We're not focused on results in these preseason tournaments. While we would like to walk away from this tournament with some wins but it's not the end of the world if we don't. It's about improving each time we step out on the court."
Series histories… Austin Peay will face Miami, South Florida and The Citadel for the first time in program history… the Lady Govs have met Ball State once previously, APSU dropping a 1999 meeting in four sets.
On the web… Live statistics for each match will be available on www.LetsGoPeay.com courtesy the USF athletics department… in addition, the Lady Govs-USF contest will be available on ipTV through the subscription-based BullsCast.