Program to Educate Teens on Importance of Buckling Up

Nashville, TN – Each year, dozens of Tennessee teens die in traffic crashes and many of those are not wearing safety belts. Traffic crashes are the leading cause of death for teenagers.
The Governor's Highway Safety Office (GHSO) wants to help save lives by encouraging more teens to wear their safety belts. The GHSO is partnering with State Farm Insurance, Jackson Area Council on Alcoholism and Drug Dependency (JACOA) and four Tennessee high schools to sponsor a program called Click It AND Ticket.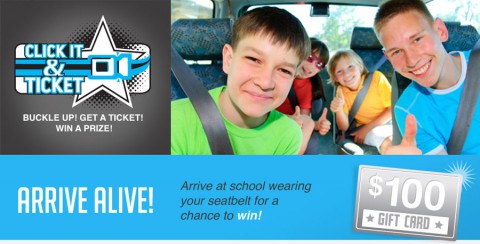 During the program, volunteers will conduct seat belt observations at the schools and students wearing their safety belts will be given a ticket to enter into a drawing to win a prize.
The penalty for not wearing a safety belt in Tennessee is $10.00, so volunteers will draw tickets and award $10.00 gift cards to students.
In addition, one student from each school will win a $50.00 gift card and another student will win a $100.00 gift card.
Every year thousands of teens in the U.S. die in motor vehicle crashes. Teens continue to be the most dangerous and inexperienced drivers. Tennessee has experienced a 10.8% increase between 2011 and 2012. In 2012, Tennessee lost 92 teens due to motor vehicle crashes. Mile for mile, teenagers are involved in three times as many fatal crashes as all other drivers.
"Teens need to remember whether they are driving across town or just around the neighborhood, wearing safety belts is the absolute best way to protect themselves and their passengers from severe injury or even death," Kendell Poole, Director of the GHSO, said. "Wearing your safety belt costs nothing, but not wearing it could cost you your life."
In 2009, 56 percent of the teens in the U.S. who were killed in crashes were not wearing a seat belt according to the National Highway Traffic Safety Administration. Educating high school students about the importance of buckling up every trip, every time, is critical. The Click It AND Ticket initiative is a way to educate teens on the importance of wearing a seat belt.
GHSO reminds teens that distracted driving, like texting while driving, is a dangerous practice. Texting may be a convenient way to communicate, but it can be deadly when done from behind the wheel of a vehicle. Texting while driving is also against the law in Tennessee.
Click it and Ticket event Schedule
September 10th –  Milan High School, Milan
September 13th –  Fayetteville High School, Fayetteville
September 25th –  Cookeville High School, Cookeville
September 25th –  Dickson County High School, Dickson
Click It AND Ticket is sponsored by State Farm Insurance. To learn more about teen driver safety, visit our website at www.tntrafficsafety.org.