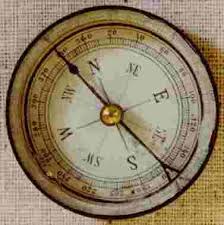 Clarksville, TN – Is your compass broken? Lost? Never owned one?
We all feel lost sometimes. It's a freaky feeling. You feel frustrated, confused, even panic stricken. You pull over, palms sweating, try to find your bearings, double check your directions, reset your navigation.
But what do you do if you don't have directions, navigation, or a compass? You might know where to go, but you won't know how to get there. You might stop for directions, or call someone to ask for their advice, but how do you know if you can trust them? How long do you wander before you turn around and go back?
If you feel lost in life quite often, it might be because you know where you want to go, but you don't know how to get there. Decisions are overly difficult for you to make even after asking many people for advice, checking your horoscope, and making your list of pros and cons. A destination, without a compass, is just a place you will dream about, or stumble upon by pure luck.
I used to do the same thing. I would fret over every decision, then second guess them after I made them. I would admire decisive people, even when they were not very nice, because at least they could act quickly. People who act quickly have a compass, and their needle is pointed at something all of the time: money, power, love, success, revenge, or something else. Good or bad, their compass pointed them in the direction of what they valued most.
After I became a Christ-following Christian, I finally had a compass. I had something, someone to point to in order to find my way, to make important decisions (or even little ones that add up to be the core of who I am.) It didn't happen over night though. I would sometime go rogue and try to find my own way, and occasionally I still do that.
Over time though, I have learned to truly lean on my compass; it is reliable and I know I can trust it. It may lead me in a way I didn't expect it to, but it never leads me astray.
Now decision-making is so much easier! Leading is easier. Parenting is easier. Marriage is easier. There is less stress, less guilt, less insomnia, less regret. I make my decisions based on what is godly and pleasing to Him. I might miss the mark, but not because I am aiming in the wrong direction. And I can forgive myself easier when I go the wrong way, because I know I have a heart to follow Christ. Don't hear me saying that my life is easier.
Life is still incredibly challenging. I just have someone to help me carry the load, and a reliable way to make choices day in and day out and that don't cause me harm or make my problems worse.
It's tempting to want to lead our own way, and make decisions based on what feels good to us or seems right to us. But if you are looking for peace of mind that rarely comes when we captain our own lives, I can honestly recommend a relationship with God, and His Word as your compass.
For tips to getting involved in a church home, check out this 3 part series: