Fort Campbell, KY – During The Home Depot Foundation's 3nd annual Celebration of Service campaign that runs from September 11th to Veterans Day, The Home Depot associates are completing projects to transform the homes and lives of veterans across the country.
During these two months, their associates will complete more than 350 service projects to benefit veterans and their families.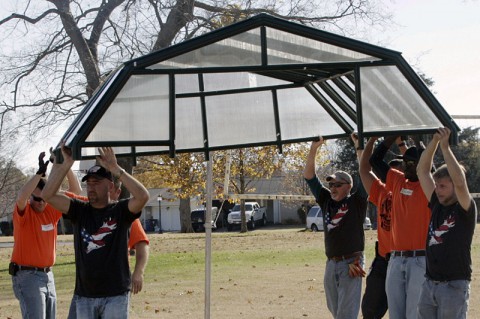 Soldiers And Families Embraced (SAFE) in support of the War Garden Project, received a $12,500 grant from The Home Depot Foundation to implement a garden, greenhouse and labyrinth to be a site for horticultural therapy to be used by their clients as well as be used by the students at Austin Peay State University.
The War Garden Project is a program supported by S.A.F.E. (Soldiers and Families Embraced) on a site is provided by the Wesley Foundation. This is the second garden as a part of the War Garden Project and will be located behind the Wesley Foundation located at 510 College Street.
On Thursday, October 31st and Friday, November 1st, during The Home Depot's Foundation's Celebration of Service, Team Depot volunteers from eight stores will participate in building the garden, a shed, a greenhouse and a labyrinth as a part of the War Garden Project, a program started by Dana Chango. The build will start at 8:00am on Thursday and 9:30am on Friday.
The War Garden Project was started in 2012 on the principles of the Victory Gardens.
Victory Gardens also known as War Gardens were planted during World War I and World War II to help with the decreasing food supply. These gardens were planted in backyards, in alleys and in vacant lots. The gardens served the need for food production but also provided a sense of pride to those left on the Home Front. The use of horticultural therapy has been used with returning wounded soldiers since World War I.
Soldiers And Families Embraced (SAFE) offers individual and group counseling services, support services and retreats for Soldiers, veterans and family members. These services are provided at no cost, and no insurance is required.
This garden is the second one to be implemented as a part of the War Garden Project. The first garden was installed last year over Veteran's Day weekend, behind the Werner Park Community between Hawaii and Indiana Avenue on Fort Campbell.
SAFE's mission is to serve as a resource for the community to ease the readjustment and reintegration of military members returning from our current wars and their families, as well as veterans from previous eras. We work towards peace and healing by providing the services required, advocating for clients, assisting the community at large in finding these services through other agencies, or facilitating the creation of programs by individual organizations.
In addition, we strive to help develop future mental healthcare professionals who work with our demographic by offering internships and other professional development opportunities. In this way we are able to directly address the constantly growing need for well-trained providers to our community.
War Garden Project's mission is to provide a garden environment to promote healing and rehabilitation and to improve the quality of life for our soldiers and families through hands on experiences.
"I am pleased that SAFE has chosen to support the War Garden Project and with their support and The Home Depot Foundation, we are able to put in a second garden. It is going to be a great partnership," said Dana Chango, Director of the War Garden Project. " Along with the services provided to soldiers and their families through SAFE, the garden gives the opportunity to provide therapy for these soldiers and their families in a natural setting. The possibilities and benefits are endless."
"SAFE's counselors and staff are actively seeking to recognize and incorporate a variety of therapies into our programming, including our songwriters' retreats and therapeutic art. The War Garden Project seems a perfect fit, both because we had the open green space and because so many of our clients find gardening to be both calming and nurturing," said Rev. Jodi McCullah, SAFE Executive Director.
Through Team Depot, this associate-led volunteer program, The Home Depot Foundation has provided opportunities for their associates and suppliers to contribute the home improvement know-how to create meaningful impact in communities.
For more information about the War Garden Project send emails to or call Dana at 931.801.4337.
For more information about SAFE visit their website at www.thesafenetwork.org or you can call 931.591.3241 (Monday-Friday 9:00am-4:00pm).
For more information about The Home Depot Foundation go to www.homedepotfoundation.org.