Clarksville, TN – Sophomore center Chris Horton blocked Anthony Beane's potential game-tying lane jumper with one second left to preserve Austin Peay State University's 72-70 victory over the Southern Illinois Salukis, Tuesday night, in non- conference basketball action played at Dave Aaron Arena.

The block was Horton's seventh, tying both his and John Fraley's records. Fraley originally set the mark in 2011. Horton tied the mark four times a year ago. His most-recent block party could not have come at a better time.

It allowed the Govs to push their overall mark to 2-1 on the young season and take momentum into this weekend's Central Michigan Tournament. SIU, meanwhile, fell to 0-3 on the season.

The Governors, who led by just three points, 35-32, at halftime, used tenacious defense early in the second half to go on a 20-6 run to open the period. Horton's three blocks keyed the defense during that seven-minute stretch while eight Damarius Smith points, including two three pointers, and six Will Triggs points spurred the offense.
But Desmar Jackson's scoring and 15 second-half offensive rebounds helped bring back Southern Illinois. With Jackson's steal, subsequent dunk and free throw, the Salukis cut the deficit to seven, 61-54, with 6:10 remaining. The Govs' lead never grew to double figures again.
Another Jackson three-point play and the guard's dunk after a steal made it a four-point game, 65-61, with 3:48 remaining. Horton and Jalen Pendleton exchanged free throws before a Govs' turnover allowed a Jackson jumper to cut the deficit to two, 67-65, with 1:58 left. Jackson finished the game with 29 points.
Zavion Williams made one of two free throws before Anthony Beane scored on a layup to slice the lead to one, 68-67. After Williams floater rattled out, Pendleton was fouled with an opportunity to give SIU its first lead with 1:19 left. However, he missed the first but made the second, tying the contest.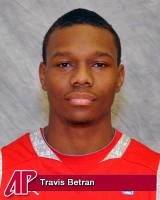 But Travis Betran, the Govs' preseason All-Ohio Valley Conference performer, drove the lane and muscled in a lane shot. He also was fouled, knocking down a free throw with 1:02 left to give APSU a 71-68 lead.

But SIU committed turnover only to force a Govs turnover. Then Fred Garmon stole the ball and drove, missing the shot. However, Jackson was called for a foul on the rebound with 26 seconds left, another Saluki turnover.

Betran then made one of two free throws after being fouled only to see SIU's Sean O'Brien score on layup with 12.6 second left to trim the margin back to two, 72-70, with 13 seconds left.

This time Garmon was fouled on the inbounds play and the Govs' newcomer watched both free throws miss, giving SIU an opportunity to either tie or win the game. But that is when the Govs' defense surged one final time, preventing the Salukis from gaining an open look. That forced Beane to drive the lane, only to find Horton's flyswatter that sealed the Govs' first win against the Salukis since 1995.

Jackson tied a career high with his 29 in collecting a double-double (10 rebounds). Pendleton added 11 points.

Triggs led the Govs with 17 points while Betran added 16 and Smith 12—his first double-digit performance as a Gov. Horton also had 10 rebounds—his second double-digit effort this season.

After going just 7-of-19 at the free-throw line against Memphis, the Govs were markedly better against SIU, connecting on 22 of 33 (66.7 percent). The Govs' 13 blocked shots—sophomore Preston Herring also had three—set a school single-game record while shattering the Dunn Center mark (11).

The Govs get on the bus early Wednesday morning to head to Mount Pleasant, MI, where they will play three games in three days, beginning with Thursday's 6:00pm contest against host Central Michigan.
Photo Gallery
Box Score
Southern Illinois vs Austin Peay
November 11th, 2013 | 7:00pm | Clarksville, TN | Dunn Center
Southern Illinois 70
Total
3-point
Rebounds
##
Player
p
fgm-fga
fgm-fga
ftm-fta
off-def
tot
pf
tp
a
to
blk
stl
min

22

Verhines, Bronson

f

1-5

0-0

0-0

1-9

10

3

2

1

1

1

0

31

04

Drinkard, Davante

c

3-5

0-0

0-0

0-2

2

2

6

0

0

0

0

14

03

Jackson, Desmar

g

12-21

1-4

4-6

5-5

10

5

29

2

6

0

3

31

12

Fillyaw, Marcus

g

1-4

1-2

0-0

2-1

3

3

3

4

3

0

1

32

25

Beane, Anthony

g

3-10

0-1

4-4

1-3

4

4

10

1

1

0

0

34

00

Balogun, Mike

–

2-2

0-0

0-0

0-1

1

1

4

0

0

0

0

5

01

Pendleton, Jalen

–

3-8

0-0

5-10

4-2

6

4

11

1

1

0

0

14

21

Smithpeters, Tyler

–

0-1

0-1

1-2

0-1

1

1

1

0

2

1

0

9

23

Olaniyan, Bola

–

0-0

0-0

0-0

0-0

0

2

0

0

1

0

0

2

24

Verhines, Dawson

–

0-3

0-1

0-0

1-1

2

0

0

0

0

0

1

10

33

O'Brien, Sean

–

2-7

0-1

0-1

1-4

5

2

4

2

0

0

0

18

TM

TEAM

–

–

–

–

4-0

4

–

–

–

–

–

–

–

Totals…………..

–

27-66

2-10

14-23

19-29

48

27

70

11

15

2

5

200

40.9%

20.0%

60.9%

Team summary:
FG
3FG
FT
1st Half:

13-28

1-5

5-8

46.4%

20.0%

62.5%

2nd Half:

14-38

1-5

9-15

36.8%

20.0%

60.0%
Austin Peay 72
Total
3-point
Rebounds
##
Player
p
fgm-fga
fgm-fga
ftm-fta
off-def
tot
pf
tp
a
to
blk
stl
min

10

TRIGGS, Will

f

5-7

0-0

7-8

2-4

6

3

17

1

0

1

0

34

24

DYSON, Ed

f

2-3

0-0

2-3

1-2

3

4

6

3

2

0

0

21

05

HORTON, Chris

c

1-5

0-0

4-5

3-7

10

4

6

1

1

7

0

23

02

WILLIAMS, Zavion

g

1-5

0-2

3-4

0-0

0

2

5

2

1

1

0

14

04

BETRAN, Travis

g

5-13

2-7

4-6

0-1

1

1

16

2

2

0

2

36

01

GARMON, Fred

–

0-4

0-3

0-2

0-0

0

1

0

2

0

0

2

15

15

FREEMAN, Chris

–

3-3

0-0

2-2

1-4

5

4

8

0

0

1

0

13

20

ARENTSEN, Cory

–

0-3

0-3

0-0

0-1

1

1

0

0

0

0

0

4

21

HERRING, Preston

–

0-0

0-0

0-0

0-1

1

1

0

0

0

3

0

7

22

SMITH, Damarius

–

5-8

2-3

0-3

1-3

4

1

12

2

6

0

1

30

23

MBOUP, Serigne

–

1-1

0-0

0-0

0-1

1

0

2

0

0

0

0

3

TM

TEAM

–

–

–

–

1-1

2

–

–

–

1

–

–

–

Totals…………..

–

23-52

4-18

22-33

9-25

34

22

72

13

13

13

5

200

44.2%

22.2%

66.7%

Team summary:
FG
3FG
FT
1st Half:

13-30

1-10

8-11

43.3%

10.0%

72.7%

2nd Half:

10-22

3-8

14-22

45.5%

37.5%

63.6%
| | | | | |
| --- | --- | --- | --- | --- |
| Score by Periods | 1st | 2nd | Total | |
| Southern Illinois | 32 | 38 | 70 | Record: (0-3) |
| Austin Peay | 35 | 37 | 72 | Record: (2-1) |
Officials: Mike Stuart, Hal Lusk, Jeff Malham
Technical fouls: Southern Illinois-None. Austin Peay-None.
Attendance: 2505
Player of the game:

Chris Horton
Sections
Sports
Topics
Anthony Beane, APSU, APSU Athletics, APSU Basketball, APSU Men's Basketball, APSU Sports, Austin Peay, Austin Peay State University, basketball, Central Michigan, Central Michigan Tournament, Chris Horton, Clarksville, Clarksville TN, Damarius Smith, Dave Aaron Arena, Desmar Jackson, Fred Garmon, Governors, Govs, Jalen Pendleton, John Fraley, Memphis, Mount Pleasant Michigan, Ohio Valley Conference, OVC, Salukis, Sean O'Brien, SIU, Southern Illinois, Southern Illinois Salukis, Tennessee, Travis Betran, Will Triggs, Zavion Williams