Clarksville, TN – Clarksville Mayor Kim McMillan announces the launch of a public education campaign to encourage the safe storage and proper disposal of prescription medications.
The campaign, which is part of a national awareness initiative called Safeguard My Meds, will involve a concerted effort by law enforcement officials, medical professionals and citizens of Clarksville to reduce the abuse of prescription medications.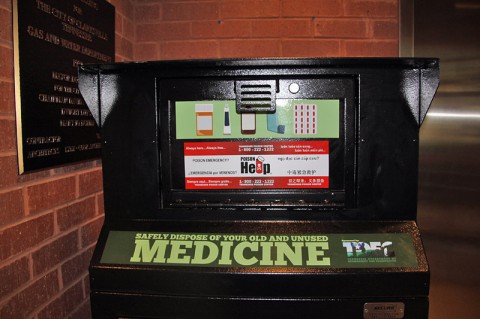 Research by the Partnership for a Drug Free America shows that every day, more than 2,500 teenagers abuse prescription medication for the first time. Mayor McMillan is calling on the community to help raise awareness about this growing public health problem.
"Many people, especially teenagers it seems, mistakenly think that it is safer to misuse prescription medications than illegal street drugs," said Mayor McMillan. "There seems to be less social stigma attached to misusing medications so it seems more acceptable to teens. And parents often are unaware that young people are abusing medications. Even when they do know, they don't know how to talk to their children about the dangers."
With the support of local healthcare professionals, businesses, and families, and the Clarksville Police Department, Mayor McMillan is encouraging people to take steps to safeguard medicines in the home and become better educated on problems of prescription drug abuse so that they can talk to their children and help them avoid the dangers.
The Clarksville Police Department has placed drop boxes in the following locations: CPD Main Headquarters, 135 Commerce Street, Clarksville, TN 37040 (7:00am to 6:00pm), the District One Precinct, 1885A Fort Campbell Boulevard, Clarksville, TN 37042 (8:00am to 4:30pm), and the District Three CI, 1584 Vista Lane, Clarksville, TN 37043 (8:00am to 4:30pm). These boxes remain locked and are easily used.
Items that will be accepted in the drop boxes are: prescription medications, all over the counter medications, pet medications, medicated ointments, lotions and drops, liquid medications placed in leak proof containers, pills that are placed in plastic containers, plastic bags (i.e. Ziploc bags) or foil.
Items that will NOT be accepted: illegal drugs or narcotics, needles/sharps or syringes with needles, blood sugar equipment, thermometers, IV bags, bloody or infectious waste, personal care products (shampoos and lotions, for example).
"It is time for all of us to call attention to this problem and work together to curb the abuse of prescription medications," said Mayor McMillan. "The first place to begin is right at home. People can help keep medicines out of the wrong hands by monitoring the contents of their medicine cabinet. They should also encourage friends and relatives to safeguard medications in their homes and consult a pharmacist about how to properly dispose of medications that are no longer needed."
"I want to thank the Clarksville Police Department for responding to this issue and the Tennessee Department of Environment and Conservation, Office of Sustainable Practices for providing the boxes to the City at no cost. Once again, our partnership with other agencies results in an opportunity for Clarksville to be a safer community," said Mayor McMillan.
Safeguard My Meds supported by the U.S. Conference of Mayors, the National Community Pharmacists Association and pharmaceutical company Purdue Pharma to reduce the abuse of prescription medications.
Visit www.safeguardmymeds.org for more information on the safe storage and disposal of prescription medications.