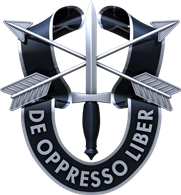 Fort Campbell, KY – Soldiers, families and friends with the 4th Battalion, 5th Special Forces Group (Airborne), also known as "Legion," welcomed their new commander July 17th, 2014.
During a ceremony held here at Gabriel Field, Lt. Col. Joseph Lock relinquished command of the 4th Battalion, 5th Special Forces Group (Airborne) to Lt. Col. Michael Harris.
"I characterize this day as bittersweet, because we're saying goodbye to the Locks, who are a true Legion power family," said Col. John W. Brennan, commander of the 5th SFG (A). "It is also sweet today, because we welcome Mike [Lt. Col. Harris] and Bren [spouse of Lt. Col. Harris] into the Legion fold for the very first time."
Although this is Harris's first position in the 5th SFG (A), he is no stranger to the Special Forces community and was welcomed warmly.
"We are extremely pleased and blessed to welcome the Harris family to Fort Campbell and 5th Group," said Brennan. "Mike comes to us with an incredible amount of diverse Special Forces experiences; Mike's done it all."
Following his selection and subsequent completion of the Special Forces Officer Qualification Course, Harris was assigned to the 7th SFG (A) where he served as a Special Forces Operational Detachment Alpha commander, where he deployed numerous times in support of Operation Enduring Freedom.
He was later assigned to the Joint Special Operations Command where he deployed in support of Operation Iraqi Freedom.
Since then, he has held command and staff positions at the National Counterterrorism Center; the John F. Kennedy Special Warfare Center and School; the Commanding General's Initiative Group, U.S. Army Special Operations Command; and the aide-de-camp to the commanding general, U.S. Army Special Operations Center of Excellence.
With Harris's command experience, taking over the command that Lock helped build will be another seamless change for 4th Battalion.
"To say that 4th Battalion has undergone a period of market change and transformation during Joe [Joseph] Lock's tenure, would be a vast understatement," explained Brennan. "Flexibility and an unequaled work ethic characterize every Soldier in 4th Battalion, including their commander."
The tenets that 4th Battalion trains, executes and lives by are what give it an exceptional work environment.
"You cannot find a better command climate than within 4th Battalion," expressed Brennan. "They are a tight-knit group of professionals that always over-deliver at every turn and can accomplish anything that you ask of them."
Photo Gallery