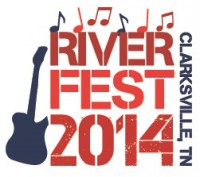 Clarksville, TN – Join the City of Clarksville, Miller Lite and Agero along the banks of the Cumberland River at McGregor Park as we celebrate Clarksville's river heritage at the 27th annual Riverfest Celebration, September 5th and 6th, 2014.
This FREE, two day music and arts festival features three stages of a variety of local, regional and nationally-known entertainers, delicious food, and fun for the entire family.
The music kicks off Friday night at 5:00pm with a great lineup to include Groove Therapy and Eight O'Five Jive Band on the Miller Light Stage, followed by the Jon Royce Band.
Christian performers on the First Baptist Church Stage Friday night includes local singer/songwriter Lydia Walker at 7:45pm and the  JJ Weeks Band who will perform at 9:00pm.
The entertainment continues Saturday at 10:00am. The Miller Lite stage will feature The Unlikely Survivors, 101st Airborne Jazz Band, Rhett Sims, Blue Matches, Feedback Revival and more. On the Agero stage, watch as local dance academies strut their stuff followed by a step demonstration and performances by Tyke T, Headed South, Reuben's Bell, and the Dave Matthews Tribute Band, among others.
Saturday evening, the Miller Lite stage will light up the Riverwalk with Mark Cooke, Alee, and country music artist, Tracy Lawrence.
While this year's entertainment lineup is filled with great performers, Riverfest has tons of other exciting activities, too. The Adventure Zone and Toddler Town will once again take place in the North Extension of the Riverwalk. These areas of the festival will be open Friday from 5:00pm to 8:00pm and Saturday from 10:00am to 7:00pm.
The Adventure Zone will feature inflatables, a rock climbing wall, train and pony rides and much more. Armbands are required for most activities while others require tickets. Armbands cost $10.00 each are good for both days of the festival. Please keep armbands when returning for the second day. Tickets can be purchased for $1.00 each.
Toddler Town is a free covered area for children ages five and under. This area features smaller inflatables, pre-school activities, a private diaper changing station, stroller parking and plenty of seating for parents.
While enjoying Riverfest, be sure to stop at the River of Culture Stage for a captivating showcase of dances and traditions from various cultures from all around the world as well as art projects and magic shows! Hula dancing, martial arts, and Wildlife on Wheels are just some of the things you will find on the River of Culture stage.
The curators and gallery directors for the Riverfest Fine Arts Exhibits also invite you to a free "neighborhood" gallery tour to include exhibition receptions and refreshments. Art enthusiasts can find exciting treasures made by local artists exhibiting in two art shows in Downtown Clarksville:
Thursday, September 4th: High School Reception at the Customs House Museum from 5:00pm to 6:00pm.
Friday, September 5th: Amateur/Professional/Senior Reception at the Smith-Trahern Mansion from 6:00pm to 8:00pm.
The Riverfest Regatta's, sponsored by US Bank, will kick off its eighth year, Saturday morning at 11:00 a.m.at the courtesy boat dock at McGregor Park. Watch as groups attempt to paddle their cardboard or plastic bottle boats to the finish line on the Cumberland River.
Don't miss the return of the popular Recycled Fashion Show, sponsored by Bi-County Waste Management. The show is scheduled to take place Saturday at 4:00pm in the Adventure Zone, and is intended to educate the general public about recycling in a fun and exciting way. The show is encouraging youth and adults of all ages to get creative and construct fashions made entirely from recyclable materials for a chance to win cash!
All fashion show entries may contain only recyclable materials. Interested contestants can visit recpro.cityofclarksville.com for a list of acceptable materials and to pre-register online. Registration can also be done by mail or in person at our Main office no later than Thursday, September 4th, 2014. There is no fee to enter the contest.
New this year is the Riverfest 52-Hour Film Festival, a chance for both novice and expert film makers to showcase their talents on the big screen using predetermined lines and props in their seven minute movies. Join us for the inaugural public viewing and award ceremony on Saturday, September 6th at 8:00pm in the Adventure Zone. Nineteen films will be competing for awards in eight categories. Don't miss your chance to vote for the Viewer's Choice award!
You will not want to miss this year's Riverfest Celebration! Admission to the two-day festival is free- thanks to our partners Miller Lite, Agero, US Bank, The Leaf-Chronicle, First Baptist Church, Navy Federal Credit Union, Clarksville Family Magazine, CDE Lightband, Lamar Advertising, Legends Bank, 88.3 WAY-FM, Sunkist, 7-up, Mary's the Music Store, Daymar College, Sunny 99.1, Bi-County Waste Management, Custom's House Museum, Clarksville Arts & Heritage Development Council, and the Downtown Artist Co-Op
For a complete list of Riverfest activities and other information please visit www.clarksvilleriverfest.com