Austin Peay Governors (0-5) vs. Mercer Bears (4-2)
Saturday, October 11th 2014 | 3:00pm CDT
Macon, GA | Mercer University Stadium

Macon, GA – Well, at least Mercer isn't ranked in the Football Championship Subdivision.
After playing back-to-back Top 25 FCS team in the last two weeks in Illinois State and Eastern Kentucky—and three out of the last four weeks—the Governors will play Mercer, 3:00pm CT, Saturday, at Mercer University Stadium.
Although the Bears may not be ranked, they enter the contest with a 4-2 record, including 1-1 as a first-year member of the Southern Conference. It has been quite the whirlwind for Mercer since it would return to playing football in 2010 after disbanding the program in 1941.
Bobby Lamb was hired as coach. Mercer initially returned as a non-scholarship (Pioneer Football League) program in 2012 but before ever playing one game announced in 2013 it would transition to a scholarship program. The Bears played in the PFL in 2013 before moving over to the SoCon to start this season.
The Bears went 10-2, 6-3 in the PFL, in its first season back as a football program in 2013. This season the Bears are off to a 4-2 start, winning their first-ever SoCon game against VMI, 27-24, September 27th. Mercer is coming off a 21-18 SoCon loss to Samford a week ago.
Leading the SoCon in total offense with 417.7 yards per game, Mercer is using a balanced attack that features Alex Lakes, the league's top rusher (100 yards per game) and quarterback, John Russ, the conference's leader in passing touchdowns (10), averaging 180 yards per contest.
In addition, kicker returner Chandler Curtis has been named SoCon Special Teams Player of the Week for three straight weeks—he won last week after returning a punt 99 yards.
Defensively, middle linebacker Tyler Ward leads the team with 57 tackles while end Tunde Ayinla and linebacker Kyle Williams have combined for 9.5 tackles for loss.
The 0-5 Govs, meanwhile, will attempt to build off last week's defensive improvement that saw them force No. 18 Eastern Kentucky into seven punts and four three-and-outs. Safety Damien Whitfield and linebacker Antonio Turner, both sophomores, each had 10 stops against the Colonels while stalwart senior defensive tackle Malcolm Goines had six stops in the interior.
For the Govs to snap FCS's longest losing streak, they must develop a semblance of offensive consistency. APSU tallied just 11 first downs and 190 yards total offense. APSU challenged the end zone one time and the drive ended at the one-yard line with a fourth-down fumble.
APSU Offense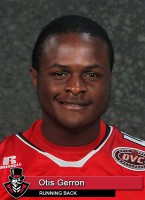 The Govs continue to seek offensive improvement. They have scored just 19 points in five games, including being shutout against Eastern Kentucky. Over the last two weeks the Govs have been stopped twice in goal-line situations.
For a second straight week a reserve running back gave the Govs a boost.
Two weeks ago it was walk-on freshman Otis Gerron who provided a second-and third-quarter rushing lift (38 yards) while this past week it was sophomore Julian Franklin, who had 39 yards on nine attempts against Eastern Kentucky.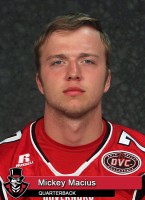 Freshman Mickey Macius was expected to be redshirted but early in the second quarter against Eastern Illinois, September 20th, that plan was tossed out the window.
Although he threw an incompletion on his first pass, he finished the half 4-of-6 passing for 72 yards, including one of 35 yards to Javier Booker and another of 27 yards to Malik Boynton. Boynton's catch set up APSU's only score. Macius finished the contest 4-of-11 for 72 yards.
APSU now is using a two-headed freshman quarterback system. Darrien Boone is still listed as the starter, although Mickey Macius got the first snaps against Eastern Kentucky.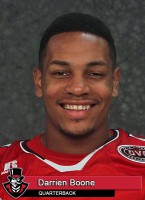 With APSU using Macius against Eastern Illinois, it meant the Govs had utilized four quarterbacks—Macius, Darrien Boone, Trey Taylor and Timarious Mitchell–this season.
Austin Peay's offensive struggles are evident by the numbers. In five games, the Govs have just 46 first downs compared to 128 by the opponents. They also are just 12-of-74 (16 percent) in third-down conversions.
The Govs also have scored just 19 points (3.8 ppg) in five games.
APSU Defense
For the third week in a row APSU started two freshmen defensive ends against Eastern Kentucky. This past week it was walk-on Jule Pace (four tackles, one for loss) and Tyler Schneider (one tackle). the previous week it was Taylor Parris and Scheider against Illinois State.
At Eastern Illinois it was Pace and Schneider for the first time. Meanwhile, another freshman, defensive tackle Nicholis Matiere-Bey, has taken considerable amount of snaps at defensive tackle the last three weeks since moving from end. He had three stops against Eastern Kentucky.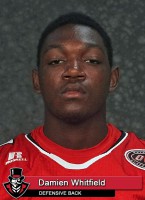 A pair of sophomores led the Governors in tackles against Eastern Kentucky. Sophomore safety Damien Whitfield collected 10 stops, including eight solo stops, while linebacker Antonio Turner also had 10 stops. It was his third career double-digit tackle performances.
Senior defensive tackle Malcolm Goines set a career-high with nine tackles against Eastern Illinois, September 20th. Goines then record his season's first sack against Illinois State.
For a second week in a row a cornerback led the Govs in tackles when Buddy Mitchell had seven (six unassisted) against Illinois State.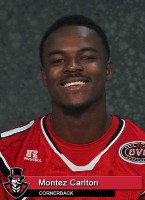 Cornerback Montez Carlton led the Govs in tackles with 11, including nine solo stops, at Eastern Illinois. It was his career's first double-digit tackle performance.
Sophomore safety Jalen Miller, making his career's second career start and first of 2014, recorded nine tackles against Eastern Illinois.
Freshman defensive tackle Nicholis Maitiere-Bey recorded the Govs' first 2014 sack of eight yards on a third-down play against Eastern Illinois. The joy was short-lived as the Govs were called for a personal foul penalty after the play.
APSU Special Teams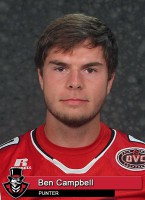 With his seventh punt of the first half against Eastern Kentucky, senior punter Ben Campbell broke Jimmy Hardie's mark (241) for second most career punts. He finished the night with 246 career punts and needs just 13 boots to tie J.P. Hogan's mark of 259 set from 2000-03.
With his career-high 11 punts, Ben Campbell now has 50 on the season. It was the fourth time in five games he has punted 10 or more times. He is second behind Mississippi Valley State's Cherchen Galon, who has 53 punts this season.
Ben Campbell has averaged 10 punts per game (50) through the season's first five contests. At his current pace he would obliterate his own single-season mark of 87.
Broadcast Information
Radio • Governors Sports Network
Play-by-Play: David Loos
Analyst: Brian Rives
ESPN3 • Online Broadcast
Play-by-Play: Dan Mathews
Analyst: D.J. Shockley
Sideline: Hannah Chalker
Governors on the Web
Online Video
www.espn3.com
Live Statistcs
www.MercerBears.com
Live Audio
www.LetsGoPeay.com/showcase