APSU Sports Information

Clarksville, TN – Austin Peay State University literally could re-title a popular old Glen Campbell song with its 2015 football recruiting class.
Instead of "Wichita Lineman" it easily could be titled "Austin Peay Linemen" as the Governors expect to bring some 17 new linemen to campus in 2015.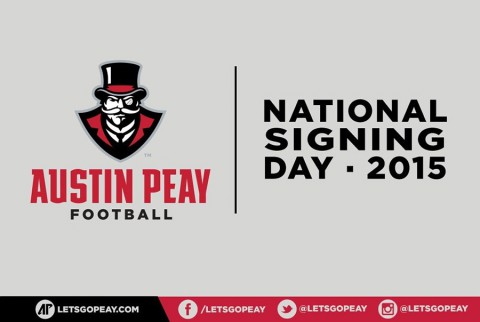 "I think you have to start on both sides of the ball—the offensive and defensive line," APSU coach
Kirby Cannon
said. "I think we just have to keep developing through numbers on the offensive and defensive line. It all starts there."
As many as 13 new linemen will be on the offensive side, including two junior college or prep academy transfers already here—the offensive line is an area that not only was hit hard by graduation this season but an area that lacked great depth in 2014.
"We lost nine scholarship offensive linemen in the last two graduating classes," APSU coach Kirby Cannon said. "Just from a straight numbers standpoint we had to have a large offensive line class. We also wanted to recruit some guys that could play early so we don't have that many projects in that group.
"We have brought in a few junior college lineman who I would think would get the first shot. That is what you expect from junior college kids. They are more mature in comparison to high school kids. Initially, they will fill a need for us and, hopefully, the high school kids will come along and compete for positions."
The Govs struggled offensively a year ago and when injuries occurred those struggles swelled.
"It becomes apparent if you can run it and you can't throw it, like what happened to us in our first five or six games, you know you need help," Cannon said. "But when you look at our scholarship breakdown there just wasn't enough scholarship players in that position. In our roster building we want to make sure we don't have too many at any one position, but make sure we have enough to get the job done. We set numbers on each position and we are working towards those as we evolve."
Defensively, the Govs added line depth both inside and at the ends.
"I always of been of that school that you recruit d-linemen until they are no other ones left," Cannon said. "You see and recruit them and not put as much a numbers lid on that position."
With a secondary that graduated three seniors, APSU also added depth to an areas that returns several second-year players. They also added additional linebacker depth to the defensive part of the class.
A year ago, the Govs thought they had a large enough running back stable but late in the season they were forced to move Rashaan Coleman back to running back. As a result, Austin Peay signed a pair of running backs.
With a host of young receivers returning, only one wideout was added to that group while the Govs also brought in just one quarterback candidate as Trey Taylor, Mickey Macius and Darrien Boone all return at that position.
"I think the best way to describe this class is it balanced," Cannon said. "We filled the needs we had with young men who are academically strong. I think it is a class that demonstrates a year's worth of work, a class that was nearly committed before campus visits.
"That is a tribute to the staff in their continued efforts during the season. We had 150 kids visit us during game days as compared to 15 the year before, which also can be greatly attributed to our new stadium and facilities. All that extra work and organization is done by your staff. I want to give them great credit for sustaining their work ethic during the year. It is a cycle that never really ends."
2015 APSU Football Recruiting Class
Mikal Ballard
Athlete
6-1, 187
Louisville, Ky.
Seneca HS
Played multiple positions for Lavell Body at Seneca High School…as a receiver caught 35 passes fof 782 yards and five TDs…as defensive back was credited with 72 tackles, one interception and 15 pass break ups in addition to one forced fumble…selected first-team all-district…also was chosen to play in East/West All-Star game.
http://www.hudl.com/athlete/427343/highlights/170692380/v2
Chad Cessna
Offensive Tackle
6-5, 265
Hopkinsville Ky.
Hopkinsville HS
Played offensive line for Marc Clark at Hopkinsville High School…earned all-Western Kentucky as junior and senior after earning All-Kentucky New Era as sophomore.
http://www.hudl.com/athlete/1469971/highlights/102628376/v2
Nolan Chowbay
Quarterback
6-2, 176
Mt. Juliet, Tenn.
Mt. Juliet HS
Quarterback for Trey Perry at Mt. Juliet High School…as senior, passed for 1,628 yards and 15 TDs…also rushed for 398 and seven TDs…chosen as District 9-AAA co-MVP…clocked at 4.7 in 40…brother Caleb plays basketball at Belmont.
http://www.hudl.com/athlete/1586013/highlights/163664382
Juwan Davis
Wide Receiver
6-2, 185
Antioch, Tenn.
Hillsboro HS
Wide receiver for Craig Clayton at Hillsboro High School…multisport athlete also plays basketball…as senior caught 38 passes for 604 yards and eight TDs.
http://www.hudl.com/athlete/510415/highlights/219464382/v2
Taye Davis
Running Back
6-2, 240
Lebanon, Tenn.
Lebanon HS
Running back for Sam Harp at Lebanon High School… three-year starter for Blue Devils, rushing for 2,432 in his career…as senior rushed for 762 yards on 127 carries, averaging an even six yards per carry with five touchdowns…also caught 24 passes for 370 yards (15.4 per reception) for three more TD.
http://www.hudl.com/athlete/2432750/highlights/179194375/v2
Jalen Flye-Sadler
Offensive Tackle
6-8, 310
Cape Girardeau, Mo.
Cape Central HS
Played offense tackle for Nathan Norman at Cape Central…anchor of offensive line that reached Class 4 state championship game… as senior earned Missouri Coaches Association and Missouri Sportswriters and Sportscasters Association second-team All-State honors…also earned all-region, all-district, all-conference honors as well as All-Southeast Missourian football team. http://www.hudl.com/athlete/2860606/highlights/210244410/v2
Marvin Franklin
Running Back
5-10, 175
Brownstown, Mich.
Oscar A. Carlson HS
Played running back for Kent Sikora at Carlson High School…finished with 1,299 yards on 176 carries, 7.4 yards per carry…ran for 16 TDs…had outings of 198 and 191 rushing yards…selected all-conference…selected to the Daily News Herald All-Dream team.
http://www.hudl.com/athlete/1701492/highlights/192367380/v2
Jarrett Giacchino
Long snapper
6-2, 186
Bourbonnais, Ill.
Bradley Bourbonnais HS
Long snapper for Mike Kohl at Bardley Bourbannais…high school team made playoff back-to-back Class 7A Illinois state playoffs appearances.
http://www.hudl.com/athlete/2719924/highlights/187712383
Byron Glass
Offensive Line
6-2, 290
Acworth, Ga.
Harrison HS
Center, tackle and guard for Matt Dickmann at Harrison High School…recorded 128 pancake blocks during varsity career…earned first-team all-region as senior after gaining second-team as junior…also was selected all-Cobb County as senior… selected MVP offensive line at 2013 National Underclassmen Combine Atlanta…also at 2014 Adidas Georgia Showcase finished in top five by bench 185 pounds 29 times.
http://www.hudl.com/athlete/345611/highlights/158343378/v2
Malik Harris
Tight End
6-5, 260
Omaha, Neb.
Omaha Central HS
Illinois State
Mid-year transfer…will provide size and strength at tight end position… three-year varsity starter for head coach Jay Ball at Omaha Central … Omaha World-Herald 2013 All-Nebraska Class A honorable mention selection …primary blocking tight end in the Central offense, but did manage to catch 15 passes for 250 yards and four TD…also played defensive line … standout on the basketball court for the perennial powerhouse program that won four straight state titles, averaging double-double.
http://www.hudl.com/athlete/1533215/highlights/86005375/v2
Andrew Hedger
Tight End
6-5, 235
Lakeside Park, Ky.
Dixie Heights HS
Tight end for Dave Brossart at Dixie Heights…caught 60 passes for 700 yards…earned All-Northern Kentucky first team…also plays basketball at Dixie Heights.
http://www.hudl.com/athlete/2343963/highlights/199110375/v2
James Irwin
Offensive guard
6-4, 230
Clarksville, Tenn.
Rossview High School
Played offensive tackle and guard for Ron Lambert at Rossview High School… started every game since his freshman season for the Hawks…graded out at 85 percent in 35-of-40 career prep games…allowed only one sack as senior and was anchor of offensive line that had six 1,000-yard rushers in the last three years…chosen Class 6A All-State by the Tennessee Sports Writers Association…three-time Leaf-Chronicle All-Area team…two time all-district selection…also plays basketball at Rossview.
http://www.hudl.com/athlete/859960/highlights/220623389
Donovan Jackson
Cornerback/Kick Return Specialist
5-10, 185
Detroit, Mich.
Loyola HS
Minnesota West Community and Technical College
Will have two seasons of eligibility…played cornerback for Jeff Linder at Minnesota West…collected five Interceptions, two being returned for TDs…also was credited with 17 pass breakups…also returned three kickoffs for TDs…earned All-America as well as all-region and all-conference…during prep career at Loyola High School played defensive back, wide receiver, running back as well as returning kicks…earned all-state as senior…also was two-time all-conference along with all-region as senior…selected third-team Detroit Free Press Dream Team…considered one of nation's top return specialists as senior, playing in All-American Bowl…as track star, left Loyola as the school record holder in 100 meters.
http://www.hudl.com/athlete/1870222/highlights/173402375
Branden Johnson
Defensive Line
6-3, 280
Edgewood, Ky.
Dixie Heights
Defensive tackle for Dave Brossart at Dixie Heights…earned second-team All-State as senior…team went 3-8 to 13-2 and state runners up as senior…from also selected all-region and all-Northern Kentucky as junior and senior as well as All-6A…outstanding athlete who runs 5.0 40-yard time…state champion wrestler as junior as well as third in shot put, earning all-state in both sports.
http://www.hudl.com/athlete/3045609/highlights/69417396/v2
Hunter Lane
Defensive End
6-4, 250
Knoxville, Tenn.
Gibbs HS
Played defensive end, linebacker, offensive tackle and offensive guard for Brad Conley at Gibbs High School…credited with 84 tackles as senior…recorded 10 tackles for loss, including seven sacks…had 79 tackles as junior, including 13 sacks…two-time 5A All-State defensive lineman…after being named District 3-5A Lineman of the Year in 2013 was chosen 2014 District 3-5A Lineman of Year…two-time all-district as well as being named to Knoxville Interscholastic League defense…also named to 2013 Prepxtra First Team Defense…voted 2014 All-State Academic Athlete Award…also selected 2014 Army ROTC All-State Academic Team…been timed at 4.7 in 40…team captain as senior…member of Team Leadership Council, sophomore, junior and senior season…named to 2013 All-High School Hero Team…selected to play in the 2015 National Guard Kentucky/Tennessee Border Bowl.
http://www.hudl.com/athlete/2580267/highlights/161888375/v2
Connor Massey
Offensive Line
6-4, 305
Ozark, Mo.
Ozark HS
Played offensive tackle for Mark Bliss at Ozark High School…earned second-team all-state as senior…two-time first-team all-region…also earned second-team all-district as junior.
http://www.hudl.com/athlete/1712568/highlights/210190414/v2
Trevor Morehead
Defensive Line
6-1, 295
Chaffee, Mo.
Chaffee HS
Played defensive line for Charlie Vickery at Chaffee High School…defensive line prospect missed senior season following injury… earned second-team all-state as junior… sophomore and junior gained first-team all-conference and all-region…multisport athlete also has played basketball and participated in track… all-district basketball junior year…shot put conference champ freshman year while earning all-conference since freshman year…district champion and state qualifier shot put in 2014…earned school's math, science, and language awards.
http://www.hudl.com/athlete/802898/highlights/111427382/v2
Immanuel Newsom
Offensive Tackle
6-5, 280
Nashville, Tenn.
Maplewood HS
Played offensive tackle for Arcentae Broome at Maplewood High School…multisport athlete also plays basketball.
http://www.hudl.com/athlete/2926102/highlights/214427375/v2
Steven Pappadakes
Defensive End
6-4, 240
Rocky River, Ohio
Rocky River HS
Played defensive end for Jason Fowler at Rocky River High School…finished senior season with 58 total tackles, including 30 for loss…credited with eight quarterback sacks…five-time team defensive player of game…also awarded "Big Hit" award three times…multisport athlete also is lacrosse team captain for two-time state championship game finalist.
http://www.hudl.com/athlete/2794926/highlights/199372393/v2
Zach Roberts
6-2, 256
Defensive Tackle
Nashville, Tenn.
Montgomery Bell Academy
Played defensive tackle for Marty Euverard at MBA…lineman for club that was Division II State championship in 2014 after finishing second in 2013.
http://www.hudl.com/athlete/2711490/zach-roberts
Ryan Rockensuess
Offensive Line
6-5, 295
Troy, Mich.
Troy Athens HS
Offensive lineman for Josh Heppner at Troy Athens High School…selected All-Metro North first team as senior and first-team all-conference…also participates in wrestling, track and field and powerlifting…benches 275, squats 410, deadlifts 515 and power cleans 280…summa cum laude four years.
http://www.hudl.com/athlete/1646722/highlights/163096375/v2
Mykhael Sanford
Safety
5-10, 193
Daphne, Ala.
Daphne HS
Safety for Glenn Vickery at Daphne High School…credited with more than 110 tackles each of his three prep season…in 2014, had 91 solo stops in his 114 tackles…had 12.5 tackles for loss while forcing three fumbles and recovering one…intercepted one pass and broke up five others…as junior was credited with 122 tackles, including eight for loss….forced six fumbles and broke up eight passes…as sophomore tallied 143 tackles, including 72 solo stops…chosen second-team all-region as junior and senior…named first-team All-Baldwin county all three prep seasons…related to former LSU quarterback Jamarcus Russell and as well as former Tennessee signal caller  Condredge Holloway as well as former Alabama linebacker Tana Patrick.
http://www.hudl.com/athlete/1421806/highlights/158443380/v2
Hunter Schmeisser
Offensive Tackle
6-3, 300
Brentwood High School
Brentwood, Tenn.
Offensive lineman for former Govs graduate assistant Mike Woodward at Brentwood High School…earned all-district as senior as well as second-team all-conference…voted team captain.
http://www.hudl.com/athlete/2037537/highlights/165530378
Ethan Self
Offensive Tackle
6-3, 290
Melbourne, Fla.
Melcourne Central Catholic High School
Midwest Prep Academy
Mid-year transfer will compete for offensive line spot in his first Govs season…came to APSU from Midwest Prep Academy in Chicago…offensive tackle for Mike Riazzi at Melbourne Central…earned first-team All-State as senior after earning second-team honors in 2013…also two-year all-conference selection…also played baseball in high school. http://www.hudl.com/athlete/1063387/highlights/170855375/v2
Ryan Sinkler
Center/Offensive guard
6-2, 280
Shawnee Mission, Kansas
Bishop Miege High School
Coffeyville Community College
Offensive guard and center for Aaron Flores at Coffeyville Community College…mid-year transfer who will compete for a starting position in the spring…played both positions for Jon Holmes at Bishop Miege High School where he was teammates with Missour All-American Shane Ray. http://www.hudl.com/athlete/3722332/highlights/158352386
Devin Stuart
Defensive Back
5-10, 160
Kingsport, Tenn.
Dobyns-Bennett
Played defensive back and wide receiver for Graham Clark at Dobyns-Bennett…multi-sport athlete stars in basketball while also running track.
http://www.hudl.com/athlete/3990957/highlights/171424385
Tyler Trammel
Offensive Tackle
6-7, 290
Portland, Tenn.
Portland HS
Offensive tackle at Portland High School…named National Underclassmen All-American. http://www.hudl.com/athlete/2110588/highlights/195423380
Kyle Wallace
Defensive back
5-11, 180
Chicago, Ill.
Hales Franciscan HS
Played defensive back, wide receiver, running back and returned kicks for Randall Townsell at Hales Franciscan High School…three-year starter…as senior credited with 78 tackles, incluiding.15 sacks…also caught 20 passes for  500 yards…voted as team captain.
http://www.hudl.com/athlete/4626922/highlights/213875378/v2
Sean Wampler
6-1, 195
Safety
Jasper, Tenn.
Baylor School
Played strong safety for Phillip Massey at Baylor School…earned first-team all-conference as junior.
http://www.hudl.com/athlete/1162476/highlights/199011697
Shaun Whittinghill
Defensive end
6-4, 225
Louisville, Ky.
Moore Traditional School
Played defensive end/linebacker for Eric Dick at Moore School…credited with 141 tackles as senior, including 28 for loss…recorded 13.5 sacks and while forcing four fumbles and recovering four…finished career with 277 total tackles, including 30.5 sacks…also had 10 forced fumbles; 12 fumble recoveries, four resulting in TD, five blocked field goals and two blocked punts…preseason All-Metro Louisville…listed among Top 40 Kentucky prospects entering season…selected first-team 2014 Kentucky Preps All-State while being honorable mention for Louisville Courier Journal and Associated Press All-State teams…two-time first-team all-conference selection… also participates in tennis and track…earned First-Scholar Award as well as the Spalding University Book Award.
http://www.hudl.com/athlete/2067336/highlights/175703377/v2
Arthur Williams
6-0, 230
Linebacker
Chicago. Ill.
Kernwood Academy
Defensive end and offensive guard for Darnell Jones at Kernwood Academy…as senior credited with 67 tackles, including 10 sacks…combined for 97 tackles during junior and sophomores season, including eight sacks in each season…selected all-league as junior and senior…listed on Mike Clark's Top 100 Players in Chicago Area for 2014…multi-sport athlete also has competed in track and field, basketball and wrestling…won city championship in shot put a year ago….member of Core6 Athletes where he was named most improved a year ago.
https://www.youtube.com/watch?v=e31tsK5mD-M