Austin Peay hosts Governors Challenge
Niagra (Fri) | South Dakota State (Sat) | Northern Illinois (Sat & Sun)
Friday-Sunday, February 13th-15th, 2015
Clarksville, TN | Raymond C. Hand Park

Clarksville, TN – Austin Peay's baseball team begins its 2015 season when it hosts the Governors Challenge, Friday-Sunday, at Raymond C. Hand Park. The Govs will host Niagara, Northern Illinois and South Dakota State in the three-day, seven-game event – opening its season with a 3:00pm, Friday contest against Niagara.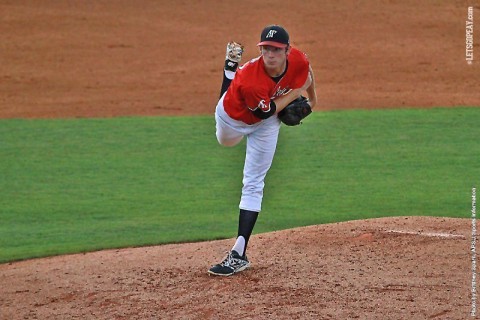 After winning the OVC Tournament each of the previous three seasons, Austin Peay missed the 2014 event by one game.
The Govs started seven freshmen on a regular basis during last season's campaign and all seven of those players return in 2015.
Three of those freshmen were the Govs offensive leaders – infielder Alex Robles, utility man Ridge Smith and outfielder Cayce Bredlau – each batted over .300 in their rookie campaigns and were named to the OVC's All-Freshman Team.
The biggest difference for APSU in 2015 likely will be on the mound where left-handed starter Zach Hall, the team's opening day starter in 2014, and right-handed reliever Kacy Kemmer, who was APSU's top middle reliever in 2013, return after missing the bulk of the 2014 campaign.
Austin Peay also returns right-handers Alex Robles, the OVC Rookie of the Year, and Jared Carkuff, who were the team's No. 1 and No. 2 starters at last season's end.
First Hacks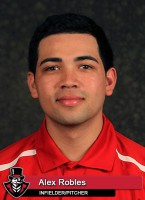 Austin Peay was picked to finish fourth in the OVC's preseason poll of coaches and sports information directors. Sophomores Alex Robles and Ridge Smith were each selected to the league's preseason squad.
Austin Peay finished 2014 with a 23-33 overall record, starting seven freshman for the bulk of the campaign. The Govs fell out of the OVC's six-team tournament field on the regular season's final day, a 4-3 loss at SIUE dropping it to 14-16 and seventh place in league action.
Sophomore two-way man Alex Robles returns after earning OVC Rookie of the Year honors in 2014 and is a Preseason All-America selection after leading APSU with a .349 batting average last season; he will begin the year as the Govs' designated hitter.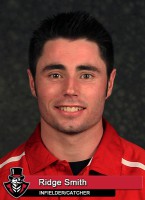 Sophomore utility man Ridge Smith returns after picking up first-team All-OVC honors last season, batting .310 with a team-best 44 RBI, but will move into the starting catcher spot in 2015. Sophomore outfielder Cayce Bredlau was second on the team with a .331 batting average and was named to the OVC's All-Freshman Team.
Sophomore infielders Logan Gray and Dre Gleason joined Robles, Smith and Bredlau as Louisville Slugger Freshman All-America picks. Sophomore infielder Garrett Copeland was the one freshman regular not named to a freshman All-America team despite being the only Govs player to start all 56 games.
The Govs saw seniors P.J. Torres and Rolando Gautier depart due to graduation; Smith will move into Torres' spot behind the plate while junior transfer Kyle Blackburn will share right-field duties with sophomore Chase Hamilton.
Junior transfer Patrick Massoni, brother of Govs alumnus Craig Massoni, will begin the season as the starting centerfield in his first season with the Govs.
Toeing The Rubber
Austin Peay's starting rotation returns three pitchers – Jared Carkuff, Caleb Powell and Alex Robles – who made six or more starts for the Govs in 2015.
Robles was APSU's No. 1 starter throughout OVC play while Carkuff assumed the No. 2 role during league play.
Powell was the starter for the Govs regular-season finale at SIU Edwardsville.
Zach Hall returns to the rotation after missing the final 12 weeks of the 2014 season after an arm injury sidelined him at Baylor.
Probable Starters
Date
Austin Peay Starter
Start
Opponent's Starter
FRI.
LHP Zach Hall (#10, RSr., 0-1, 8.59 ERA)
3:pm
LHP Cody Erickson (#2, So., 5-1, 4.08 ERA)
SAT.
RHP Jared Carkuff (#16, Jr., 3-3, 4.31 ERA)
11:00am
LHP Chris Anderson (#2, Sr., 1-4, 2.48 ERA)
SAT.
RHP Caleb Powell (#21, So., 0-1, 7.26 ERA)
6:00pm
RHP Joe Ceja (#32, Jr., 4-1, 2.06 ERA @Heartland CC)
SUN
RHP Alex Robles (#5, So., 6-2, 3.63 ERA)
2:30pm
LHP Ryan Olson (#35, Jr., 1-2, 3.10 ERA)
Inclement Weather
With inclement weather forecast for the weekend, schedule changes are possible. Schedule updates will be available at LetsGoPeay.com – Austin Peay's official athletics website – and on APSU Baseball's official twitter account @APSUBaseball.
Video – Coach Gary McClure
Broadcast Information
Digital Audio • Governors Digital Passport
All APSU Baseball nonconference contests will be available free online at wwww.LetsGoPeay.com/watch
Governors on the Web
Live Audio: www.LetsGoPeay.com/watch
Live Statistics: www.PeayStats.com
Twitter: @APSUBaseball