Montgomery County, TN – A Montgomery County Sheriff's Deputy arrested two Sunday evening while investigating a suspicious vehicle, hearing gunshots and having several rounds come into close proximity of him.
K9 Deputy Jacob Kent responded to the unoccupied silver Jeep Patriot around 7:00pm on Perigo Road. Kent returned to his vehicle to run the registration on the vehicle when he heard gunshots.
"I heard bullets whizzing past me overhead, and I called for backup," Kent wrote in a report.
Kent took cover behind his vehicle, told the suspects to come out of the woods with their hands on their heads. Deputies Ryan Ayrest and Michael Smith arrived and assisted taking Stuart Androws, 20, of Clarksville and Michelle Perigo, 18, of Clarksville into custody.
Androws came out of the woods with a handgun in his hands above his head. He told Kent he took the gun from his grandfather's home to shoot it.
Kent then checked the vehicle where he believed he smelled marijuana. He led K9 Titan to sniff the vehicle and found marijuana, a glass pipe and digital scales. Androws admitted to owning the items.
Perigo was found in possession of prescription pills that weren't prescribed to her, along with a small amount of marijuana and peanut brittle marijuana.
Two juveniles were also on the scene of the incident.
Androws was charged with reckless endangerment, unlawful carrying of a weapon, contributing to the delinquency of a minor, simple possession of drugs and unlawful drug paraphernalia. His bond was set at $7,500.
Perigo also faces drug charges and contributing to the delinquency of a minor. Her bond was set at $1,250.
"It's getting warm out, and kids are looking for things to do," said Montgomery County Sheriff John Fuson. "Please make sure you keep your firearms out of their reach, and out of the reach of anyone that you don't want to possess them."
Stuart Androws
Name: Stuart Androws
Date of Birth: 7/ 21/ 94
Gender: M
Race: W
Address: 419 Circle Drive, Clarksville, TN
Arresting Officer: Jacob Kent
Charged With: Reckless Endangerment, Unlawful Carrying/Possession of a Weapon, Contributing to the Delinquency of a Minor, Drugs – Simple Possession/Casual Exchange, Drugs – Unlawful Drug Paraphernalia
Booked Into: Montgomery County Jail
Bond: $7,500.00
Michelle Perigo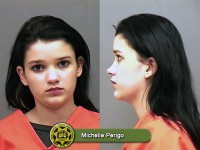 Name: Michelle Perigo
Date of Birth: 5/ 14/ 96
Gender: F
Race: W
Address: 8 Mississippi Avenue, Clarksville, TN
Arresting Officer: Jacob Kent
Charged With: Two Counts Drugs – Simple Possession/Casual Exchange, Drugs – Possession without Prescription, Unlawful Drug Paraphernalia, Contributing to the Delinquency of a Minor
Booked Into: Montgomery County Jail
Bond: $1,250.00