Headquarters, 101st Airborne Division (Air Assault)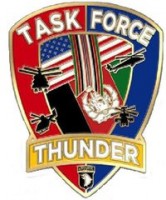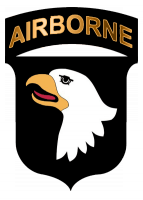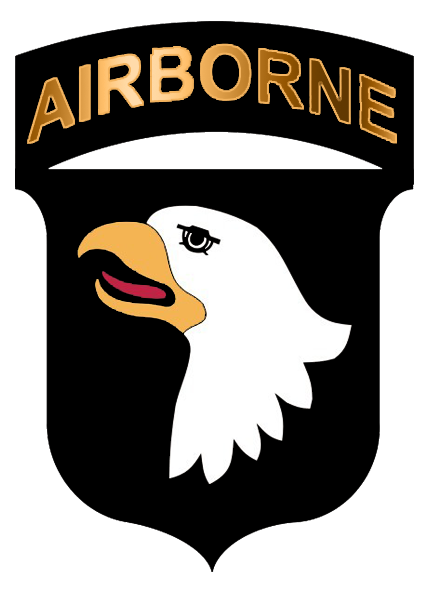 Fort Campbell, KY – Soldiers, families and friends of the 159th Combat Aviation Brigade, 101st Airborne Division (Air Assault), gathered at the division parade field here, May 7th to conduct the final official ceremony in the brigade's history.
After 18 years of service, the 159th CAB colors were cased at the ceremony by Col. Jimmy Blackmon, the final brigade commander of the 159th CAB "Thunder Brigade," and retired Col. Bob Freeman, the honorary colonel of the brigade, signifying a conclusion to the legacy of this historic aviation unit.
With several subordinate units that trace their lineage back to Vietnam, the 159th CAB has provided aviation support to the 101st Abn. Div. in Vietnam, the Gulf War, Bosnia, Kosovo, Trinidad and Tobago, and Central America.
More recently, the 159th CAB played an active role in both Operation Iraqi Freedom in 2003 and 2005, and Operation Enduring Freedom in 2002, 2008, 2011 and 2014. The brigade had aircraft and crews participate in Operation Anaconda in March 2002, where it provided lift and assault capabilities during the early stages of OEF.
In 2003, the 159th also conducted the largest Air Assault operation in history by carrying fellow Screaming Eagles into northern Iraq in the seize of Mosul, where the division would later make its primary base of operations.
Most recently, the brigade returned from deployment in September 2014 where it provided general aviation support to the Government of the Islamic Republic of Afghanistan during its pivotal presidential elections in April 2014.
"We often quote our first commanding general, William C. Lee, at the dawn of World War II, for saying that the 101st has no history, but a rendezvous with destiny, but we don't always pay enough attention to that full order in which he said, 'the history we shall make, the record of high achievement we hope to write in the annals of the American Army and the American people, depends wholly and completely on the men of this division,'" said Blackmon. "Having served seven years in this great brigade, I think that I am qualified to say that the Thunder Warriors of the 159th Combat Aviation Brigade have indeed forged a record of high achievement in the annals of the American Army."
After the 159th CAB inactivates, many 159th CAB Soldiers and units will remain with the 101st Abn. Div. and their sister aviation brigade, the 101st Combat Aviation Brigade. Other Soldiers will be redistributed around the Army for future assignments.
Regardless of their next assignments, each Soldier of the 159th CAB will take their place in history as part of a unit that has made significant accomplishments to the benefit of the nation.
With many members of the communities that surround Fort Campbell in attendance, Blackmon stated his appreciation to the overwhelming support of the neighboring communities.
"Lt. Gen. Halverson recently visited Fort Campbell, and I tried to articulate to him the uniqueness of Fort Campbell and its relationship to Clarksville, Hopkinsville, and Oak Grove," said Blackmon. "We treasure the relationship we have with these great Tennessee and Kentucky communities … I do not have the words to express my genuine gratitude for the friendships my family and I have forged within these communities."
Video
159th Combat Aviation Brigade Inactivation Ceremony