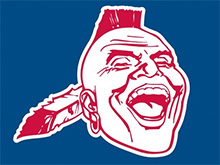 Clarksville, TN – As I'm writing this, the Braves are imploding against the Tampa Bay Rays.
Actually, that's not an accurate assessment of the situation. The Braves bullpen took a three-run lead into the bottom of the seventh on Wednesday night in Tampa and turned it into a three-run deficit in about four seconds. Matt Marksberry is looking, well, like a guy who was in A-ball to start the season—no shame on him either, that's just what the situation calls for now.
It's not fair to him that he has to play above his ski's right now, but there's just not much left in the cupboard. No Jason Grilli. No Jim Johnson. No Luis Avilan. If Arodys Vizcaino and Andrew McKirahan are the class of your bullpen, that doesn't speak volumes so much as shout them, Lewis Black-style, from a mountaintop of crap, inexperience and ineptitude.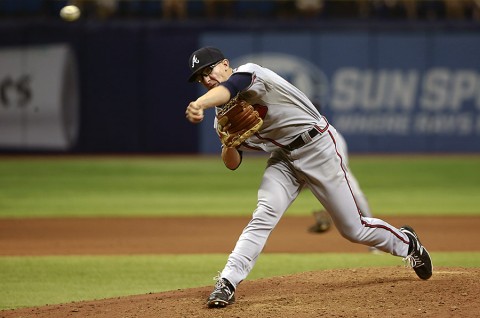 A great many of these names sound like computer-generated players from old video games. Jake Brigham. Ryan Kelly. Jon Dowd. Shakespeare O'Houlihan. David Aardsma. Three of those are currently in the Atlanta bullpen.
(If I may lay bias aside for a moment here, what does former Austin Peay standout Ryne Harper have to do to make The Show? He went nearly two months between earned runs allowed at Mississippi. What's a Gov gotta do to get some love in this organization?)
Once upon a time, way back in 2012, the Braves bullpen was absolutely the best in baseball. Jonny Venters and Eric O'Flaherty paved the way to Craig Kimbrel and if a starter could get through six with a lead, it was typically game over. Then Venters' arm exploded, O'Flaherty left and Kimbrel was the bounty paid to the San Diego Padres for taking in Melvin Upton's contract and that was that. Now we're here, and here is a bad place to be.
The good news is that the on-going firesale (I say on-going because never say never with John Hart) has built a bevy, a plethora, a potpourri of young, viable arms in every part of the farm system that will pay dividends in 2016 and beyond—we think (hope?). The more blurry part is how all these pieces may fit together over the next few years.
Shelby Miller, Julio Teheran and Matt Wisler are probably going to be involved in the rotation in some capacity—unless (until?) one of them gets traded. Vizcaino is a bullpen workhorse—assuming he doesn't get popped for PED's again—and the same goes for McKirahan.
Manny Banuelos and Shae Simmons won't be injured eventually, and Banuelos will be nice No. 4. Touki Toussaint and Tyrell Jenkins will be ready posthaste, and one or both could push their way into the rotation and knock Banuelos into a relief role. Williams Perez and Mike Foltynewicz most likely go to the bullpen, with Folty a prime closing candidate—or they could decide he's a frontline starter too. So many options.
By my calculations, that leaves precisely one spot open. Good luck Max Fried, Lucas Sims, Zachary Bird, Jason Hursh, Mauricio Cabrera, John Gant and Daniel Winkler – and those are just the guys slated for Double-A and above when they aren't injured.
What I'm saying is that this could be an interesting September. With nothing more to play for than the opportunity to avoid the first 90-loss season since 2008, what's stopping Fredi experimenting? Give me a 10-man rotation for the entirety of September.
Give me multiple looks at Toussaint, Jenkins and Sims. Let Folty pull a John Smoltz for the month—start some games in the early part of the month, close some games later—and figure out where he will be put to best use long-term. I'm tired of this team pretending to be competitive in 2015; I'd rather they were interestingly terrible.
What to Read
It's that hallowed spot in the August calendar when our elder Braves fans reflect on that day long ago when the Braves and Padres brawled to the point that 13 players and coaches got tossed, five people got arrested and the Braves won a rare baseball game (this was the early-80s). The Sporting News reminded us all of that on Wednesday, and we're better people for that reminder now.
Stat o' the Week
Remember how getting rid of most of last season's lineup was going to cure the Braves ills offensively by creating a lineup that put the ball in play on more swings? Well, that's half-right. The Braves—last in baseball in swinging strike percentage at 11.5 percent in 2014—have reduced that figure to 8.5 percent in 2015, fourth-best in the league.
That's also resulted in a noticeable contact rate spike from 76.1 percent to 81.3 percent. And that grandiose improvement that has led them from a 29th-place showing in runs per game (3.54) in 2014 to… a 26th place position (3.73) after 114 games this season. I don't know sometimes.
If you only catch one game of the Diamondbacks series, make it…
One-time wunderkind Patrick Corbin against current wunderkind Folty on Saturday. From The Theodore at 6:10pm. (CT).
Complementary Old-Timey Baseball Quote
"A mouse studying to become a rat." – Writer and producer John Schulian on Billy Martin
Best performance by a former Brave last week
Justin Upton had one of those vintage Justin Upton Performances last week, hitting .333 with a couple of homers and six RBI. Lot of good it did the Padres, who have last seven of their last nine and made A.J. Preller's decision to pull a Jim Fassel and push all his chips in at the trade deadline look even more ludicrous. C'mon John Hart, swing one more deal with Preller for old time's sake before his inevitable firing.
(Poor A.J. Preller. He's probably a very nice man, but he's taken more abuse in this space over the last month than Fredi and Frank did at any point a year ago.)