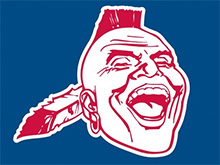 Clarksville, TN – In an up-and-down (mostly down) Atlanta Braves season, you take solace in the little things. Jace Peterson looking like a potential cornerstone, for instance. The A.J. Pierzynski Revival. The on-going delight that is watching Andrelton Simmons range deep into the hole, make the impossible backhanded stab, stop on a dime, set, load his cannon of an arm and throw a hustling batter out by two steps.
But the most enjoyable phrase we've heard all season happened last week:
"The Braves have purchased the contract of Peter Moylan from Triple-A Gwinnett."
Nobody has been counted out, only to roar back, more times than Moylo. The side-arming right-hander was initially in the Minnesota Twins organization, then went back to Australia and became a pharmaceutical sales rep in 1998.
That was the last anybody really heard from him until 2006, when he represented Australia in the inaugural World Baseball Classic. He performed so well that the Braves invited him to the following spring training and it wasn't long until he made his debut, sticking for good in 2007 until signing a minor league deal with the Dodgers and bounced between Triple-A and the bigs in 2013.
He sat out in 2014 after his second career Tommy John surgery and came back to the Atlanta organization on a two-year minor league deal in 2015 that included a spring training invite for next season and the opportunity to serve as the defacto player-coach (I was there was more of that, but whatever) with Danville, but was too good to keep down long, especially considering Atlanta's season-long bullpen woes.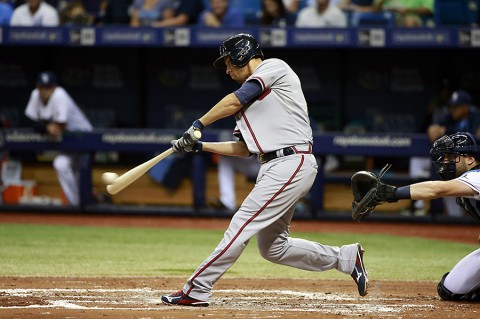 If that's not a success story, I don't know what is. How indispensable is it for a bullpen full of Millennials to have this wise old sage hanging around—he's still a player-coach, for all intents and purposes. Matt Marksberry, Andrew McKirahan, Williams Perez and Arodys Vizcaino will all be better for this experience, if only by osmosis—you don't get to Moylan's station in life without picking up some pitch-hacks along the way.
Moylan himself looks a bit different—dropped some weight, rediscovered some velocity and never lost the movement that made him a stalwart all those years, one of the links between the Bobby Cox days and the Fredi Era. In a lost season, the reminders of what once made this such a great organization—even a relatively minor figure like a beloved situation right-hander from Australia—of what could be great again.
It's a nice story made nicer by the fact that Moylo has actually looked pretty good in his early appearances. His first outing against Arizona was splendid and his pitches have more bite to them than I remember them having toward the end of his last tenure. Maybe he can be a bridge to a new era—from the lost late-Wren/early-Hart times to something hopefully more fulsome.
What to Read
Filed under 'Boy, the truth gets vicious when you corner it.'
Stat o' the Week
Few teams hit the other way more often than the Braves, who rank fourth in baseball with a 27.3 percent opposite field batted-ball percentage. And although it's probably not indicative of a poor-hitting ball-club to go to the opposite field so often (although the Braves are undoubtedly a poor-hitting ball-club), it's telling that the top-five in that category are a combined 80 games under .500 (256-336) in 2015.
(If this were Twitter, this would be the part where I inserted the photo of Kermit the Frog drinking tea with the "But that's none of my business," tag underneath it.)
If you only catch one game of the Cubs series, make it…
The one where Kyle Schwarber actually hits a baseball so hard that the person who tries to catch it is immediately vaporized. Bet on Mike Foltynewicz's Thursday outing, particularly if the wind is blowing out.
Complementary Old-Timey Baseball Quote
"Nothing. How about some practice?" – Stump Merrill, as Yankees first-base coach when asked by his wife Carole what he did aside from "pat guys on the rear end when they reached base"; quoted in The Sporting News, April 15, 1985.
Best Performance by a former Brave last week
As happens sometimes, I got down here toward the end of the column and started looking around for who had a good week and hey, there's Brian McCann, he's been pretty good again, and Craig Kimbrel has really settled in for San Diego, so those are probably the guys and I should study the stats and make a pick. But in reality, neither choice really jumped out at me.
Then Melvin (Please don't call me B.J.) Upton, Jr. hit his second home run of Tuesday night against the Braves.
So I don't know anymore. I don't care. If 'Melvin Upton, two-homer, five-RBI night' doesn't signal end times, I'm not sure what will. Melvin killed the Braves payroll, played like crap for two solid seasons and couldn't just be traded to somebody, he had to be packaged with an actual baseball player just to get some lummox to take his onerous contract off the Braves hands. I can't even be mad—much like Ron Burgundy when Baxter pooped in the fridge and ate the whole wheel of cheese, I'm actually impressed. Respect the hustle, Melvin.