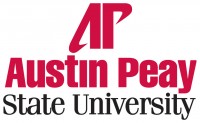 Clarksville, TN – At Kenwood High School on Tuesday, 18-year-old Skylar Hughes presented Austin Peay State University President Alisa White with a $25,000 check.
The money, which Skylar helped raise, will fund the Kathryn Watson Over Endowment—a new scholarship, named for Skylar's former teacher, that will be awarded each year to a Kenwood graduate majoring in education at APSU.
"She ( Over) had been my teacher from sixth through eighth grade at West Creek Middle School, and she changed my life in ways I never thought anyone could," Skylar said, pausing occasionally to keep herself from crying.
On September 18th, 2011, Over and four others—her husband, Jon, and friends Jim Wall, Tim Stone and Allison Bagwell-Wyatt—died of carbon monoxide poisoning while sleeping in an RV at the annual Bikers Who Care (BWC) Toy Run event.
"Coach Katy did more for my self esteem than I thought possible," Skylar said. "She showed me just because you're a tad bit different doesn't mean you do not deserve the best in life or that you do not deserve respect."
Skylar, a poised, confident young woman, was once a timid introvert who grew her hair long to hide her face. Born two and a half months premature, Skylar would lose the use of her left eye and spend much of her childhood being teased by her classmates.
"The biggest thing she (Over) taught me was to not hide my eye behind my hair," Skylar said. "For me this was a way to hide my looks. Since about first grade, I would grow my bangs out so long to the point where they would cover half my face, just so no one would see my eye. I was determined to never change. Katy encouraged me to stop hiding behind my hair. The next day, I came to school with my bangs cut."
In 2011, when a then-14-year-old Skylar learned that her friend and mentor had died, the high school freshman went to work raising public awareness about the threat of carbon monoxide poisoning. In 2012, her efforts led to the creation of the Carbon Monoxide Awareness Day in Clarksville.
"Declaring a carbon monoxide day in Clarksville was Skylar's idea," Clarksville Mayor Kim McMillan said. "She approached me after the tragedy as the mayor of the city and requested that we make the declaration. Obviously, we were impressed with the idea and Skylar's passion for this project, and we knew that this declaration was simply the right thing to do. Skylar is a young woman who, like Katy Over, is determined to make a difference."
Earlier this summer, Tennessee Governor Bill Haslam signed a bill—sponsored by State Representative Joe Pitts, State Senator Mark Green, State Representative Curtis Johnson and State Representative Jay Reedy—designating September 18th of each year as Carbon Monoxide Awareness Day in Tennessee.
"Thanks to Skylar, the state of Tennessee became the first state in our nation to have a carbon monoxide poisoning awareness day," Pitts said.
In 2012, the Tennessee General Assembly also enacted a law, known as the BWC5 Act, requiring all rented recreational vehicles to have working carbon monoxide detectors.
In addition to raising awareness about the dangers of carbon monoxide, Skylar decided to find another way to honor her late mentor.
"Because Coach Katy had such an impact on my life, I also wanted to do something to honor her memory," Skylar said. "So I began raising money for a scholarship in her name at Austin Peay State University, where she graduated college. Withmuch help from friends, family and the community, we now have enough to start the endowment scholarship."
Skylar presented the check during a special assembly in the Kenwood gymnasium, with Jon and Katy Over's motorcycle parked on the edge of the basketball court.
"Every morning, Katy would come up to me with a big bright smile and tap me on the shoulder and say 'Good morning Mr. Bedell. I hope you have a good day,'" Hal Bedell, Kenwood principal, said. He pointed to photographs of the BWC5, hanging above the gym. "These people were kind and generous, and on the tragic day of their deaths were working to provide toys and gifts for children throughout the community."
After receiving the donation, President White thanked Skylar and Over's parents—Christine and Eddie Watson—for entrusting the University with Katy's legacy.
"The person I wish I could thank today is Katy Watson Over," White said. "Unfortunately, I never had the pleasure of meeting her, but I'd love to tell her how proud I am to serve as president of a university that produced a graduate like her."
White then explained that the endowed scholarship will continue Over's legacy of making a difference in people's lives.
"Katy's name will be associated with amazing opportunities for Kenwood graduates for as along as both of these schools exist," White said.