Tennessee (11-12/4-6 SEC) vs. Auburn (9-13/3-7 SEC)
Tuesday, February 9th, 2016 | 7:01pm ET/6:01pm CT
Knoxville, TN | Thompson-Boling Arena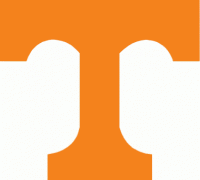 Knoxville, TN – SEC play rolls on for Tennessee when it welcomes Auburn to Thompson-Boling Arena Tuesday for a 7:00pm ET/6:00pm CT tip on the SEC Network.
The Vols (11-12, 4-6 SEC) got 24 points from senior guard Kevin Punter Jr. but fell 85-67 at Arkansas in its most recent action. Punter's 24 points marked his 17th game of 20-plus points this season and pushed the All-American hopeful's season-long scoring average to 23.2 points per game. That figure ranks second in the SEC and eighth in the nation.
Auburn (9-13, 3-7) has lost five straight games, including a 65-55 defeat at the hands of Georgia on Saturday in Athens.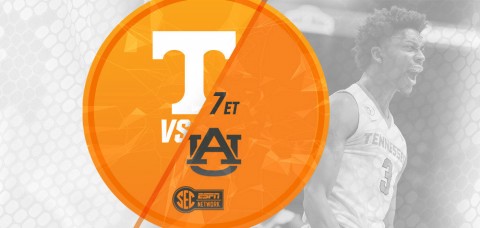 The Tigers will be without leading scorer Kareem Canty on Tuesday night as the junior guard has been suspended indefinitely for conduct detrimental to the team. Canty is averaging 18.3 ppg this season and scored 20 points for the Tigers in their 83-77 win over Tennessee in the SEC-opener.
In Canty's absence, Tyler Harris and Cinmeon Bowers led Auburn at Georgia, scoring 12 points apiece. Bowers finished the game with a double-double, hauling in 13 rebounds.
Auburn's win on January 2nd snapped an eight-game winning streak for the Vols against the Tigers, trimming UT's lead in the all-time series to 75-37. Tennessee is 47-7 all-time against Auburn in Knoxville, including a 71-63 victory at Thompson-Boling Arena last season.
This season's prior meeting between Tennessee and Auburn also rang in the arrival of true freshman Admiral Schofield. Schofield made the sixth start of his career at Auburn Arena, scoring a season-high 22 points while also grabbing eight boards.
Tennessee closes out the week on the road when it travels to Missouri for a Saturday matchup. The Vols will seek their third consecutive victory over Mizzou, and second straight in Columbia, with a 3:00pm ET/2:00pm CT tipoff on the SEC Network.
A Win Would
Give the Vols three straight home victories and an 11-2 record at Thompson-Boling Arena. Make Tennessee 4-3 all-time against teams led by a former UT head coach.
Give Tennessee victories in nine of its last 10 games against Auburn.
About the Auburn Tigers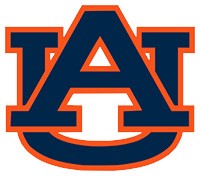 Auburn is 9-13 (3-7 SEC) in its second season under coach Bruce Pearl. Its RPI stands at No. 119. Pearl was the head coach at Tennessee from 2005-11.
Auburn has lost its last four games, and on Saturday, Pearl announced that Tigers' leading scorer (18.3 ppg, fourth in the SEC), Kareem Canty, had been placed on indefinite suspension.
Auburn senior forward Cinmeon Bowers (10.9 ppg, 9.0 rpg)) has nine double-doubles this season and is the SEC's third-leading rebounder.
Auburn forward Tyler Harris (15.0 ppg, 8.0 rpg) is the younger brother of #VFL Tobias Harris (2010-11), who was a Freshman All-American in his lone season at Tennessee and currently starts for the Orlando Magic as a fifth-year pro. Tyler Harris has eight double-doubles on the year, and his 3.3 offensive rebounds per game in SEC play lead the league.
In SEC play, the Tigers lead the league with 9.0 made 3-pointers per game.
Last Meeting with Auburn
Tennessee rallied from double-digit deficit in the first half but could not come back in the second in a 83-77 loss at Auburn to open SEC play on January 2nd, 2016, at Auburn Arena. Tennessee made just 3 of 28 shots (10.7 percent) from the 3-point arc. Auburn made 12 of 26 3-pointers (46.2 percent).
Senior
Kevin Punter
Jr. matched his career high with 31 points to lead Tennessee, marking the 10th time in 13 games that he has scored at least 20 points. Vols freshman
Admiral Schofield
scored a career-high 22 points in his SEC debut. He also finished with a season-best eight rebounds, including a team-high five on the offensive end.
The Vols trailed by as many as 12 points early when Kareem Canty drained a 3-pointer to put Auburn ahead 22-10. Tennessee responded by scoring 11 unanswered points, cutting the lead to a point at 22-21 with a jumper by Punter with 6:36 left in the half. Schofield put Tennessee ahead by halftime with a 3-pointer to ease the Vols ahead, 36-34.
Auburn retook the lead in the first position of the second half. Bryce Brown hit a 3-pointer to put the Tigers ahead 37-36, and Auburn led the rest of the game, stretching its lead to as many as 11 points.
Tennessee outrebounded Auburn by a final tally of 48-37.
Auburn was led by Canty and Brown, who each scored 20 points.
Vols vs. Former UT Head Coaches
Tennessee is 3-3 all-time when facing a team led by a former UT head coach. The Volunteers have gone up against teams coached by Don DeVoe (1979-1989), Kevin O'Neill (1994-97) and Bruce Pearl (2005-11).
The first time the Vols faced a former Tennessee head coach was January 17th, 1990, when the Big Orange beat DeVoe's Florida squad 80-75 in Gainesville. The Vols also won the rematch later that season, defeating Florida 75-57 in Knoxville on February 17th.
Tennessee played a home-and-home series with Southern California, coached by O'Neill, during the 2009-10 and 2010-11 seasons. On December 19th, 2009, the Trojans defeated UT 77-55 at the Galen Center in Los Angeles. USC also posted a 65-64 win December 21st, 2010, in Knoxville.
Last season in Knoxville, Tennessee defeated Bruce Pearl's first Auburn squad, 71-63. But in this season's SEC opener for both schools, Pearl's Tigers downed the Vols by a score of 83-77.
On Pace
At 77.3 ppg, Tennessee ranks fifth in the SEC in scoring average through 23 games. Should the Volunteers maintain that scoring clip, it would represent their highest average since 2008-09 when they scored at a rate of 78.4 ppg. It would also mark just the fifth season since the turn of the century in which the Vols have averaged more than 75.0 ppg.
Shooting 74.7 percent at the foul line, Tennessee currently boasts the best free throw percentage in the SEC (25th nationally). If UT can maintain that clip at the charity stripe, it will record the Vols' best free-throw percentage since the 1986-87 season when it shot 75.8 percent from the line.
With an average of 5.3 blocked shots per game, the Vols are on pace to block 168 shots this season. That would rank as the fifth-highest single-season total in program history and the best blocks total since 2013-14 (172).
Standing 6-4, senior Armani Moore is among the SEC's leaders in blocked shots at 1.9 per game. If he keeps that pace, he would finish with the third-best single-season blocks average in program history, falling just short of 6-11 Doug Roth (1988-89) for second. It would also give him 59 blocks this season–the third-most ever recorded in one season by a Volunteer.
Should he reach that mark, Moore would conclude his four-year Tennessee career with 136 career blocks–good for sixth all-time at UT.
*The above projections are based on Tennessee playing a minimum of 32 games (regular season plus one SEC Tournament contest)
UT Among Nation's Top-30 Shot-Blocking Teams
Tennessee ranks fifth in the SEC and 26th nationally with 5.3 blocks per game. Armani Moore's team-high 42 blocks have him ranked tied for fifth in the SEC with 1.9 bpg.
Every scholarship Vol has blocked at least one shot.
SEC Scoring Decline No Problem for Moore
UT Vols senior Armani Moore entered SEC play averaging 15.0 ppg on 43 percent shooting (65-of-152). But through the first 10 games of SEC play, he is averaging 8.0 ppg and is 23-of-70 from the field (.329). However, that scoring decline hasn't stopped Moore from impacting games, as the senior continues to stuff the stat sheet in other areas.
In the SEC-only stat rankings, Moore ranks fifth in steals (1.6 spg), seventh in rebounding (8.1 rpg), seventh in blocked shots (1.9 bpg) and ninth in assists (4.1 apg).
Moore Climbing Blocks Lists
The 6-foot-4-inch Moore owns 119 career blocks and ranks tied for ninth on Tennessee's all-time list. Of the SEC's current 10 leaders in blocked shots this season, Moore is the only one shorter than 6-8.
Broadcast Information
TV | SEC Network
Play by Play: Tom Hart
Analyst: John Pelphrey
Producer: Jim Daddona
---
Radio | Vol Network
Play by Play: Bob Kesling
Analyst: Bert Bertalkamp
Engineer: Tim Berry
---
Online/Mobile
www.UTsports.com
Free audio stream only
www.WatchESPN.com
Free video stream