Tennessee State Representative Joe Pitts
Care Alert bill and Say Dyslexia bills advance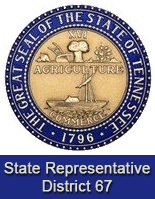 Nashville, TN – Several bills sponsored by Tennessee State Representative Joe Pitts (D-Clarksville) moved along in committees last week. This is a general update on the bills and events on the Hill from last week.
"Tyler Head law" bill picks up support. House Bill 1514/Senate Bill 1730 (Sen. Kerry Roberts, R-Springfield) the bill that will create the memorial sign program in honor and memory of innocent victims killed by drunk and/or impaired drivers, known as the Tyler Head Bill, passed the Senate Transportation Committee and is headed to Senate Floor for a vote.
It is also scheduled for the House Finance, Ways and Means Sub Committee on March 9th.
House Bill 1513/Senate Bill 1658
House Bill 1513/Senate Bill 1658 (Sen. Jim Tracy, R-Shelbyville) is a proposal from the Tennessee Sheriff's Association to allow county governments to give to retiring full time deputies their service weapon (pistol) that was carried in the line of duty. Montgomery County Sheriff John Fuson, an active member of the Tennessee Sheriff's Association, requested we sponsor this legislation on behalf of his retiring deputies.
This legislation cleared all committees in both the Senate and House and will be heard on the House Floor on Monday, March 7th.
House Bill 1512/Senate Bill 1485
"Care Alert" bill nears House vote. House Bill 1512/Senate Bill 1485 Rep. Joe Pitts (D-Clarksville) proposes to change the "missing citizen alert program" to the "Care Alert Program" by expanding the definition of individuals that constitute a "missing person" for purposes of the Care Alert Program. Under the proposal, a disabled person, would qualify to be included in the Care Alert.
This legislation was the idea of Margaret Davis, a constituent, and mother of an autistic adult son, JT. She was concerned the "missing citizens alert program" known as the Silver Alert, left out citizens 18 years of age or older who have an intellectual, developmental, or physical disability.
Over the summer of 2015, we met with Tennessee Department of Safety, Tennessee Department of Transportation, TBI, and Chiefs of Police to develop this legislation. The legislation cleared the House Health Full Committee and will be heard on the House Floor on Monday, March 7th.
House Bill 1410/Senate Bill 1484
House Bill 1410/Senate Bill 1484 (Senator Mark Green (R-Clarksville) is scheduled for the House Local Government Sub Committee on March 9th. This legislation will totally repeal the "Save our Property Tax Relief" legislation, Public Chapter 481, which passed last year. Public Chapter 481 made changes to the disabled veterans, senior citizens and disabled citizen property tax relief program.
"This legislation approved in 2015 was totally unnecessary," said State Rep. Joe Pitts (D-Clarksville). "We are enjoying unprecedented revenue growth; tax collections are above estimates and provide a great opportunity to invest your money in public education, infrastructure and services for our most vulnerable. We get a steady diet of reports and talk about how Washington routinely lets us down in their words and deeds, or don't stand by the promises made to our veterans, seniors and the disabled."
"Now the State Government is inching toward the same sort of way of doing business. The bill has a large cost but I would suggest we are actually restoring credibility in our system of government. A promise made should be a promise kept," Pitts said. I call on all veterans, senior citizens and disabled citizens to help us repeal last year's mistake. Please attend the Local Government Sub Committee next Wednesday, March 9th at 1:30pm in Legislative Plaza room 30. If you are unable to attend, please call the members of the Local Government Sub Committee and ask them to support this legislation."
Right click and open the link www.capitol.tn.gov/house/committees/sub-local.html. Click on each picture for the member's phone numbers.
House Bill 2616/Senate Bill 2635
"Say Dyslexia" bill advances. House Bill 2616/Senate Bill 2635 (Senator Delores Gresham, R-Somerville) is a bill that was brought to us by Mrs. Lori Smith, a constituent and mother of Ryann Smith, who is dyslexic. Mrs. Smith, her husband Shane, and Ryann attended the Education Administration and Program Sub Committee on Tuesday, March 8th to testify about their experiences coping and helping Ryann with her learning challenge. The bill was passed to the Full Committee.
"Although the bill has a large fiscal note attached to it, I am hopeful we can work with the Department of Education and the Governor to fund this program under the Governor's new Read to be Ready literacy initiative," said Rep Pitts. 1 in 5 students, or more than 200,000 in our state have characteristics of dyslexia. This legislation will put into place a screening tool for schools to use to identify these children who will then receive proper intervention.
Rep. Joe Pitts appointed to Task Force on Due Process
Rep Pitts was appointed to the Task Force on Due Process at Tennessee Higher Education Institutions by Speaker of the House Beth Harwell. In a letter dated March 2nd, Speaker Harwell stated, "I am confident that you will perform the duties of the office with the high standard of professionalism, dedication, and integrity that the citizens of Tennessee deserve and expect of their public servants".
"I am grateful for the confidence of Speaker Harwell and honored to have been appointed. I look forward to the working with my colleagues on the Task Force," Pitts said. The other members are as follows: Rep. John Ragan (R-Oak Ridge), Rep. Harry Brooks (R-Knoxville), Rep. Jon Lundberg (R-Bristol), Rep. Mike Carter (R-Ooltewah), and Rep. Martin Daniel (R-Knoxville).
If you have questions about the above or other issues of concern, please call me at 615.741.2043, or email me at rep.joe.pitts@capitol.tn.gov