Tennessee State Representative Joe Pitts
"Tyler Head" bill passes the House and is also headed to the Governor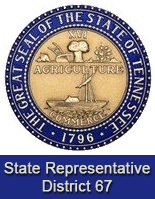 Nashville, TN – Several bills sponsored by State Representative Joe Pitts (D-Clarksville) moved along in committees last week. This is a general update on the bills and events on the Hill from this week.
House Bill 2616/Senate Bill 2635 The #SayDyslexia bill has now passed both the Senate and the House and is headed to the Governor for his signature. The bill will address early screening and intervention for the students with attributes of dyslexia.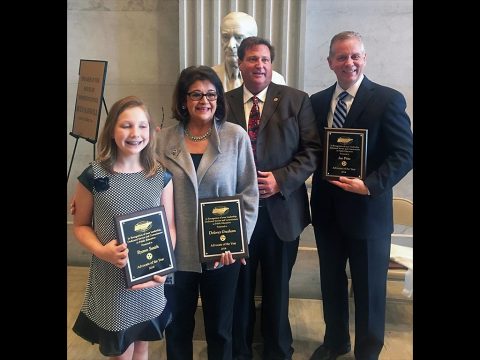 "Many thanks to Ryann Smith, a fourth grader in Clarksville-Montgomery County, and her parents, Lori and Shane, for asking me to sponsor this legislation," said State Representative Joe Pitts (D-Clarksville).
"I also want to thank Governor Bill Haslam for funding the bill as well as Commissioner of Education Candice McQueen for working with me. Mr. J.C. Bowman of the Professional Educators of Tennessee, Julya Johnson of Decoding Dyslexia, Cathy Kolb a teacher with the Clarksville Montgomery County School System and many others for their hard work to accomplish the passage of this legislation. I am certain the students with characteristics of dyslexia will benefit from the passage of the legislation," stated Representative Pitts
House Bill 1514/Senate Bill 1730
House Bill 1514/Senate Bill 1730 (Senator Kerry Roberts (R-Springfield) is a bill that was brought to Representative Pitts by a mother whose son was killed by an impaired driver in Clarksville on his way to class at Austin Peay State University. Tyler Head was killed on the morning of February 3rd, 2012 and as passed, will be known as the Tyler Head law. It will establish a memorial sign program for the State of Tennessee.
There are currently 14 states that have this program in honor and memory of innocent citizens that are killed yearly by drunk and/or impaired drivers. The sign will be free to family members. "It was an honor to be asked by Gina Head Heiber, Tyler's mother and a resident of Robertson County to sponsor this very important legislation," state Representative Joe Pitts (D-Clarksville).
Property Tax Relief program
Throughout the legislative session, House Bill 1410/Senate Bill 1484 (Senator Mark Green (R-Clarksville) was pushed to repeal the changes made to a time-honored program to offer property tax relief for our disabled veterans, senior citizens and the permanently disabled citizens.
In a bit of procedural maneuvering during the last week of session, the House version of a similar bill (House bill 2156) by Representative John Ragan (R-Oak Ridge) was amended to repeal the changes made in 2015. The bill went to a conference committee and the repeal language was stripped out.
"I am disheartened about the repeal language failing to make it to the conference committee report," Representative Pitts stated. "I would like to thank Minority Leader Craig Fitzhugh (D-Ripley) for introducing the amendment to House Bill 2156 which mirrored our repeal legislation and am very disappointed that some members of the Senate refused to accept the amendment."
"Although the veteran's disability benefits will no longer be included in their consideration for property tax relief, that is simply not enough," stated Representative Pitts. "I will continue to fight for disabled veterans, low income elderly, and our disabled citizens next year. This is far from over."
House Bill 1802/Senate Bill 1759
House Bill 1802/Senate Bill 1759 (Senator Mark Green, R-Clarksville) passed both the House and the Senate and is headed to the Governor for his signature. Currently, if a soldier that is married and living off base they get their basic salary, plus a basic housing allowance, and a basic subsistence allowance, i.e. food stamps, while they are stationed at home.
When the soldier deploys to combat or training, the basic subsistence allowance is taken away, thereby leaving their families without food stamps. Once the soldier returns home, the allowance is returned to the family.
This legislation will restrict the Tennessee Department of Health from using the basic subsistence allowance, to the extent allowed by Federal law, in calculating income for the purpose of determining eligibility for the Special Supplemental Nutrition Program for Women, Infants, and Children (WIC). "This is the right thing to do for our soldiers and their families," said Representative Pitts.
If you have questions about the above or other issues of concern, please call me at 615.741.2043, or email me at