Clarksville, TN – Supervisory Librarian, Robert F. Sink Memorial Library at Fort Campbell, James Moore and Special Collections Librarian, Felix G. Woodward Library, Austin Peay State University, Sean Hogan, are world travelers.
Each year they cruise to a different location and this June their travels took them on a Viking ocean cruise to both Norway and Scotland. Following are James' enticing description of their tour and Sean's exquisite photographs:
"We enjoyed a wonderful cruise on the new Viking Sun.
The company made its name with its deluxe river cruises, but it is now expanding to ocean travel. The ship was christened in Greenwich last month and was on the second leg of its first voyage.
Karine Hagen, the daughter of Viking's founder Torstein Hagen, was the vessel's goddaughter. She's the company's senior vice president and as the spokesman appears in all of their TV commercials.
Consequently, we were astounded one day when we walked into the deli Momsen's and found Karine surrounded by an entourage of Norwegian journalists. She was showing them how the ship wasn't just a cruise vessel but also a vehicle for teaching people about Scandinavian culture.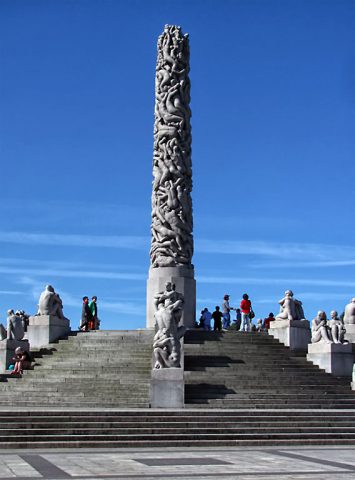 When Sean asked if he could take her picture, Karine beamed and said "Oh sure. People usually want to take pictures of my dog!" Thereupon, one of the entourage grabbed Sean's cell phone and snapped several pictures of us, which later appeared on Facebook.
Her dog was Finse, a golden Lab given to her by Lady Caernarvon, the mistress of Highclere Castle aka Downton Abbey. Since she says Finse is co-godmother of the ship, she had her with her on the cruise. We got to meet Finse several times and showed off pictures of Bosco and Bama.
Karine couldn't have been more charming or gracious. Her father Torstein was also on board. We usually saw him escorting visiting mayors decked in their chains of office and surrounded by naval officers as they held ceremonies at each new port the ship visited.
The food on board was out of this world. The ship embodied the latest in nautical design and was simply beautiful.
We flew from Nashville to New York and then on to Oslo, where we arrived on June 3rd. It was 81 degrees there!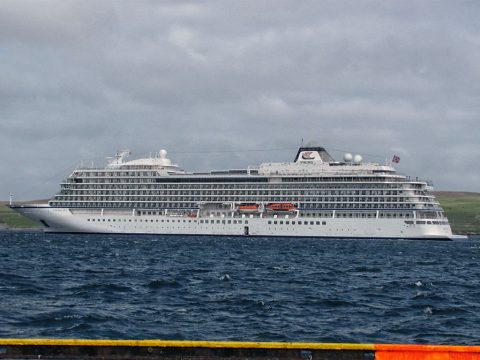 The next day we had a seven-hour train ride to Bergen. This is where the cruise departed on the afternoon of the sixth. As we headed north, the temperature dropped fairly quickly. We worked our way up the coast seeing some incredibly beautiful fiords complete with snow-capped mountains and waterfalls flowing down the banks to the waterside.
Eventually we crossed the Arctic Circle and called at North Cape, the northernmost part of the country. In the visitor center, I checked out a display on the Murmansk Convoy, which was carrying supplies to Russia during World War II.
I've heard our grandfather tell many times of how his first cousin Philip Moore was captain of merchant marine ship in this group. They were bombed constantly by the Nazis. They nearly starved to death because they were running low on food themselves. When they arrived at Murmansk there was no food to be had for love or money.
Most of the time we were in Norway, the temperature was in the forties. I had a pullover sweater and a fleece. However, when the wind started, I was wishing I had my winter coat and a scarf.
I wasn't particularly impressed with the ports for two reasons: (1) Everything in Norway was constructed in wood until the early twentieth century. Consequently, entire cities would burn down with amazing regularity. (2) Nearly all of these places were bombed to bits by the British in World War II. However, we had interesting excursions from all of them.
At one place, we were taken out to have tea with a Norwegian family. It turned out that they had lived in Albemarle, North Carolina for many years!
Our last city in Norway was Alesund, which burned down in 1905. However, it was rebuilt in brick and stone in the Art Deco style and was very beautiful.
From Norway, we cruised to the Scottish isles. We called first at Lerwick, the principal town of Shetland. The weather was sunny but quite windy. There are no trees on the island. We were driven around to see countless sheep and the Shetland ponies grazing on the lovely, rolling hills.
Our next stop was at Kirkwall, the principal town of the Orkney Islands. Here the fair weather we had enjoyed for so much of the voyage abandoned us. Instead it turned Scottish and rained. We enjoyed a walking tour through the town with a local lady Margaret. She told us all kinds of local tales while we went through St. Magnus Cathedral and then the adjacent ruins of the bishop's palace and the earl's palace.
The great World War I Battle of Jutland took place just north of Orkney. They had just had a service in the cathedral marking the 100th anniversary of that event. Princess Anne had represented Prince Philip, whose health preventing his coming.
Margaret also told us about the sinking of HMS Hampshire during World War I. Nearly everyone on board perished including the British Secretary of War Lord Kitchener. A memorial service to mark this event was also held on Orkney recently.
Among the attendees was Lord Kitchener's great granddaughter Joy Kitchener Fellowes, who is married to Julian Fellowes, the creator of "Downton Abbey". She was thrilled to be introduced to a local lady who was a five-month-old baby when her grandfather went out to help rescue the ten men who survived the disaster.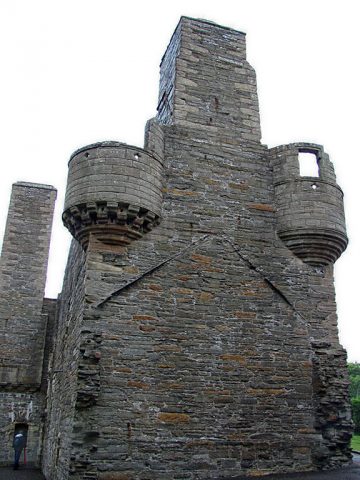 We arrived at Edinburgh on the 17th. Finally, I got to put my foot on the mainland of Scotland! We were moored out in New Haven harbor and had to take a tender to the pier. From there, coaches carried us into the city.
From the moment we got off of the bus, it rained. It wasn't a pelting downpour, but just a steady rain – all day.
Our excursion was a walk down the Royal Mile from Edinburgh Castle to Holyrood Palace. I had always thought the Royal Mile was some grand boulevard. Instead I don't think it's as wide as Main Street in Ahoskie and certainly is not straight. It meanders along with gentle curves for a little more than an English mile.
Our guide Seana (her mother adored Sean Connery) was fantastic telling us all kinds of great stories and taking us into side alleys and courtyards. We arrived at our destination Holyrood Palace, which is the Queen's official residence in Scotland. She holds court here for a week each July. Our package included a self-guided tour of the premises. I knew about the tower with the apartments of Mary, Queen of Scots.
However, I didn't realize that the main part of the palace consists of a quadrangle from the time of Charles II with magnificent state apartments filled with impressive tapestries and paintings and furnishings. I had no idea it was such a beautiful place.
We finished this at 12:10. We were supposed to be back on the bus at 12:30. However, we were just getting started. We told the guide we were staying and would catch the shuttle back to the ship. After an ample lunch in the tearoom, we descended upon the Queen's Gallery.
Sean had purchased our tickets online before we left Clarksville. This was showing an exhibition of seventeenth-century Dutch paintings from the Royal Collection. The most famous picture there was Vermeer's "The Lady with the Virginals".
After stimulating the economy in the shop, we trudged more than a mile down Princes Street, which is a grand boulevard that runs more or less parallel to the Royal Mile. Then we turned right and walked over to Charlotte Square, where we caught the shuttle back to the ship.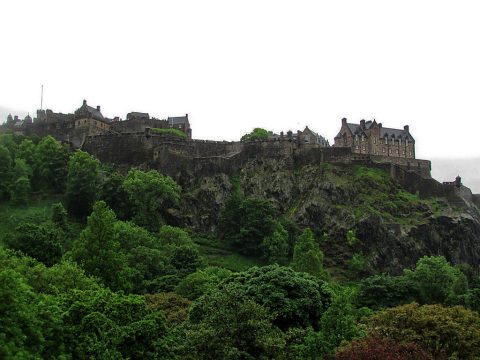 It so happened we took a different route from how we had come. Thus we got to see the splendid Georgian houses in the New Town area, which was new in the eighteenth century.
Sean was wearing a gadget that told how many steps he took. He informed me that we had walked five miles that day!
I told a Scottish officer on the ship that night that it had been blowing or raining the entire time we had been in Scotland, but that I loved it and couldn't wait to come back!
The following day we were at sea. We arrived in the port of Harwich, on the east coast of England of the wee hours of Sunday, June 19th. We had to be off of the ship and on the bus by six to go to Heathrow to catch our flight. All went well.
The flight to Chicago was long but uneventful. We had less than two hours in O'Hare to clear customs and immigration and to catch the flight to Nashville. However, we made it with a half hour to spare.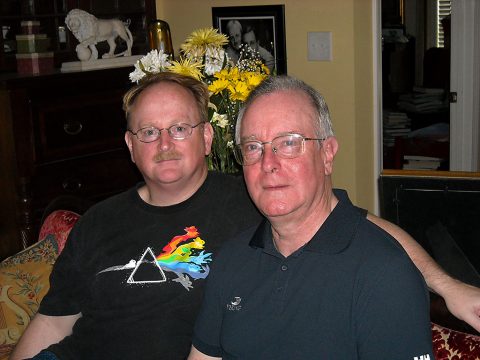 Jan Daugherty, who used to work for me at Fort Campbell, took us home, where we found all well. Fortunately, we had planned to take the next day off because we were both knackered. So ends another successful adventure."
As you can see, choosing a summer vacation that is both educational and relaxing is ideal. Hopefully, Sean and James will share their adventures each year and give us a glimpse of new locations they explore. Perhaps some of the rest of us will follow in their footsteps during vacation days to come!