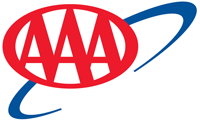 Tampa, FL – More than 103 million Americans will travel for the year-end holidays, according to AAA's Year-End Holiday Travel Forecast. This represents a 1.5 percent increase, or 1.5 million more travelers than last year, and the highest total volume since AAA began tracking holiday travel data in 2001.
"This will be the most-traveled year-end holiday season on record, particularly for those who drive," said Joseph J. Richardson Jr., President and CEO, AAA – The Auto Club Group. "If you are planning a road trip, now is the time to get your vehicle inspected. Look for a facility displaying the 'AAA Approved Auto Repair' sign to ensure a trustworthy inspection that could catch any problems before they arise."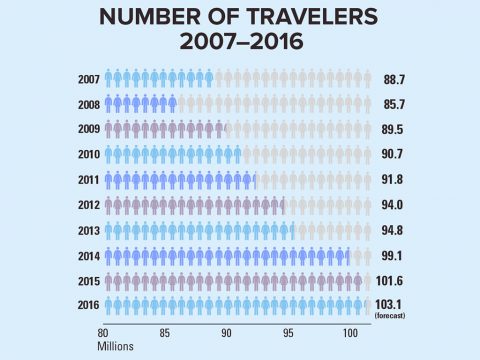 The increase in holiday travel this year is being driven by additional consumer spending, a result of improvements in the labor market and rising wages.

Additionally, low gas prices and increased consumer optimism will prompt more Americans than ever to set out on road trips, take to the skies, or board trains, buses and cruise ships to celebrate the holidays.

Click here to view the complete AAA/IHS 2016 year-end holiday travel forecast.
2016-17 Year-End Holiday Forecast Summary
103.1 million Americans will travel 50 miles or more
The year-end holiday travel period is defined as Friday, December 23rd to Monday, January 2, 2017 – one fewer day than last year's holiday
A record number of Americans will drive (93.6 million)
Six million Americans will fly – the fourth-highest volume of air passengers (the top three were 2002/03 – 7.3 million, 2003/04 – 7.1 million, and 2004/05 – 6.4 million)
"Other modes" volume fell 0.3% (10,000 fewer Americans than 2015). The decline is attributed to a shift toward more auto and air travelers
Gas prices on New Year's Day will likely be higher than the average on January 1, 2016. Pump prices could also rival those on 1/1/15, but remain below year-end holiday levels dating back to 2009.
Compared to last year, average prices are $30.00 higher for Airfares ($204.00), $2.00 lower for car rentals ($66), $9.00 higher for AAA Two Diamond-Rated Hotels ($128.00), and $10.00 higher for AAA Three Diamond-Rated hotels ($160.00)
AAA expects to rescue more than 980,000 motorists over the 11-day holiday travel period
Total Travelers
Change
from 2015
Auto
Change
from 2015
Air
Change
from 2015
Other
Change
from 2015
National
103.1 million
+1.5%
93.6 million
+1.5%
6 million
+2.5%
3.5 million
-0.3%
Florida
5,378,552
+3.1%
4,882,223
+3.1%
296,681
+4.1%
199,648
-0.1%
Georgia
2,988,029
+2.4%
2,715,505
+2.4%
165,015
+3.4%
107,510
0.0%
Tennessee
2,432,469
+3.1%
2,281,646
+3.3%
63,296
+1.0%
87,528
+0.3%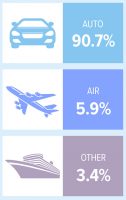 Most travelers will drive this holiday season
The vast majority of travelers—93.6 million people—will take a holiday road trip, an increase of 1.5 percent over last year. Air travel is expected to increase by 2.5 percent, with more than 6 million Americans flying to their holiday destinations. Travel by other modes of transportation, including cruises, trains and buses, will decrease slightly, to 3.5 million travelers.
New Year's gas prices could be the highest in three years
AAA estimates U.S. drivers have saved more than $27 billion at the gas pumps so far this year compared to the same period last year. Today's average price for a gallon of gasoline is $2.23 nationwide and $2.31 in Florida. Gasoline will likely cost more on New Year's Day 2017 than the year before ($2.00), and could rival levels set on January 1st, 2015 ($2.24).
In Florida, the average price on New Year's Day was $2.00 in 2016 and $2.34 in 2015. Most U.S. drivers will pay the second or third-cheapest New Year's Day gas prices since 2009, when the average was $1.62 nationwide and $1.64 in Florida. Click here to view current national, state, and metro average gas prices.
Holiday airfares, hotel rates and car rental prices mixed
According to AAA's Leisure Travel Index, holiday airfares are projected to average $204.00 for a roundtrip flight along the top 40 domestic routes. Rates for AAA Two and Three Diamond Rated lodgings are expected to increase 7 percent, with travelers spending an average of $128.00 and $160.00 per night, respectively. Daily car rental rates will average $66.00, slightly lower than last year's holiday travel season.
Warm-weather destinations top the list of most popular holiday destinations
With the exception of New York City—an-ever popular holiday destination—warm-weather locales in Nevada, Florida and California top the list of most popular destinations for this holiday season, based on AAA.com bookings.
Las Vegas, Nevada
Orlando, Florida
New York City
San Diego, California
Anaheim, California
AAA to rescue more than 980,000 motorists this holiday season
AAA expects to rescue more than 980,000 motorists over the 11-day holiday travel period, with the primary reasons being dead batteries, flat tires and lockouts. Drivers should have their vehicles inspected by a trusted repair shop, such as one of the nearly 7,000 AAA Approved Auto Repair facilities across North America.
Members can download the AAA Mobile app, visit AAA.com or call 1-800-AAA-HELP to request roadside assistance.
Safe Driving Tips for Motorists
Check windshield wipers and inspect tires to ensure safe drivability before setting out
Pack an emergency kit containing a snow shovel, flashlight, ice scraper, jumper cables, warning devices and extra warm clothing for everyone riding in the vehicle
When driving, slow down and do not tailgate
Leave following distances to a minimum of five to six seconds to allow additional braking room should a sudden stop become necessary
Minimize distractions while behind the wheel
Download the AAA Mobile app before a holiday getaway
Before setting out on a holiday trip, travelers should download the free AAA Mobile app for iPhone, iPad and Android. The app can help map a route, find lowest gas prices, access exclusive member discounts, make travel arrangements, request AAA roadside assistance, find AAA Approved Auto Repair facilities and more.

Learn more at

AAA.com/mobile

.

With the AAA Mobile app, travelers can also find more than 58,000 AAA Approved and Diamond Rated hotels and restaurants. AAA's is the only rating system that uses full-time, professionally trained evaluators to inspect each property on an annual basis.

Every AAA Approved establishment offers the assurance of acceptable cleanliness, comfort and hospitality, and ratings of One to Five Diamonds help travelers find the right match for amenities and services.
About the Travel Forecast
AAA's projections are based on economic forecasting and research by IHS Markit. The London-based business information provider teamed with AAA in 2009 to jointly analyze travel trends during major holidays. AAA has been reporting on holiday travel trends for more than two decades. The complete AAA/IHS 2016 year-end holiday travel forecast can be found here.
About The Auto Club Group
The Auto Club Group (ACG) is the second largest AAA club in North America. ACG and its affiliates provide membership, travel, insurance and financial services offerings to over 9 million members across eleven states and two U.S. territories including Florida, Georgia, Iowa, Michigan, Nebraska, North Dakota, Tennessee, Wisconsin, Puerto Rico and the U.S. Virgin Islands; most of Illinois and Minnesota; and a portion of Indiana.
ACG belongs to the national AAA federation with more than 56 million members in the United States and Canada and whose mission includes protecting and advancing freedom of mobility and improving traffic safety.
Sections
News
Topics
AAA, Anaheim CA, California, Florida, Gas Prices, Las Vegas NV, Nevada, New Year's Day, New York City, Orlando FL, San Diego CA, Tampa FL, The Auto Club Group, Travel