APSU Sports Information
Clarksville, TN – Austin Peay's baseball team gets the 2017 campaign underway when it hosts the Riverview Inn Governors Challenge, Friday-Sunday, at Raymond C. Hand Park.
The Govs will host Illinois State, Indiana State and Youngstown State in the round-robin event. APSU's four-game, season-opening homestand concludes with a Tuesday contest against Southern Illinois.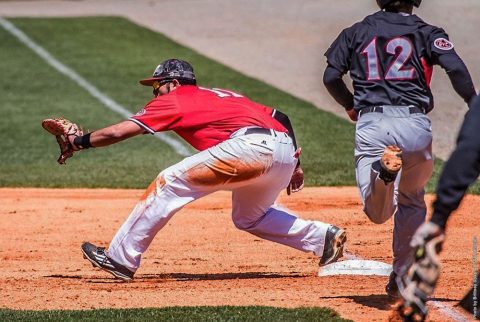 Second-year head coach
Travis Janssen
returns a group of just 14 letterwinners from last season's team.
The Govs offense took a particularly hard hit with six regulars in last season's lineup departing, three via the MLB draft, leaving a group that recorded only 723 of the team's 2020 at-bats (36 percent).
The bulk of those returning at-bats came from seniors Chase Hamilton (187), Dre Gleason (200) and Alex Robles (183). That trio each hit above .300 last season and posted an on-base percentage of .400 or better. Bolstering their ranks will be outfielder Cayce Bredlau, who missed the bulk of 2016 after leading the Govs in on-base percentage in 2014 and 2015.
Austin Peay's pitching staff returns more pieces with the entire 2016 weekend rotation returning for 2017. That group is led by Robles, the OVC Preseason Pitcher of the Year, who posted 10 wins a year ago. Senior Caleb Powell posted seven wins and a 3.96 ERA that was tops among starters while junior Michael Costanzo also notched seven wins at Raymond C. Hand Park.
The concern on the mound arises behind that starting rotation as the Govs will work early to develop roles for the bullpen after the departure of closer Jared Carkuff. Still, the capable arms of Zach Neff, John Sparks and Brett Newberg return and the bullpen will get a boost as Levi Primasing returns after missing all of 2016.
First Hacks
The Govs finished 2016 ranked among the nation's Top 25 in slugging percentage (9th, .490), batting average (18th, .308), on-base percentage (14th, .402), doubles per game (6th, 2.37), home runs per game (14th, 1.14) and scoring (11th, 7.8 runs per game).
Senior outfielder Chase Hamilton, a Preseason All-OVC pick, leads the group of Govs returning hitters after posting career bests in batting average (.332), home runs (12) and RBI (47) last season… Senior first baseman Dre Gleason will look to repeat the hot start he enjoyed in 2016 that saw him bat .402 through the season's first 29 games before settling back to .320 by season's end while posting career highs in home runs (nine) and RBI (54).
Senior Alex Robles, who will see time at designated hitter and possibly in the infield, has batted better than .300 in each of his first three seasons and has posted 39 RBI each season; he is ranked in APSU's career top 25 in both categories entering 2017… Redshirt junior Cayce Bredlau returns after a lower-body injury ended his 2016 campaign just nine games in and will look to regain his form that saw him post better than a .400 on-base percentage in his first two seasons.
Sophomore catcher Alex Sala returns behind the dish after starting 28 games there as a freshman… Junior outfielder Imani Willis will get the opening day start in center field after making eight starts there last season… The Govs infield will have three new faces on opening day: redshirt freshman Parker Phillips, junior transfers Garrett Giovannelli at second base and Kyle Wilson at shortstop.
Toeing the Rubber
There will be no changes in the Govs weekend rotation from the end of 2016 to the start of 2017… Senior right-hander Alex Robles became the ninth Govs pitcher – and first since 2007 – to record 10 wins in a season with a 10-6 record that included career highs in innings pitched (98.1) and strikeouts (89).
All seven of junior left-hander Michael Costanzo wins came at Raymond C. Hand Park last season, finishing with a 7-1 record and 45 strikeouts in 46 innings at home.
Senior right-hander Caleb Powell moved into the weekend rotation at the midway point last season and posted a 4-1 record as a weekend starter, limiting opponents to nine walks in 40.2 innings while striking out 29… Austin Peay went 18-9 on weekends after moving to the Robles-Costanzo-Powell rotation.
Meet the Teams
Tournament Schedule
Friday, Feb. 17
11:30am
Illinois State vs. Indiana State
Live Stats
3:30pm
Austin Peay vs. Youngstown State
Live Stats
Saturday, Feb. 18
11:30am
Austin Peay vs. Illinois State
Live Stats
3:30pm
Indiana State vs. Youngstown State
Live Stats
Sunday, Feb. 19
11:30am
Youngstown State vs. Illinois State
Live Stats
3:30pm
Austin Peay vs. Indiana State
Live Stats
New at the Hand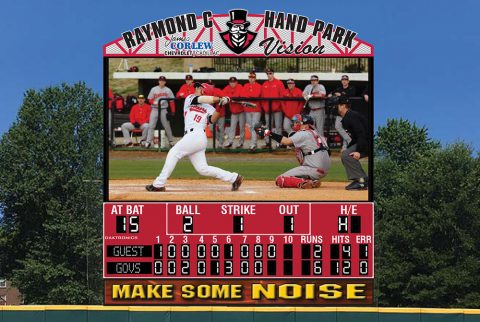 A lot of changes have occurred at Raymond C. Hand Park during the offseason thanks to the generosity of local business leaders and Govs alumni… The most notable addition is the James Corlew Chevrolet-Cadillac video board/scoreboard complex in left field.
"Corlew Vision" is the largest baseball video board in the OVC, the entire structure measuring 30 feet tall by 25 feet wide and with a primary video board clocking in at 13 feet tall by 25 feet wide… Also new at the park are the two dugouts, which replace structures that were original to the park when it was moved to its current location in 1970.
The Hand Family Companies, James Corlew Chevrolet-Cadillac and alumnus Doug Downey each contributed to the new structures…The new facilities are the first stages of a larger improvement plan being developed for Raymond C. Hand Park.