Tennessee (15-13/7-8 SEC) at South Carolina (20-8/10-5 SEC)
Saturday, February 24th, 2017 | 12:01pm CT
Columbia, SC | Colonial Life Arena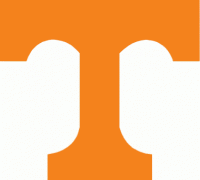 Knoxville, TN – Tennessee begins a two-game road swing on Saturday, traveling to Columbia to face South Carolina at 12:00pm CT on SEC Network.
The Vols (15-13, 7-8 SEC) and Gamecocks (20-8, 10-5 SEC) each come into Saturday's game looking to grab some late-season momentum. Tennessee is trying to get back on track following a 67-56 loss to Vanderbilt on Wednesday night while South Carolina aims to snap a streak of three consecutive losses.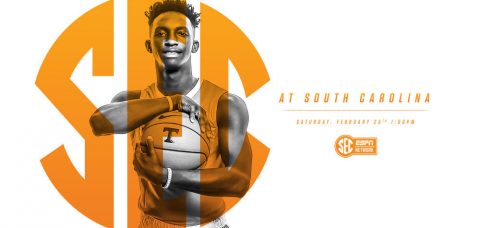 While senior
Robert Hubbs III
(14.3 ppg) and true freshman
Grant Williams
(12.7 ppg) remain the only Vols averaging double figures at this point in the season, UT has enjoyed consistent production from sophomore
Admiral Schofield
recently.
Over the last three games, Schofield is averaging a team-high 15.0 points and 6.0 rebounds per game. He is shooting 56.0 percent (14-of-25) from the floor in that span and knocked down three 3-pointers.
The Vols and Gamecocks are meeting for the second time this season. South Carolina claimed the first meeting, picking up a 70-60 victory over Tennessee in Knoxville on January 11th.
The Series
Overall: Tennessee leads, 42-26
In Knoxville: UT leads, 25-9
In Columbia: SC leads, 15-14
Neutral Sites: UT leads, 3-2
Current Streak: South Carolina has won two straight
Last Meeting: South Carolina won, 70-60, in Knoxville 1/11/17
Rick Barnes vs. South Carolina: 6-2
Rick Barnes vs. Frank Martin: Martin leads, 6-4
A Win Would
Even this series at 15-15 when the game is played in Columbia.
Stand as Tennessee's 16th victory of the season, exceeding last season's 34-game win total of 15.
Give the Vols five true road wins this season.
Give Tennessee its third top-50 RPI victory this season (South Carolina is No. 29).
About the South Carolina Gamecocks
South Carolina (20-8, 10-5 SEC) comes into Saturday's game looking to right the ship after dropping three consecutive games. The Gamecocks' official RPI stands at No. 29.
After picking up nine wins in a 10-game span from January 4th to February 4th — a stretch that included a 70-60 win over Tennessee in Knoxville on January 11th — South Carolina has dropped four of its last five games. In its most recent action, the Gamecocks suffered an 81-66 defeat at the hands of No. 13 Florida in Gainesville.
South Carolina got 23 points and 10 rebounds from Sindarius Thornwell and Duane Notice added 16 points, but Florida shot 54 percent from the field in the second half to pull away from the Gamecocks.
An SEC Player of the Year candidate, Thornwell currently leads the SEC in scoring at 21.2 ppg. The senior has tallied five consecutive games with 20 or more points entering Saturday's game. He is also Carolina's top rebounder at 7.4 rpg and he leads the SEC in steals with 2.3 spg.
Thornwell is joined in double figures by sophomore guard P.J. Dozier (13.6 ppg), senior guard Notice (10.4) and sophomore forward Chris Silva (10.1). Dozier leads the team in assists at 2.9 apg while Silva's 5.6 rpg are second on the team.
South Carolina remains the SEC's top team when it comes to scoring defense. The Gamecocks are allowing only 64.7 ppg this season and their opponents are shooting 39.8 percent from the field—also a league-best.
Carolina owns a 13-3 record at home this season, but has dropped two straight at Colonial Life Arena.
South Carolina's roster features international players from Australia, Canada, Estonia, Gabon and Senegal.
Memorable Vol Performances Against South Carolina
On December 6th, 1969, unranked Tennessee strolled into Columbia and upset the No. 1-ranked Gamecocks, 55-54, thanks to 20 points from Jimmy England, and double-doubles by Don Johnson (18 pts, 12 rebs) and Bobby Croft (12 pts, 13 rebs).
A two-overtime thriller in Columbia saw South Carolina pull out a 111-107 win on February 10th, 1993, despite 20-point efforts from Allan Houston (29), Lang Wiseman (26) and Corey Allen (22).
Wayne Chism scored 23 points, JaJuan Smith added 19 and Tyler Smith had 13, but it was Chris Lofton's 25-footer with 12.0 seconds remaining that lifted the Vols to an 89-87 win over South Carolina in the 2008 SEC Tournament in Atlanta on March 14th, 2008.
2011 first-team All-SEC performer Scotty Hopson had a bright career against South Carolina, owning a sterling 6-0 record against the Gamecocks. Hopson threw down a posterizing dunk in the 2011 Knoxville win that placed fourth in the CBS Dunk of the Year Contest.
Last Meeting With South Carolina
Grant Williams scored 15 points and Robert Hubbs III and Lamonté Turner added 12 each as Tennessee fell to South Carolina, 70-60, on January 11th, 2017, at Thompson-Boling Arena.
Tennessee shot just 32.7 percent in a game that was even on turnovers (each team had 22) and nearly even off the glass as South Carolina had 38 rebounds to the Vols' 37. The big difference was 3-point shooting. The Gamecocks were 7-for-13 from beyond the arc while the Vols suffered a 1-for-11 night.
Williams scored 12 of his team-high 15 points in the second half and added six rebounds. Hubbs collected a team-high seven rebounds and also had two assists. Turner scored 11 of his 12 points after halftime.
South Carolina's Sindarius Thornwell led all scorers with 22 points on 6-of-12 shooting. Hassani Gravett had 12 points and Duane Notice finished with 11. Gravett and Notice were each 2-for-4 from 3-point range.
Both teams struggled offensively early on. Through the first 10 minutes of the game, the Gamecocks built a 13-7 lead despite committing seven turnovers. Tennessee was 3-of-15 in that span with five turnovers.
South Carolina led 27-12 with 4:41 remaining in the first half, but the Vols' defense clamped down and UT closed the half with a 9-0 run to head into the break down just 27-21. After Hubbs, Jordan Bone and Williams combined for five made free throws, Admiral Schofield and Bone made layups in the final two minutes as the Gamecocks briefly went cold.
A pair of free throws by Turner with 10:32 remaining drew the Vols to within 48-41, but that was as close as Tennessee would get for the remainder of the game.
Bowden, Keita Were Prep School Teammates Last Year
At this time last year, Tennessee freshman Jordan Bowden and South Carolina freshman Sedee Keita were teammates at 22 Feet Academy of Shannon Forest Christian School in Greenville, South Carolina.
Mississippi State freshman guard Eli Wright also was a member of that team.
Bowden sat out Tennessee's last game due to illness, which also limited him to fewer than two minutes of action in UT's win over Mizzou last Saturday.
Former Big 12 Rivals Barnes, Martin Now Under SEC Banner
Tennessee coach Rick Barnes and South Carolina headman Frank Martin meet for the 11th time as conference rivals Saturday, but just the fourth time under the SEC banner.
The Martin owns a 6-4 edge in head-to-head meetings.
The 50-year-old Martin went 117-54 in five seasons at Kansas State, taking his 2009-10 squad to the Elite Eight and winning the Big 12 Coach of the Year award that same season. Barnes was one of the top coaches in the Big 12 during his 17-year tenure at Texas, winning four Big 12 Coach of the Year awards.
Martin accepted the head coaching position at South Carolina in 2012 and owns a 90-71 record in Columbia.
UT Among D-I Free Throw Leaders
Through the games of February 22nd, Tennessee ranked eighth among Division I teams with 725 total free-throw attempts.
The Volunteers attempt 25.9 free throws per game.
UT's 522 total free throws made ranks 12th among Division I teams this season.
Freshman forward Grant Williams has scored 30 percent of his total points this season at the free-throw line. His 106 makes and 160 attempts are both team-highs. He averages 5.7 FT attempts per game.
Williams' 70 made free throws in SEC play represent nearly a third of his total scoring in league games.
Comparing Wins vs. Losses
| Wins | CATEGORY | Losses |
| --- | --- | --- |
| 84.1 | POINTS PER GAME | 66.8 |
| .479 | FIELD GOAL PCT. | .378 |
| .405 | 3-POINT FG PCT. | .249 |
| +4.0 | REBOUNDING MARGIN | -2.4 |
| 17.5 | ASSISTS PER GAME | 11.1 |
| +3.3 | TURNOVER MARGIN | -0.5 |
Up Next for UT Vols
Tennessee remains on the road and kicks off the final week of the regular season with a Wednesday night contest at LSU. Tip-off at the Maravich Center is slated for 6:00pm CT on SEC Network.