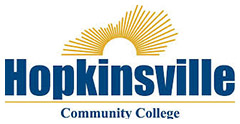 Hopkinsville, KY – Hopkinsville Community College (HCC) inducted 9 new members to its local chapter of the SALUTE Veteran National Honor Society.
Students selected for recognition through SALUTE received a certificate and military-style challenge coin commemorating their membership in the honor society and their specific level of academic achievement as well as opportunities to network, give and get assistance to fellow members or veterans.
Service – Academics – Leadership – Unity – Tribute – Excellence (SALUTE) is the only national honor society, made possible by a generous grant from the American Council on Education/Wal-Mart Foundation, dedicated to recognizing and honoring military and veteran students for their service and outstanding academic performance.
The honor society includes a four-tier system designed to encourage student veterans to improve their GPA: Alpha Tier GPA: 3.75 – 4.00; Bravo Tier GPA: 3.50 – 3.74; Charlie Tier GPA: 3.25 – 3.49 and Delta Tier GPA: 3.00 – 3.24.
The presentation was made by HCC Student Veterans Coordinator Angie Goode.
Inductees included:
Malcolm Queen of Clarksville – Bravo Tier
Roger Anderson of Clarksville – Delta Tier
Roberto Garcia-Chavez of Hopkinsville – Alpha Tier
Miguel Pica of Fort Campbell – Bravo Tier
Chance Oliver of Dawson Springs – Alpha Tier
Terry Miller, Jr. of Clarksville – Charlie Tier
Gloria Poindexter of Clarksville – Charlie Tier
Kristie Johnson of Oak Grove – Charlie Tier
Ricky Shaw of Hopkinsville – Bravo Tier
According to the honor society, membership in SALUTE signifies service, academic excellence and a commitment to high principles and superior lifetime achievements. Students selected for membership either can become part of a locally organized chapter or to the National Chapter.
Local chapters may be organized in the manner preferred by their institution. They may participate in service to their community, serve as leaders at their institution, participate in activism and other activities reflecting the core values of SALUTE.
To learn more about the HCC SALUTE Chapter, call 270.707.3952 or email Angie Goode at . Visit the SALUTE National website at www.salute.colostate.edu or contact the National organization at or 970.491.3909.
About Hopkinsville Community College
For most Pennyrile Kentucky region residents, higher education begins at Hopkinsville Community College (HCC). The college serves thousands of area residents each year as a comprehensive regional learning center providing academic and technical associate degrees; diploma and certificate programs in occupational fields; prebaccalaureate education; adult, continuing and developmental education; customized training for business and industry; and distance learning.
As part of the Kentucky Community and Technical College System, HCC is a critical component to transforming the region's economy by providing citizens with the education and training needed for high growth, high wage careers. KCTCS consists of more than 70 campuses and 97,000 students.
For more information, visit Hopkinsville.kctcs.edu