APSU Sports Information

Clarksville, TN – Austin Peay State University's softball team swept Tennessee Tech, Friday at Cheryl Holt Field by scores of 7-2 and 2-1 to get off to its best start in Ohio Valley Conference play in school history.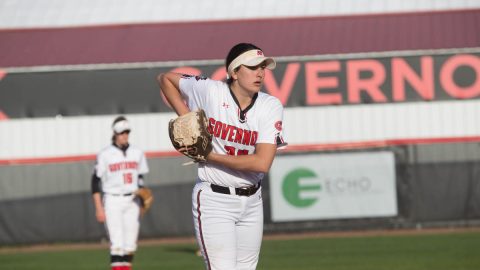 With the wins, the Govs (20-9) improve to 5-1 in the OVC and besting the starts of the 1997 and 2007 teams that began conference play 4-2 after six games.
Austin Peay also reached the 20-win plateau for the first time since the 2014 season and for the 10th time in the program's 33-year history, while needing the second fewest total games (29) to reach 20 wins in a season, trailing only the 1989 squad that reached 20 wins in 28 games.
The Govs are off until, 4:00pm, Monday afternoon, then they travel to Murfreesboro, Tennessee, for a single contest at Middle Tennessee – a make-up of their postponed contest original scheduled for Feb. 28th.
Follow the Govs softball team on Austin Peay's official athletics website Let'sGoPeay.com or on Twitter @AustinPeaySB for more information or updates.
Game 1
Austin Peay 7, Tennessee Tech 2
The Govs would break open a 1-1 contest with five third-inning runs – highlighted by a three-run homer by Brooke Pfefferle – her first of the season — and a two-run single by Kendall Vedder.
Vedder, Emily Harkleroad, Natalie Schilling and Danielle Liermann would all finish the contest with two hits each to lead the Govs
Tennessee Tech (9-22, 0-6 OVC) would score a run in the top of the fifth to get to within five runs, 6-2, but that would be as close as they would get, with APSU picking up a final run in the sixth inning on ground out by Bailey Shorter to bring in pinch runner Emily Moore.
Austin Peay's first run came in the bottom of the second inning in an RBI single by Kacy Acree.
Morgan Rackel (10-4) picked up the complete-game win scattering seven hits and just one earned run, while striking out a career high 12.
Game 2
Austin Peay 2, Tennessee Tech 1

Austin Peay scored single runs in the first and third innings and APSU starter Kelly Mardones made it stand up, as she limited the Golden Eagles to just two hits and one run in the 2-1 complete-game victory.
The Govs jumped out to a 1-0 led on Liermann's OVC-leading 13th home run of the season in the first inning and extend that to a 2-0 advantage in the third on an RBI ground out by Rackel, scoring Schilling.
Mardones (7-2) would take it from there, giving up a home run to Tennessee Tech in the top of the fourth inning, but retired 10 of the last 11 Golden Eagles she faced to come away with the one-run victory. She would also strikeout three and walk none.
Inside the Box Score
The sweep is the first by Austin Peay over Tennessee Tech since March 20, 1990 in Clarksville.
Austin Peay drew 13 walks versus TTU in the doubleheader, while Govs pitching walked none.
Morgan Rackel became the first Governor pitcher since Lauren de Castro in 2014 to strikeout 100+ batters in a season.
With her 100 strikeouts, Morgan Rackel becomes just the 18th pitcher in Austin Peay history to reach that milestone in a career.
The 10 wins by Morgan Rackel this season is the most by an Austin Peay pitcher since 2014.
Natalie Schilling stole two bases versus Tennessee Tech, improving her to 22-for-22 in steal attempts on the season.
Coaching Quotables with Head Coach Rodney DeLong
On winning despite not playing their best
"We haven't played really well for the last five or six games, but we're finding ways to win and that promising. We just need a good week of practice. We haven't been outside much due to weather and that's affected our play."
On pitching versus Golden Eagles
"Morgan (Rackel) was solid in Game 1, had a career-high 12 strikeouts, and gave us a chance to win, then Kelly (Mardones) was really good in Game 2 keeping them (Tennessee Tech) off balance and getting a lot of ground balls."
On needing to do better with runners on base
"We have to hit better with runners on and we have to hit better with two outs. We had a lot of chances to score runs today and didn't get it done, but that's the way it goes sometimes and we just have to go back to work and get better."