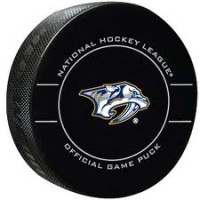 Clarksville, TN – The Nashville Predators recovered from last night's loss to Buffalo with an impressive win against the Tampa Bay Lightning this afternoon, 4-1.
Filip Forsberg led the way with two goals and an assist on the night, and Juuse Saros had 29 saves in net.
Nashville completed their last "back-to-back" series with today's win, and moves closer to securing first place in the Central Division.
Ryan Johansen started the scoring for the Predators at 7:50 of the first period with a wicked wrist shot that beat Lightning goalie, Andrei Vasilevskiy for the 1-0 lead. Filip Forsberg had the assist.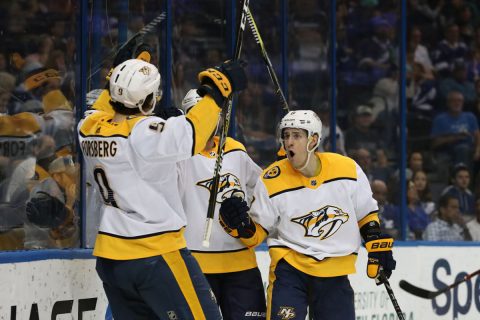 Forsberg then gave the Predators a two goal lead at 2:46 of the second period as Nashville was on the powerplay, and his shot ricocheted off of Tampa Bays Anton Stralman, misdirecting the puck into the goal. The Predators extend their lead, 2-0.
The Lightning would cut the lead in half at 7:32 of the second period when Ondrej Palat would score to draw Tampa Bay to a 2-1 score.
As the third period began, the Predators would have to step up and show that they weren't showing the wear and tear of playing last night.
They did, and it was Forsberg leading the way.
At 6:24 of the final frame, Forsberg would take the puck to the net and draw Vasilevskiy to one side, then flip the puck over his opposite shoulder for an amazing score, and Nashville would take a 3-1 lead.
As the Lightning fans were headed to the exits, Craig Smith would then take a precision pass from Mattias Ekholm on a breakaway and beat Vasilevskiy for the final, 4-1. Vasilevskiy had 21 saves on the night.
Nashville will finish out the regular season with two out of their final three games on the road. They visit the Florida Panthers on Tuesday night, then the red hot Washington Capitals on Thursday.
At the end of today's NHL schedule, the Predators lead the league with 113 points, followed closely by the Boston Bruins of the Eastern Conference with 110.
The Predators host their final home game of the regular season next Saturday as they host the Columbus Blue Jackets. Puck drops at 7:00pm.