#10 Tennessee Lady Vols (9-1) vs. Murray State (4-6)
Friday, December 28th,2018 | 6:02pm CT
Knoxville, TN | Thompson-Boling Arena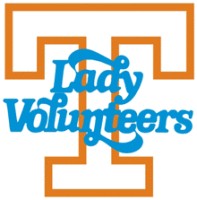 Knoxville, TN – No. 10/10 Tennessee (9-1) is in the midst of a four-game home stand, as Murray State (4-6) comes to town for a Friday night contest at Thompson-Boling Arena. Tip-off is slated for 6:02pm CT, with the game available on SECN+ and the Lady Vol Radio Network.
This marks the return to the hardwood for both squads after they last played on December 21st before going on holiday break. The Lady Vols return to The Summitt after defeating in-state foe East Tennessee State, 80-61, last Friday night in Knoxville.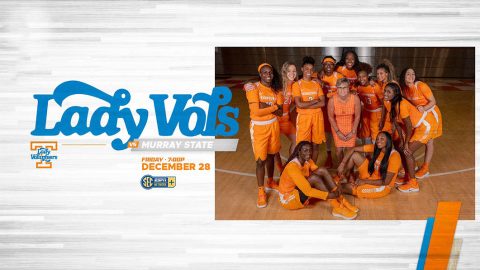 The Racers, meanwhile, dropped their second straight game and fifth in the past six contests when they fell at Kentucky, 88-49, last Friday afternoon.
UT is the third Power Five team MSU has met this season, with the Racers falling to Illinois, 84-52, on December 11th before dropping the match-up with UK.
This is the first meeting ever between these schools and the 76th time the Lady Vols have met a current member of the Ohio Valley Conference. UT is 54-21 vs. squads in that league.
Broadcast Information
Michael Wottreng (play-by-play) and Steve Hamer (analyst) will describe the action for SECN+.
Mickey Dearstone is handling the call for IMG College/Lady Vol Network radio/online broadcasts for the 20th season. A link to the live audio stream can be found on each game's Hoops Central page or the Lady Vol schedule on UTSports.com.
Air time for games on the Lady Vol Radio Network generally occurs 30 minutes prior to tip-off.
For UT home games, the Lady Vol Network has a low-power transmitter that makes the game available on the radio at 99.3 FM.
Game Promotions
It's Big Orange Friday! Download a Buy One/Get One free ticket voucher available exclusively at BigOrangeFriday.com.
We also have a "Holiday On Rocky Top" promotion. Youth sports teams can call 865-974-9591 for special group ticket pricing & exclusive opportunities for their squads.
Kids 12 & younger can pick up a wristband at the Fan HQ table on the concourse to participate in the pre-game high-five tunnel. Wristbands are limited. To purchase discounted group tickets and reserve wristbands for your team, call 865-946-7000.
Help us Spark the Summitt during introductions at the game! Download our new free light-up app, courtesy of Coca-Cola. Once downloaded, simply open your Hoops Hype app when the lights go out, and let your phone do the rest.
Tickets are available for as low as $5.00 at AllVols.com.
It's the Twelve Names of Volidays! Friday night features the ninth name of Volidays! If your name is Clark, receive a complimentary ticket to the game at the ticket window with ID.
Free parking & shuttle service are available from UT's Ag Campus. Shuttles begin two hours prior to tip-off.
Tennessee Lady Vol – Murray State Series Notes
This is the first meeting between UT and the Murray State Racers in women's basketball.
Tennessee is 54-21 all-time vs. schools who are currently members of the Ohio Valley Conference (OVC).
The last OVC school UT faced was Tennessee State on November 30th, 2016, with UT prevailing in Knoxville, 86-36.
Noting The Tennessee Lady Vols
My-Oh-Meme
Senior Meme Jackson has been on a roll the past three games. After scoring zero vs. Stetson, Jackson has averaged 24.3 points vs. Texas (33), Stanford (17) and ETSU (23), shooting 47.8 percent from the field, 41.2 on threes and 71.4 at the free throw line.
E Is Dishin' & Swishin'
During that same three-game span, Evina Westbrook is averaging 18.0 points and a whopping 8.3 assists per contest, dishing out six, 10 and nine dimes over the past three contests.
Np Place Like Home
In home games, Cheridene Green is hitting at a 68.8 percent clip (22-32) from the field, while Rennia Davis has hit 90.5 percent of her free throws (19-21). Evina Westbrook has dished out 40 assists and committed only 16 turnovers on The Summitt, averaging 6.7 dimes per contest at home. Mimi Collins is averaging 7.7 points and 6.3 rebounds at home and stands as UT's sixth-leading scorer and No. 2 rebounder in those games.
Dialing Long Distance
Tennessee enters the Murray State game having hit nine or more three-pointers in three consecutive games 10-9-9 vs. Texas, Stanford and ETSU. You have to go back to January 2nd-10th, 2008, to find the last time that happened (9-11-9 vs. DePaul, Notre Dame and Auburn).
Strong On The Boards

UT lost the battle on the boards vs. Texas and Stanford, but has out-rebounded all other opponents. They rank No. 16 nationally in rebound margin (10.9), No. 18 in rebounds per game (44.8) and No. 19 in offensive rebounds per game (17.0).
Unselfish Basketball
UT scored 27 field goals vs. ETSU, with 20 of those buckets coming via teammates' assists.
Turning 'Em Over
UT forces 21.5 turnovers per game, which ranks No. 34 in the nation. The Lady Vols help that cause by grabbing 11.0 steals per contest to rank No. 37 in the land in that category.
Last Time Out for Tennessee Lady Vols

Senior wing Meme Jackson fired in 23 points to help (then) No. 9/8 Tennessee head into the holiday break at 9-1 with an 80-61 win over ETSU on December 21st at Thompson-Boling Arena.
Senior Cheridene Green (12 points), sophomore Rennia Davis (11 points and seven rebounds) and freshman Mimi Collins (11 points and six rebounds) joined Jackson as double-digit scorers for the Lady Vols, who bounced back from a recent loss to No. 8/9 Stanford.
Jackson notched 21 of her 23 points from beyond the arc on 7-of-12 shooting from deep, tying for the fourth-most treys made by a Lady Vol in a single game. Collins, meanwhile, tallied 10 or more points for the first time in her career at Tennessee.
Freshman Jazmine Massengill led the Lady Vols defensively with nine rebounds, five blocks and a pair of steals. Tennessee held the Buccaneers to 31-percent shooting on the night and won the rebounding battle by a 50-33 margin.
Noting Murray State

Murray State is led by second-year head coach Rechelle Turner, a 1996 graduate of the school. She owns a 15-25 record thus far.
The Racers lost nine letterwinners and three starters from their 2017-18 squad, but they return five letterwinners and a pair of starters.
Back are sophomore guard Janika Griffith-Wallace and sophomore forward Brianna Crane.
This year's leading scorer, junior forward Evelyn Adebayo (17.8 ppg.), sat out at MSU last season after transferring from Gardner-Webb.
Adebayo and UT's Cheridene Green both hail from London, England, with Adebayo attending Barking Abbey School and Green attending Harris Academy Beckenham.
The Racers finished 11-19 overall and 7-11 in OVC action for eighth place in Rechelle Turner's first season as head coach in 2017-18.
Murray State was led by Ke'Shunan James (21.3 ppg., 8.2 rpg., 4.0 apg.), Bria Bethea (15.6 ppg.), Abria Gulledge (9.5 ppg.) and Jasmine Borders (8.4 ppg.), who all concluded their MSU careers after last season.
Murray State Racers' Last Game
Despite leading 18th-ranked Kentucky for most of the first quarter and being tied with the Wildcats at the conclusion of the stanza, the Murray State women's basketball team could not keep up with the Wildcats over the remaining three quarters and fell, 88-49, on December 21st at Memorial Coliseum in Lexington.
The Racers led for more than six minutes in the first and shot 66.7 percent from the floor in the period. Despite the hot hand in the first, MSU cooled significantly, shooting just 30.5 percent in the second through fourth quarters to finish the game at 39.6 percent. Despite the shots not falling after the first, the Racers did end the first half outrebounding the Wildcats, 17-14.
Evelyn Adebayo was 7-for-9 from the floor in the game to lead Murray State with 20 points, to go along with a game-high nine rebounds. Brianna Crane was also big for MSU Friday, notching 13 points and eight rebounds.
Coming Up for Tennessee Lady Vols

It's a quick turnaround after Tennessee plays Murray State on Friday, as Belmont visits The Summitt on Sunday (2:00pm) to close out 2018 as UT's second straight OVC opponent.
The UT-Belmont match-up features a Hoops For Hunger promotion. Fans may donate two non-perishable food items and receive one complimentary ticket. Please donate at Gate C, Gate E or the ticket tent located on Phillip Fulmer Way prior to entering Thompson-Boling Arena. Donations benefit the Second Harvest Food Bank, helping feed East Tennessee families in need.