#1 Tennessee Vols (16-1 | 5-0 SEC) at Vanderbilt (9-8 | 0-5 SEC)
Wednesday, January 23rd, 2019 | 6:01pm CT
Nashville, TN | Memorial Gymnasium | TV: ESPN2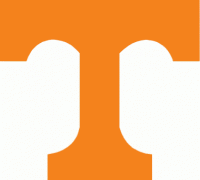 Nashville, TN – After being tabbed the top team in the country in the most recent AP poll, the Tennessee Vols basketball team will have their hands full Wednesday night, January 23rd as they face in-state rival Vanderbilt in front of a sold-out crowd at Memorial Gym.
The game will tip at 6:00pm CT and will be televised on ESPN2 and can also be viewed online through WatchESPN. Fans can listen live on their local Vol Network affiliate to hear Bob Kesling and Bert Bertelkamp describing the action.
It's the second time UT has ever been ranked No. 1 in the country, joining the 2007-08 team.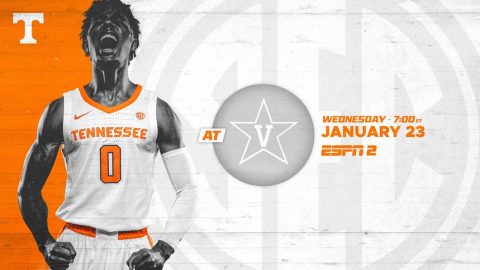 Just like in that season, the Vols' first game after earning the ranking will come against the Commodores on the road. Tennessee (16-1, 5-0 SEC) is off to its best 17-game start since also starting the season 16-1 in 2007-08.
The hot start is the result of one of the country's most efficient and well-rounded teams on both ends of the floor. The Big Orange is second in the nation in field-goal percentage (.511) while ranking seventh in field-goal percentage defense (.381).
But those aren't the only areas UT has excelled in, also placing second in assists (20.1 apg), sixth in blocks (5.9 bpg) and 10th in scoring offense (86.1 ppg).
Vanderbilt (9-8, 0-5 SEC) has had a slow start to conference play, dropping its first five games, but the Commodores were tasked with facing three ranked teams during their opening stretch, with a fourth coming against the Vols. Despite its conference record, Bryce Drew's team does boast wins against Arizona State and USC.
Freshman forward Simisola Shittu was a five-star prospect coming out of high school and has performed like one since arriving on campus. He leads Vanderbilt in scoring (13.6 ppg) and rebounding (7.6 rpg) while ranking second in assists (2.1 apg), blocks (0.7 bpg) and steals (0.7 spg).
The Series
Tennessee leads the all-time series with Vanderbilt, 120-75, dating to 1922. This is the 196th meeting.
The 'Dores have a 54-41 edge when the series is played in Nashville.
Tennessee has won four of the last five meetings in this series.
A Win Would
Extend Tennessee's win streak to 13 games. That would be UT's longest win streak since the 1922-23 campaign, when the Vols opened the season with 14 straight victories from Jan. 8 through February 20th.
Stretch the Vols' true road game win streak to six.
Give the Vols a 10-game win streak in regular-season SEC games.
Give Tennessee a 2-1 all-time record as the AP's top-ranked team.
Storylines
Just 181 miles separate UT's Thompson-Boling Arena and Vanderbilt's Memorial Gymnasium.
This is Coaches vs. Cancer Suits & Sneakers Awareness Week. The Vols are 14-5 all-time in Suits & Sneakers games.
The Volunteers received 48 of 64 first-place votes in this week's AP Top 25 poll. This is the second week in history that Tennessee has been ranked No. 1.
Tennessee's SEC margin of victory through five league games stands at a robust 20.6 points.
This is Rick Barnes' longest win streak since he led Texas to a 17-0 record to open the 2009-10 season.
Tennessee is off to its best 17-game start since also starting the season 16-1 in 2007-08.
The Vols have shot 50 percent or better in 13 games this season (and 10 of their last 12).
Tennessee has yet to face a double-digit deficit this season.
Layups
Grant Williams leads the SEC in scoring (18.9 ppg), ranks second in field-goal percentage (.561), eighth in assists (3.6 apg) and ninth in rebounding (7.5 rpg).
Admiral Schofield is the SEC's third-leading scorer (17.4 ppg), and is shooting .451 from 3-point range.
Williams and Schofield both earned a spot on the 25-man Wooden Award Midseason Watch List.
Point guard Jordan Bone owns the seventh-best assist/turnover ratio (3.6) in Division I and ranks 17th in the country in assists per game (6.4 apg).
Kyle Alexander is the SEC's second-leading rebounder during conference play, as he averages 10.0 rebounds per game.
During league play, SEC Sixth Man of the Year candidate Jordan Bowden leads the Vols and ranks fourth in the SEC with 17.6 points per game.
Tennessee Vols Last Meeting vs. Vanderbilt
Despite a strong second half by Vanderbilt, No. 22 Tennessee held on to complete the regular-season sweep over its in-state rival, defeating the Commodores, 67-62, in Thompson-Boling Arena on January 23rd, 2018.
The Commodores would fight back in the second half after facing a 17-point halftime deficit, using a run with eight consecutive made fields goals to pull within four points at 51-47. During the stretch, Vanderbilt senior Riley LaChance connected on four treys and had 15 straight points.
Vanderbilt stayed within striking distance of the Vols but could never capture the lead because of 2-of-8 shooting during the final minutes of the game. Tennessee countered Vandy's 47 second-half points by converting on 14 of its 20 free throws in the period.
The contest was a low-scoring affair out of the gates, as the Vols totaled just four points over the first six and a half minutes of play in the game. The Big Orange turned its scoring around, though, shooting 42 percent (10-of-24) from the floor in the frame.
The Volunteers used a 14-2 run to take a 32-15 lead into halftime behind 11 points from Jordan Bowden. Vanderbilt's 15 points at the break marked the fewest points Tennessee had allowed in a half during SEC play on the season.
UT was led by Bowden, who finished with a team-high 19 points and tied a career-high five 3-pointers, while Grant Williams posted his 17th game with double-figure scoring with 18 points. Williams was 12-for-14 from the charity stripe.
LaChance finished with a game-high 25 points, all coming after halftime.
Memorable Tennessee Vols Performances Against Vanderbilt
Josh Richardson (now the leading scorer for the Miami Heat) helped the Vols rally from two separate double-digit deficits in the second half by scoring 15 of his game-high 22 points in the final stanza to lift Tennessee to a 67-61 comeback win over Vanderbilt in the 2015 SEC Tournament in Nashville on March 12, 2015. In what was the second-to-last game of his career, Richardson also led all players with three steals and was a perfect 6-for-6 from the free-throw line.
Dyron Nix (17 points, 18 rebounds) and Doug Roth (10 points, 10 rebounds) recorded double-doubles and Tennessee beat Vanderbilt 79-69 in overtime in Stokely Athletics Center February 4th, 1987, in Knoxville.
Dick Johnston made six free throws in double-overtime to lift UT to a 77-72 win over the Dores in Nashville on February 2nd, 1970. Jimmy England led the charge with 27 points, and Bobby Croft had an 18-16 double-double.
Danny Schultz holds UT's single-game scoring record against Vanderbilt, as he dropped 35 points on the Dores on February 15th, 1964, in Nashville.
Tennessee All-Century Team member Paul "Lefty" Walther (1948-49) never lost to Vanderbilt during his career as a Vol. The Covington, Kentucky, native helped lead Tennessee to a 4-0 record over the Dores, beating Vandy by an average of 9.8 points.
Tennessee Vols Successful On The In-State Circuit
Tennessee has won its last five games against in-state opponents and is 11-4 vs. in-state foes under coach Rick Barnes.
Those 11 wins include triumphs over ETSU (twice), Tennessee State, Vanderbilt (three times), Tennessee Tech (twice), Lipscomb (twice) and Memphis.
Tennessee Vols History In The Polls
This is the 97th week in program history that Tennessee has been ranked in the top 10 of the Associated Press poll.
The Vols are riding a streak of 27 straight weeks in the AP top 25. That is the third-longest streak in program history (see chart below).
Most Consecutive Weeks Ranked In AP Top 25
35 From March 1, 1999 – Feb. 19, 2001
32 From March 5, 2007 – Jan. 12, 2009
27 From Dec. 4, 2017 – Present
26 Preseason 2009-10 – Dec. 20, 2010
20 Preseason 1975-76 – Dec. 7, 1976
15 Dec. 8, 1970 – March 16, 1971
Barnes Is One Of Six
Rick Barnes led Texas to the No. 1 ranking for two weeks in January 2010.
He is one of six coaches ever to lead multiple schools to a No. 1 ranking: John Calipari, Frank McGuire, Rick Pitino, Eddie Sutton and Roy Williams.