APSU Sports Information

Clarksville, TN – Austin Peay State University (APSU) men's basketball team looked like it was in the driver's seat for a huge Ohio Valley Conference win until Dylan Windler intervened.
The Belmont junior and 2019 OVC Preseason Player of the Year scored 22 of his game-high 33 points in the second half as the Bruins rallied to hand the Govs their first home loss since the 2018 finale, a 96-92 donnybrook between two of the OVC's best programs.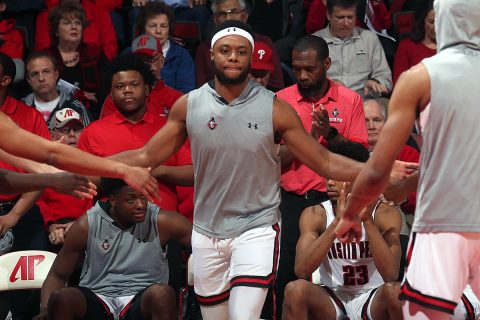 Belmont (15-4, 6-2 OVC) hit nine of its first 10 shots from the floor to set the tone of the game, but the flame burned out rather quick and the Govs were able to take command from there. The Bruins missed their next five shots and nine of their next 12 as Austin Peay (14-7, 6-2) rallied from down three points to up nine over the course of their 23-11 run.
Austin Peay took a 50-40 lead into the break, thanks largely to a 16-point first-half effort by sophomore Terry Taylor. Belmont came out getting buckets once again in the second half, hitting seven of their first 10 shots from the floor, but Austin Peay kept its foot on the gas, increasing the lead to 14 on a Chris Porter-Bunton dunk early in the second half.
And then Windler took over. He sank a lay-up at the 11:41 mark in the second half to kick off a stretch where he scored 20 consecutive points for the Bruins, dragging Belmont to within three after his three-pointer with 5:30 to play.
With Windler finally out of gas—he would not score the rest of the way—Belmont turned to Kevin McClain to counter Porter-Bunton, who put the Govs on his back down the stretch. The Bowling Green native hit back-to-back threes, answering McClain's dunk with his second triple to tie the game at 85.
Porter-Bunton and McClain traded layups until the one-minute mark, when a Nick Hopkins three put the Bruins up five. Taylor sank a lay-up and Porter-Bunton executed a three-point play, but Belmont hit free-throws down the stretch, making its final four attempts at the stripe after an atypical 13-of-22 showing the rest of the contest.
The Difference
The Bruins hit 20 of 29 shots in the second half. Normally, the shot chart is an internal mechanism of the postgame box score but in this instance it will be an instructive visual.
APSU Notably
The loss is Austin Peay's fourth straight against the Bruins and seventh in a row to Belmont in the Dunn Center.
Over the last 13 games, Austin Peay is hitting 51.2 percent (408-of-797) from the floor after a 52.2 percent showing against the Bruins. The Govs streak of hitting at least 40 percent from the field now stands at 18 games.
Porter-Bunton equaled his career-high with 24 points, nine made field goals and three three-pointers while also snaring a pair of steals; he's averaging 17.4 points on 56.0 percent (28-of-50) shooting since the January 5th. UT Martin contest, chipping in with 2.6 steals during that span. He now needs to average 14.9 points over the season's final 10 games to reach 1,000 career points.
The loss is Austin Peay's first when scoring 90 or more points since December 28th, 2016 at Western Kentucky.
In three of its last four losses, the Govs have had a positive turnover differential after a plus-five (8-13) outing against the Bruins.
Senior Steve Harris scored 17 points one year after setting his career high with 20 against the Bruins. Even when he was a little-used reserve, Harris always seemed to give Belmont problems; he's now averaging 13.0 points in four career games against the Bruins.
After leading the Govs in assists just once in the first 53 games of his career, Taylor has now done so in each of the last two games. He also scored 23 points against the Bruins and is now at 909 for his career.
With Belmont hitting 62.7 percent from the floor, it marked the third straight game Austin Peay's opponent hit at least half its shots from the field. That hasn't happened since a four-game stretch from February 3rd-15th, 2018, when Southeast Missouri, Murray State, Eastern Illinois and Tennessee Tech all hit better than 50 percent on field goal attempts.
Belmont's 25 assists were the most by an Austin Peay opponent in 2018-19. Fifteen of those went to Grayson Murphy, who equaled the building record (set twice, most recently by Colby Pierce in 1997) and obliterated the opponent record (formerly 12 by Mississippi State's Chuck Evans in 1992 and Morehead State's Kareem Story in 2015) in the Dunn Center.
The loss is Austin Peay's first when leading at halftime this season.
Sophomore Richard Henderson needed just nine first-half minutes to equal his career-high with three blocked shots.
Coaching Quotables with APSU Head Coach Matt Figger
Overall Thoughts
"We had two moments—when the score was 62-48 and another when it was 77-67—where we got stagnant with passing and were afraid to win. That was the difference. They went to zone and it's not like we don't practice that stuff, but we got very passive."
On the second half
"Bottom line, we didn't get any stops in the second half. We stopped them enough to build a lead, but once the game got hard we never got stops."
On moving forward
"We've got to get better defensively. I've got to do some soul-searching to figure out how we do that. We've got to continue to get better."
Up Next for APSU Govs
Well, you'll never believe it but the Govs are back on the road again next weekend. Austin Peay continues the league slate with visits to Tennessee Tech (6:00pm, Thursday, January 31st) and Jacksonville State (4:00pm, Saturday, February 2nd) as the conference journey comes to its midway point.