101st Airborne Division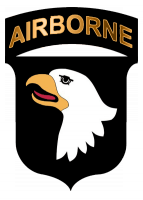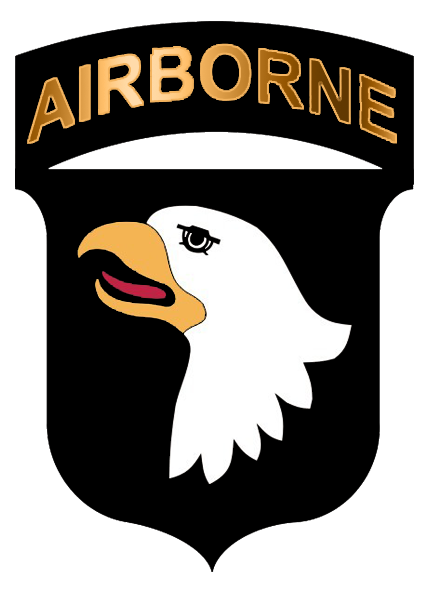 Fort Campbell, KY – The historic and accomplished 101st Airborne Division (Air Assault) welcomed its 47th commanding general Thursday, February 14th, 2019, as Major General Andrew Poppas relinquished command to Major General Brian Winski.
Under Poppas' leadership, the 101st Airborne Division deployed Soldiers to combat, contingency and peacekeeping missions around the world, to include Operation Inherent Resolve in Iraq, Operation Freedom's Sentinel in Afghanistan, dozens of training and partnership missions on the African and European continents, and hurricane and disaster relief missions in Puerto Rico and the United States. He spoke to the thousands of "Screaming Eagle" Soldiers, Veterans and community members who assembled for the ceremony at Fort Campbell's parade field.
"We know that this division exists to fight and win our nation's wars," said Poppas. "And that's been true since our inception in 1942 in Camp Claiborne, Louisiana, as we were born in the maelstrom of World War II, as we moved forward into Korea, Vietnam and all the way through the Gulf War to our current fights; we continue that legacy today with the past 18 years of continuous combat."
Most recently, Poppas and 250 Soldiers from the division's headquarters returned from a nine-month deployment to Afghanistan, where they served at the fore of the conditions-based U.S. South Asia Strategy and the NATO-led, 41-nation Resolute Support mission.
In addition to overseeing the train, advise and assist mission and supporting the Afghan National Defense Security Forces, the "Screaming Eagles" synchronized U.S. counterterrorism operations, keeping America safe and setting the conditions for a political and peaceful settlement to the Afghanistan conflict.
Poppas also spoke about how the division's efforts on the battlefield were complemented by an unwaveringly supportive community.
"They [the Fort Campbell, Clarksville, Tennessee, and Hopkinsville, Kentucky, community] embrace us, they rejoice in our successes, they mourn in our losses, and they always look for opportunities to strengthen that connective tissue – the bond between our community, our Soldiers and our families," said Poppas. "My family and I have been fortunate enough to be stationed here at Fort Campbell multiple times, and this community has welcomed us with open arms every time. You've exceeded all expectations, and I want to thank you."
Lt. Gen. Laura Richardson, acting commanding general for U.S. Army Forces Command, presided over the ceremony. She recognized Poppas' numerous accomplishments during her remarks.
"As commanding general, Drew expertly planned and maneuvered aviation as part of a combined arms team," said Richardson. "Through numerous initiatives he propelled strategic change within the Army. From deploying aviation formations as entire units to modernizing the Gold Book, the Army's cornerstone document of air assault operations, Drew demonstrated the commitment to aviation and the thorough understanding of aviation as a maneuver element."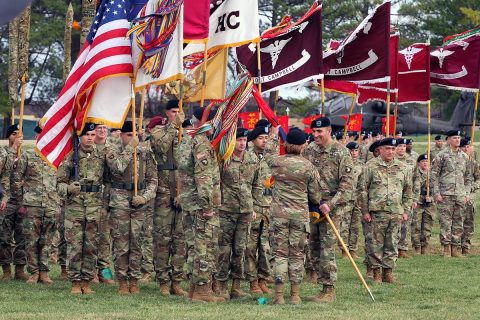 Richardson added that Poppas is "transferring the enormous and humbling responsibility" to lead the world's only air assault division to Winski, who she welcomed.
"We are so proud to honor and welcome another great Army family – Maj. Gen. Brian Winski and his lovely wife," said Richardson. "Maj. Gen. Winski is a superb leader of immense capability, and he brings with him incredible, operational experience. He is the exact right leader, at the exact right time, to lead this division toward its 'Rendezvous with Destiny.'"
Winski is no stranger to Fort Campbell or the Kentucky-Tennessee region. He served and deployed with numerous Fort Campbell units, to include commanding 1st Squadron, 61st Cavalry Regiment, 4th Brigade Combat Team, 101st Airborne Division, at home and deployed in support of Operation Iraqi Freedom.
His last assignment to Fort Campbell was in 2009 when he served as the division operations officer, deploying in support of Operation Enduring Freedom. His most recent assignment was the Chief, Legislative Liaison, Office of the Secretary of the Army.
"I can't begin to describe how proud and honored I am to be standing in front of this great division as the next Eagle 6," said Winski. "To the 'Screaming Eagle' troopers on the field, I'm honored to once again join your ranks and wear this awesome patch. I've probably worn 'Old Abe' on one shoulder or both every single day in uniform from 1989 to present."
Winski also pledged readiness, the U.S. Army's No. 1 priority, as an area of focus.
"As you know, our mission is to be ready, and my commitment to you is just that," said Winski. "Whenever and wherever the 101st is called, the units we commit to whatever mission comes our way, we'll be trained and ready for what awaits us. 'Screaming Eagle' Soldiers have always struck fear into the hearts of our enemies and we will continue to do so. The 'Screaming Eagles' who have gone before us have forged an unparalleled history of valor and honor, and we will continue that legacy of valor and honor every day that we wear 'Old Abe' on our shoulders."
Poppas, from Janesville, and Winski, from Milwaukee, are both natives of Wisconsin, also the same state the famous Wisconsin War Eagle, nicknamed "Old Abe," originated. Since 1921, "Old Abe's" head, in profile, has served as the shoulder sleeve insignia for the division.
In a separate ceremony following the change of command, the Vice Chief of Staff of the Army and former 101st Airborne Division commander, Gen. James McConville, promoted Poppas to lieutenant general. Poppas' next assignment will be at the Pentagon as director of operations for the Joint Staff.