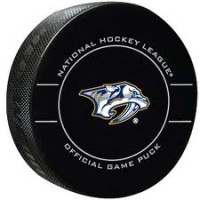 Nashville, Tn — The Nashville Predators just can't seem to find a way to fight their way through the hurricane. The Carolina Hurricanes. They've now lost 10 of 13 meetings against the team, losing at home tonight, 5-3.
With some momentum coming from back to back wins against the Minnesota Wild, the Predators had confidence heading into tonight's contest, but the news that Filip Forsberg would not be in the line-up may have deflated that confidence.
Forsberg is listed day to day with an upper body issue and the timeline for his return has not been determined.
A rough first period set the tone for tonight's loss, with Nashville having to fight off four penalties, including a 5 on 3 disadvantage. Nino Niederreiter ripped a wrister past Nashville goalie, Juuse Saros to give Carolina the early lead, 1-0. Saros got the start over Pekka Rinne, who the Predators were giving some extra rest.
It was Niederreiter again at 19:29 of the opening frame, redirecting a Teuvo Teravainen shot into the goal for his second goal of the night and the 2-0 lead for Carolina.
Into the second period, Craig Smith finally broke through for the Predators at 2:52, when he hammered a slap shot from the top of the circle to beat Hurricanes goalie Petr Mrazek and the Predators were within a goal, 2-1. That's how the teams entered the second intermission.
Just 55 seconds into the final frame, Justin Williams redirected a Teravainen one-timer into the net and Carolina had their two goal lead back, 3-1.
Brian Boyle managed to bring Nashville to within a goal at 2:25 of the third period when he collected a loose puck in front of the Carolina net and lifted it over Mrazek and Nashville drew to within a goal, 3-2.
Then at 6:38, Jordan Martinook took a rebound off of the Nashville net and beat Saros for the 4-2 lead.
Mikael Granlund would score at 17:32 on a controversial goal that had to be reviewed twice before it was allowed, but the goal would stand and Nashville was within a goal, 4-3.
But with Nashville goalie Juuse Saros pulled late in the game, Sebastian Aho scored the empty netter to give us the final score, 5-3.
The Predators are riding a slippery slope this late in the season, with 12 games remaining on the schedule and another West Coast swing coming up. Winnipeg leads the central division by a point over Nashville, but the Predators have the St. Louis Blues breathing down their neck, just four points behind second place Nashville.
The Predators will now head to Anaheim for a Tuesday night matchup, then over to Los Angeles to face the Kings next week.