#8 Tennessee Vols (27-4 | 15-3 SEC) vs. Mississippi State (23-9 | 10-8 SEC)
Friday, March 15th, 2019 | 8:30pm CT
Nashville, TN | Bridgestone Arena | SEC Network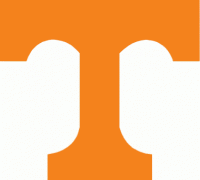 Nashville, TN – No. 8 Tennessee opens play in the SEC Tournament on Friday night in the quarterfinals against Mississippi State.
The game will tip at approximately 8:30pm CT and will be televised on SEC Network and can also be viewed online through WatchESPN. Fans can listen live on their local Vol Network affiliate to hear Bob Kesling and Bert Bertelkamp describing the action.
Tennessee (27-4, 15-3 SEC) claimed the No. 3 seed in the tournament and earned a double bye. The Vols are one of the favorites to win the championship and have the opportunity to earn a top seed in the NCAA Tournament.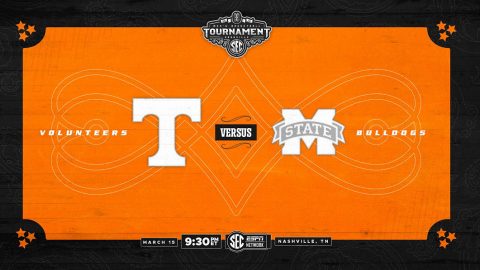 Earlier this week, Grant Williams became just the 10th player in conference history to win SEC Player of the Year in back-to-back season and was the first since Arkansas' Corliss Williamson did so in 1994 and 1995.
Williams was also tabbed first-team All-SEC after finishing the regular season as the top scorer in the SEC with 19.3 points per game. He has been one of the nation's most versatile and reliable players this season, averaging 7.7 rebounds, 3.3 assists, 1.5 blocks and 1.2 steals per game.
Senior wing Admiral Schofield earned first-team All-SEC recognition from the coaches after averaging 16.3 points per game, which ranked second on the team and fifth in the SEC, to go along with 6.3 rebounds and 2.0 assists.
Jordan Bone rounded out the Vols' All-SEC performers, earning a nod on the second team by both the coaches and the AP. The junior point guard led the SEC in assists per game (6.1), ranked second in assist/turnover ratio (3.0) and seventh in field-goal percentage (.475).
Tennessee won of its lone matchup against Mississippi State this season. UT bested the Bulldogs at home for Senior Night, 71-54, to cap a perfect 18-0 slate in Thompson-Boling Arena this year. MSU cruised past Texas A&M, 80-54, in the second round of the tournament to advance to the quarterfinals.
Friday's Opponent
Tennessee is 1-0 against Mississippi State this season, posting a 71-54 win in Knoxville.
The Vols are 1-0 against Texas A&M this season, defeating the Aggies 93-76 in College Station.
Tennessee swept Vanderbilt this year, winning 88-83 in overtime in Nashville before posting a 58-46 victory in Knoxville.
Tennessee is 2-1 at neutral sites this season.
A Win Would
Give Tennessee 28 wins this season, tying for the second-most victories in program history.
Signal the most victories by a Rick Barnes-coached team since his 2010-11 Texas squad finished 28-8.
Prevent the Vols from suffering back-to-back losses, which hasn't happened since UT's first two SEC games of last season.
About Mississippi State
Ben Howland's squad was one of five teams in a battle for the four seed and a double bye in the SEC Tournament during the final week of the regular season. Mississippi State has a chance to compete for the championship and will be a tough test for the Vols in the quarterfinals.
The Bulldogs (23-9, 10-8 SEC) are led by four-time All-SEC performer Quinndary Weatherspoon (18.3 ppg, 4.8 rpg, 2.8 apg, 1.7 spg). The senior guard led the SEC in scoring (19.4 ppg) during league play and has dropped 20 points in 14 games this year.
Junior guard Lamar Peters leads MSU in assists (5.2 apg), steals (1.7 spg) and 3-pointers made (79) and is second on the team in scoring with 11.6 points per game. Peters, junior Tyson Carter (59) and Weatherspoon (53) are all capable of going off from beyond the arc on any given night. Carter (10.7 ppg, .455 FG%) dropped a season-high 22 points behind four threes against Missouri earlier this season.
As a team, the Bulldogs are one of the best squads at blocking shots (5.1 bpg), ranking 10th in the country and second in the SEC behind the Vols. They lead the league 3-point field-goal percentage (.376) and are second in second in the league in 3-pointers per game (8.5). MSU is 22nd in the nation and fourth in the conference in steals per game (8.2), as well.
SEC Tournament History
Tennessee is 67-54 (.554) in 58 all-time previous SEC Tournament appearances.

The Vols own the third-best SEC Tournament winning percentage among league schools, trailing only Kentucky (.842) and Alabama (.559).

Since the tournament was renewed in 1979, the Vols are 32-39 (.451).

Tennessee has won the SEC Tournament four times, tying Florida for third-most among league schools. The Vols won the event in 1936, 1941, 1943 and 1979.

UT has reached the championship game 11 times (tied for third-most among league schools), most recently last season in St. Louis.

Tennessee has been the No. 3 seed only once previously, and the Vols fell to sixth-seeded Ole Miss, 81-72, in the 1981 tournament in Birmingham.

This is the 10th time Nashville has hosted the SEC Tournament. UT is 11-9 in the tournament when it takes place in "The Music City."

Tennessee's SEC Tournament record at Bridgestone Arena is 7-7.
Rick Barnes In League Tourneys
Rick Barnes is 35-30 (.538) in conference tournament games as a head coach.
He led Providence to the Big East Tournament championship in 1994.
Memorable Tennessee Vols Performances In SEC Tournament
Wayne Chism scored 23, JaJuan Smith added 19 and Tyler Smith put in 13, but it was Chris Lofton's 25-footer with 12.0 seconds remaining that lifted the Vols to an 89-87 win over South Carolina in the 2008 SEC Tournament in Atlanta on March 14th, 2008.
Carlus Groves went 9-for-10 from the floor, scoring 22 points, to lift Tennessee to an 87-70 upset win over No. 18 Mississippi State in the quarterfinals of the 1991 SEC Tournament in Nashville.
It took Tony White 45 minutes to put 30 on Florida, including five points in overtime, as the Vols beat the Gators, 80-74, in the first round of the 1984 SEC Tournament in Nashville.
Tennessee topped Kentucky, the third time UT beat the Wildcats that year, in the championship game of the 1979 SEC Tournament in Birmingham, Ala. The Vols prevailed 75-69 in overtime on March 3rd, 1979.
Just A Junior, Grant Williams Joins Elite SEC Company
Grant Williams has joined a prestigious group of players in SEC history by being named SEC Player of the Year in back-to-back seasons.

Williams, who also was named the SEC POY by the league coaches last year, is the first player to repeat since Arkansas' Corliss Williamson in 1994 and 1995.

In total, only nine players have accomplished the achievement since the award was first started in 1965, including VFLs Bernard King and Dale Ellis and other all-time greats such as Williamson, Pete Maravich and Shaq.

Tennessee has now tied LSU for the most players by a team (3) to earn the achievement in back-to-back seasons in SEC history. See chart below.

And if Williams were to return next season, he would have a chance to join an even more exclusive and elite group of players during his senior campaign. King (1975-77) and Maravich (1968-70) are the only players to ever win the award in three consecutive seasons.

YEARS PLAYER TEAM
2018-19 Grant Williams Tennessee
1994-95 Corliss Williamson Arkansas
1991-92 Shaquille O'Neal LSU
1989-90 Chris Jackson LSU
1985-86 Kenny Walker Kentucky
1982-83 Dale Ellis Tennessee
1978-89 Reggie King Alabama
1975-77 Bernard King Tennessee
1968-70 Pete Maravich LSU
1965-66 Clyde Lee Vanderbilt
Williams Is Tennessee's 16th First-Team All-American
Junior Grant Williams is the 16th player in Tennessee basketball history to earn first-team All-America honors—and just the second in the last 39 years.
The Vols had 14 first-team All-America selections between Bernie Mehen in 1940 and Dale Ellis in 1983. Since then, Chris Lofton (2008) was UT's only first-teamer until Williams joined the club this year.
Williams is the fifth player to earn first-team All-America laurels under head coach Rick Barnes, joining Chris Mihm, T.J. Ford, Kevin Durant and D.J. Augustin.
Admiral Schofield Earns First-Team Salute
Senior wing Admiral Schofield earned first-team All-SEC status from the league's head coaches after landing on the second team a season ago.
Schofield's scoring average has increased every year during his career, and he now averages 16.3 ppg to rank fifth among all SEC players. He also ranks fifth in the SEC in field-goal percentage (.476).
Barnes A Semifinalist For Naismith Coach Of The Year
For the second consecutive year, Rick Barnes is one a semifinalist for the Werner Ladder Naismith Trophy for Men's College Coach of the Year.
One year removed from leading Tennessee to the SEC Championship and a 26-9 overall record, Barnes this season has guided the Volunteers to a 27-4 mark. That impressive record includes a school-record 19-game winning streak and multiple victories over top-five opponents.
The Vols spent four weeks atop the Associated Press Top 25 rankings, and for the first time in program history, Tennessee spent the entire season ranked among the top 10.
Four finalists will be announced on March 20th.
Sections
Sports
Topics
Admiral Schofield, Aggies, Alabama, Ben Howland, Bert Bertelkamp, Bob Kesling, Bridgestone Arena, Bulldogs, Chris Lofton, Florida, Grant Williams, Jordan Bone, Kentucky, Mississippi State, Nashville TN, NCAA tournament, Ohio Valley Conference, Ole Miss, OVC, Quinndary Weatherspoon, Rick Barnes, SEC, SEC Player of the Year, SEC Tournament, Southeastern Conference, Tennessee, Texas A&M, Thompson-Boling Arena, UT, UT Basketball, UT Men's Basketball, Vanderbilt, Vol Network, Vols, Volunteers, Wayne Chism