#17 Austin Peay (9-3 | 7-1 OVC) vs. #16 Furman (8-4 | 6-2 SoCON)
Saturday, November 20th, 2019 | 12:00pm CT
Clarksville, TN | Fortera Stadium

Clarksville, TN – It's not often you can experience something that has never happened before. But if you show up to Fortera Stadium on Saturday, you'll be able to do just that.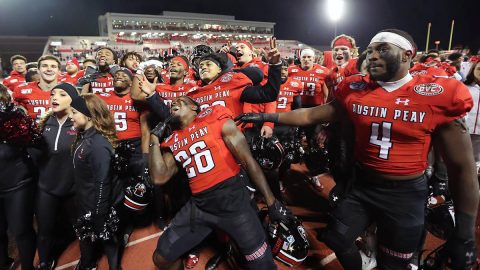 This Saturday, the Austin Peay State University (APSU) football team will host Furman in an opening-round FCS Playoff game, scheduled for a noon kickoff. It will be a day of firsts. First home playoff game. First playoff game, period.
First playoff win? Well, that remains to be seen. But a season filled with program-firsts and school records, the one thing everyone—fans, opponents and everyone in between—has learned is to never count out the Govs.
Contact the ticket office at 931.221.PEAY (7329) for tickets, or visit www.letsgopeay.com/buytickets; you'll want to be able to say you were there when the Govs played their first postseason game.
About the Furman Paladins
Three Paladins–Devin Wynn, Devin Abrams and Corey Watkins–are among the nation's top-200 rushers and part of one of the nation's best rushing attacks. Furman doesn't let its opponent get much in the way of push into the backfield, surrendering only 4.5 tackles for loss per game. Should Furman get into third-and-long, watch out for Thomas Gordon–his 16.0 yards per catch ranks fourth in the SoCON.
The best defense can be excellent special teams, and a 41.6 net yards per punt can flip the field in a hurry on an opponent. The Paladins are allowing only 159.3 passing yards per game, third-fewest nationally, and are among the nation's most disciplined teams, ranking in the top-10 in few penalties, fewest penalties per game, fewest penalty yards and fewest penalty yards per game.
Last Time Against Furman
Although this is the first meeting between the two foes, but they do have some commonality in 2019 in Southern Conference foes East Tennessee and Mercer. Furman swept both, thrashing Mercer 45-10 on September 21st and holding on in a 17-10 affair against ETSU a week later.
Two weeks before Furman and Mercer got together, the Govs went to Macon and defeated the Bears, 48-34, but dropped a 20-14 heartbreaker a week later at ETSU.
Keep An Eye On
Control the line of scrimmage, control the game. An adage as old as football itself will be put to the test this week, when the fifth-ranked Furman run attack (275.8 ypg) against the fifth-ranked Austin Peay State University run defense (86.5 ypg). Three Govs–Josephus Smith, Shaun Whittinghill and John Wesley Whiteside–earned All-OVC honors for their work on the defensive front; how they succeed against all-SoCON linemen Bo Layton and Jordan Harris, All-Freshman team member Evan Jumper and a trio of running backs in Devin Wynn, Wayne Anderson and Devin Abrams–each of whom earned SoCON recognition–who combined for more than 2,000 rush yards and 24 touchdowns will determine the outcome.
JaVaughn Craig hasn't missed a beat – and neither has the Austin Peay State Universityoffense – since the senior took over midway through the Central Arkansas game. His latest feat saw him break the program single-season total offense mark, now standing at 3,114 yards. He's now nine yards from setting the Austin Peay State University all-time mark for total yardage and one touchdown to take over the top spot there as well.
Stuart's distance may not be at the 40-yard average he's accustomed to, but there's a good reason for that – he's going for accuracy rather than distance and he's doing a heck of a job with it. On his 49 punts this season, he leads the OVC in punts downed inside the 20-yard line (15) and punts fair caught (27). Opponents have only 12 yards on four punt against Stuart this season and he has yet to boot one into the end zone for a touchback.
The Govs offensive line has done its job consistently this season, surrendering just eight sacks in 12 games. APSU's front line is ranked No. 4 among FCS teams in sacks allowed (0.67 per game). That protection has allowed APSU to post the FCS' No. 40 ranked passing efficiency rating – a 139.05 rating that would rank second to the record set in 1994 (139.07).
Saturday's contest against Furman is the first FCS Playoff game hosted in the state of Tennessee since 2016 (at Chattanooga, and is the first game in the Middle Tennessee area since 2011 (at Tennessee Tech).
Austin Peay State University enters the postseason ranked in both the STATS and FCS Coaches polls. It is the sixth week this season, and fifth consecutive, they have been ranked in one of the two polls. Prior to this season, the Govs had been ranked in a poll six times… all time.
For the fourth consecutive season, and fifth time in program history, APSU has surpassed 4,000 offensive yards. The Govs 5,158 yards this season broke the previous program record of 4,646 yards set in 2017 and allowed the Govs to cross the 5,000-yard barrier for the first time in program history.
The Govs held opponents to 24-of-110 (21.8 percent) on 3rd-and-long (seven yards or longer) opportunities this season.
Three times this season, the APSU Govs defense (#9 in FCS at 299.6 yards allowed per game) has squared off against a foe averaging more than 400 offensive yards per game and each time, the Govs defense has passed the test. Tennessee Tech entered the Week 10 matchup No. 50 in the FCS with 401.9 yards per game and were held to 352 yards.
When the Govs met Jacksonville State in Week 6, the Gamecocks were ranked No. 34 at 432.3 yards per game and were held to 363 yards (176 of that coming in the fourth quarter); in Week 8, a Tennessee State outfit averaging 445.7 yards gained just 336 yards.
Up Next for APSU Football

A win will take Austin Peay State University across the country to take on Sacramento State, the overall No. 4 seed in the FCS playoffs. That one will kick off 8:00pm CT at Hornet Stadium.
APSU Govs Online
Be sure to follow all the Austin Peay State University football action at LetsGoPeay.com and the official Facebook page of APSU Athletics. In addition, live play-by-play coverage can be found on Twitter (@GovsFB) and PeayStats.com. Live coverage from this weekend will be provided via streaming (ESPN3).