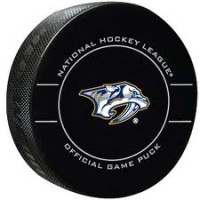 Nashville, TN – In their first game under new head coach John Hynes, the Nashville Predators fell hard to the visiting Boston Bruins, 6-2.
It's been a whirlwind of activity over the last 48 hours with the dismissal of Peter Laviolette and the hiring of Hynes, hoping to spark a Nashville team that has now lost four of their last five games.
Boston picks up their first win in four games with the victory.
The Bruins were all over the Predators from the start. Brad Marchand and Viktor Arvidsson were sent to the box just 14 seconds into the game when Marchand cross-checked Arvidsson, who was then called for embellishment.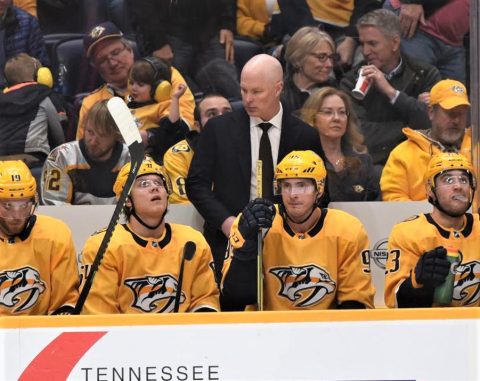 From there it was all Bruins when David Pastrnak put Boston on the board with a wide open shot on net that beat Pekka Rinne for the early 1- 0 lead at 1:36. Ironically it was Pekka Rinne "bobblehead" night at Bridgestone Arena.
Danton Heinen, Patrice Bergeron, Chris Wagner, David Krejci, and Charlie Coyle all scored for the Bruins tonight. Tuukka Rask picked up the win for Boston in net. He faced 36 shots on goal.,
Filip Forsberg and Mikael Granlund scored the only markers for the Predators to give us the 6-2 final. Rinne took the loss for Nashville.
The Predators have been mired in a losing streak over the last several weeks, including their loss to the Dallas Stars in the NHL Winter Classic, 4-2. Nashville had jumped out to an early 2-0 lead in that game.
After announcing that he wasn't looking to make any coaching changes last week, Nashville general manager David Poile pulled the trigger on Laviolette and associate coach Kevin McCarthy.
The Monday announcement took many by surprise, especially after the Poile announcement last week, but then early this morning, Poile introduced the third head coach in franchise history with the hiring of Hynes.
Hynes was behind the bench tonight.
Hynes has a career record of 150-159-45 over five seasons as a head coach, spent with the New Jersey Devils and Poile said he was impressed with his resume and his ability to develop young players.
Nashville is falling in the Western Conference standings and stand a very good chance of not making the Stanley Cup playoffs unless there can be a quick turn around in their performance.
The Predators travel to Chicago to face the Blackhawks on Thursday night in the windy city.