APSU Men's Basketball

Clarksville, TN – Give it to the Govs and head coach Dave Loos.
When they attempt to schedule exhibition games, they don't necessary look for so called "cannon fodder." The longtime Govs head coach understands exhibition games serve a useful purpose, displaying the respective strengths and weaknesses of a ballclub.
With eight newcomers mixing with six returnees, Loos knows he will find a lot of answers about his ballclub when Central Missouri comes to town to play the Govs in a 7:00pm, Thursday contest.
Central Missouri is one of Division II's top programs, having spent much of the 2009-10 near the top or atop of the national rankings. Despite heavy losses, the Mules are ranked in the Top 20 in preseason polls this season.
"Central Missouri has been ultra-successful over a long period of time at the Division II level and I think they have another good team," Loos said. "I don't have to be reminded they beat us (81-68) a year ago–they are a very good basketball team that has a lot of tradition and is very well coached."
The Mules are directed by veteran Kim Anderson, with assistance from former Governors guard, Brad Loos, son of APSU head coach Dave Loos.
"This game will be a real challenge for us," Loos said. "We are happy to be playing them for a lot or reasons. We have eight new players. It will be interesting to see how they respond when the lights go on.
"We are told a move by the officials is for them to officiate games as it is written in the rule book. There is also a new emphasis on swinging of elbows. I am anxious to see how all that goes–it will do us good to play under those conditions."
Junior forward Anthony Campbell is expected to lead the Govs. He averaged 15.5 ppg a year ago and is the OVC's second-leading returning scorer. The Edwardsville, IL, native was second-team All-OVC a year ago and is a preseason first-team selection in 2010-11.
Junior center John Fraley (7.8 rpg) was the OVC's second-leading rebounder. Meanwhile, senior Caleb Brown is expected to start at point guard while juco transfer 6-7 forward Melvin Baker is expected to start along with 6-5 juco guard Josh Terry.
General Notes
Picked Fourth: Austin Peay was picked to finish fourth in preseason Ohio Valley Conference poll of league coaches and sports information directors. In addition, junior forward Anthony Campbell was voted preseason All-OVC. The Governors, who finished tied for third in the OVC a year ago at 11-7 but lost in the OVC tourney first round, received 107 points, leaving them behind defending champion Murray State (162), Morehead State (146) and Eastern Illinois (107). Eastern Kentucky (92) was picked fifth, followed by Tennessee Tech (81), Jacksonville State (51), Southeast Missouri (41) and UT Martin (20).
About The Govs Roster: APSU's 14-man roster is comprised of just one senior (guard Caleb Brown), two redshirt juniors (Marcel Williams and center John Fraley), two juniors (forward Anthony Campbell and guard Tyrone Caldwell), three junior transfers (forward Melvin Baker, guard/forward Josh Terry and guard Tyshwan Edmondson), one sophomore (guard Justin Blake) four freshmen (forward Will Triggs, guard Thomas Greer, forward Joe Harms and center Matt Hasse) and one freshman walk-on (guard Alton Williams).
Same City, New Home, New Format For OVC Tourney: After previously playing the OVC Basketball Tournament first round on campus sites (since 1997) before advancing to Nashville for the semifinals/finals, the OVC announced a change beginning this season. This year all eight men and eight women's teams who qualify for the tournament will advance to one site, Municipal Auditorium in Nashville. Municipal, which has hosted six OVC Tournaments before, is the new home of the event which will now be four days in length. The format has also changed from the previous 1 vs. 8, 2 vs. 7, etc. format to a merit-based system. The No. 1 and 2 seeds will receive two byes to the semifinals while the No. 3 and 4 seeds will receive one bye into the quarterfinals. The first round will include the No. 5 seed against the No. 8 seed and the No. 6 seed against the No. 7 seed.
About The 2010-11 Govs
For the fifth straight year, APSU's Dave Loos is the only Division I basketball coach who has the dual role as head coach/athletics director. In fact, he is the dean of OVC coaches and athletics directors.
Junior guard Caleb Brown played in the same backcourt at Raleigh-Egypt High School as Maurice Miller, Georgia Tech's back-up point guard.
Sophomore forward Anthony Campbell, whose father Mark played both basketball and baseball at Northeast Missouri (now Truman State), was MVP for Edwardsville High School in a tournament played at Lantz Gymnasium, home of OVC foe Eastern Illinois.
Sophomore guard Tyrone Caldwell scored five points in the final four seconds to send the 2007 Tennessee Class 3A state championship game into a second overtime. In fact, he he scored 22 of his 26 points that night in the fourth quarter and overtime periods
Redshirt sophomore center John Fraley, who was Kentucky Christian Athletic Association "Mr. Basketball," scored 42 points and grabbed 28 rebounds in the KCAA All-Star game.
Redshirt sophomore forward Marcel Williams has added more than 22 pounds to his frame since the start of 2007-08.
Freshman guard Justin Blake,a finalist for Class AA Mr. Basketball in Tennessee, faced 11 box-and-one defenses during his senior season at Dyer County High School.
Junior guard Tyshwan Edmondson played alongside current Tennessee guard Scotty Hopson at University Heights Academy in Hopkinsville. Edmondson was MVP of the Kentucky All "A" Tournament as a prep senior.
Junior guard/forward Josh Terry played in the National Junior College basketball championship game for Three Rivers Community College. Terry is the third Gov recruited from Three Rivers since the turn of the new millennium, joining Corey Gipson and William Durden, who played for the 16-0 OVC Govs in 2003-04.
Junior forward Melvin Baker played on a high school team (Palo Duro) that won 31 consecutive games during his senior season.
Freshman guard Thomas Greer played for his father, Mike, at West Carroll High School where he was a Class A Mr. Basketball nominee. His sister Addy, was a walk-on player at UT Martin a year ago.
Freshman forward Joe Harms, a physics major, was named an Illinois State scholar.
Freshman center Matt Hasse's grandfather, John Kucer, played basketball at Toledo. Hasse's family owns an island in Canada, where they go every summer to fish.
Freshman forward Will Triggs was a prep teammate of forward Anthony Campbell as a sophomore. A year ago, Triggs recorded double-doubles in 28 games.
Freshman walk-on Alton Williams' father, Alton Sr., serves as Senior Pastor of World Overcomes Outreach Ministries in Memphis.
Governors Game Notes
ESPN Bracketbuster: For the sixth straight year, all 10 Ohio Valley Conference schools eligible for postseason play will participate in the ESPN BracketBusters series. Five schools will host games this season while the other five will go on the road. Austin Peay has competed in the most BracketBusters games (7).
Returning To The Govs Bench: Bret Campbell, who served as an Austin Peay assistant coach from 1992-99 before becoming UT Martin's head coach, has rejoined the Govs staff as an assistant. The 2008-09 OVC Coach of the Year, was hired during the summer, providing head coach Dave Loos with three fulltime assistants for the first time. In fact, during his first tenure at APSU Campbell helped coach the other two APSU assistants. Scott Combs, who has been a part of four regular-season Ohio Valley Conference championships as well as two NCAA tournament appearances, returns for his 12th season. Charles "Bubba" Wells joined the Govs staff in 2005 as a full-time assistant. Wells, a member of the Austin Peay Athletics Hall of Fame and one of eight APSU athletes to have their jersey retired, is the program's all-time leading scorer. Graduate assistant is Landon Shipley, who played two seasons for the Govs (2005-07) is serving as graduate assistant.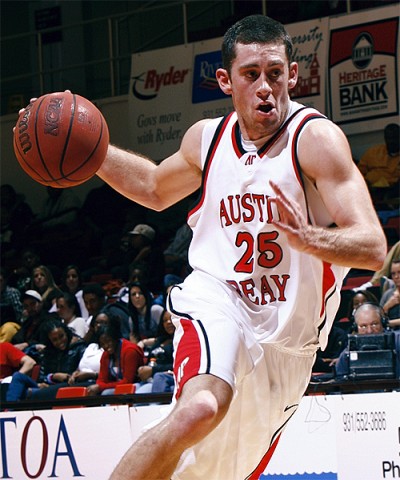 Campbell Selected Preseason ALL-OVC: Junior forward/guard Anthony Campbell has been voted preseason All-OVC. Campbell was a second-team All-OVC choice a year ago after finishing fourth in the OVC in scoring (15.5 ppg) and ninth in rebounding (5.3 rpg). The 6-7 Edwardsville, IL, native scored double figures in 29 of 31 games as a sophomore.
Campbell Earns Multiple Preseason Honors: Not only did Anthony Campbell earn preseason All-OVC, as voted by the conference coaches and sports information directors, he also was named to the preseason teams in all the major sports publications: Blue Ribbon Yearbook, Lindy's and Yahoo College Sports Preview. Campbell was a second-team All-OVC choice as a junior after averaging 15.5 points per game in 2009-10. Campbell scored double figures 29 times in 31 games, including a career-best 24 points on the road at Morehead State last January.
Eight Consecutive Seasons: Austin Peay finished tied for third in the 2009-10 Ohio Valley Conference season. It marked the Govs' eighth straight winning OVC season.
Overtime Govs: In 2009-10, the Governors played five overtime games, going 4-1 in those contests.
Veteran's Presence: Although they have just one senior on their 2010-11 roster, the Governors are not devoid of experience. In fact, all six returnees have starting experience, totalling 171 starts: Justin Blake (11), Caleb Brown (37), Tyrone Caldwell (25), Anthony Campbell (35), John Fraley (33) and Marcel Williams (30).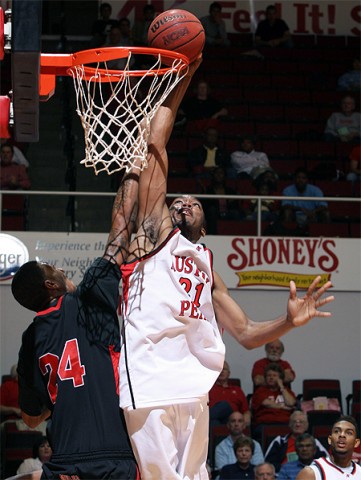 Big Bad John: In his first season as starting center, then-sophmore John Fraley finished second in the OVC in  rebounding, averaging 7.8 boards per game. In mid-February against Tennessee State, Fraley grabbed 18 rebounds, becoming only the third Governor since the 1993-94 season to grab 18 rebounds or more in a game. Fraley averaged 8.8 rpg during OVC play. Both his overall and OVC rebound numbers were the second best to OVC Player of the Year Kenneth Faried.
Long Way (Almost) Home: After his senior prep season at University Heights Academy in Hopkinsville, KY, guard Tyshwan Edmondson headed off to begin his college career at St. John's in New York, some 930 miles from home. After one year, he elected to leave St. John's and 1900 miles later he ended up at Midland College in Texas. Now his long journey–another 1000-mile journey – has brought him almost home to Clarksville, just 30 miles away from his hometown in Kentucky.
Late Addition: When Duran Roberson suffered a summer knee injury, the Governors coaching staff was left scrambling for a replacement. Luckily for the Govs, former UT Martin assistant coach and now Odessa coach Zach Janus called his old UTM boss, Bret Campbell, about Baker, who originally had signed with Middle Tennessee last fall, but was released from his commitment. APSU head coach Dave Loos had seen Baker play while recruiting another juco transfer, Tyshwan Edmondson. Loos needed no convincing to pursue Baker once he became available.
Soup's On: Junior forward Anthony Campbell ranked fourth in OVC scoring, a year ago at 15.5 ppg as he scored in double figures in 29 of 31 games. However, Campbell's numbers were even better during OVC play, averaging 16.6 ppg and 6.4 rpg. That latter rebounding figure was seventh best during OVC play.
Getting To The Point: Over the last two seasons, senior Caleb Brown and junior Tyrone Caldwell have shared starting point guard duties, with both owning several starting assignments. In fact, last season Brown started 16 times and Caldwell 15 games. Entering 2010-11, the two again are expected to share the position, with Brown entering the season as the starter. He averaged 5.8 ppg a year ago along with 3.5 assists. Caldwell, meanwhile, averaged 6.1 ppg and 2.4 apg.
Dave Loos, Head Coach
21st APSU Season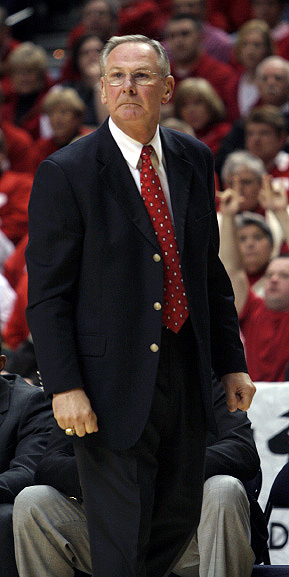 Dave Loos is in his 20th APSU season, the longest coaching tenure in APSU basketball history. The dean of Ohio Valley Conference coaches owns a 331-276 Govs record and 413-329 overall mark in his 24th season. His 396 wins entering the season ranked 37th among all active Division I coaches. It also includes Loos' 82-53 mark at Christian Brothers (Memphis).
Loos' 320th APSU win, Wednesday, December 9th, 2009, moved him past former Murray State and UT Martin coach Cal Luther (319 wins) as the OVC's all-time wins leader. In 2008-09, he moved past legendary Western Kentucky coach E.A. Diddle into second place.
Loos also owns 210 OVC victories during his impressive tenure and is 82 games (210-128) above .500 during his 20 seasons, even after an inauspicious 16-26 mark in the first three seasons.
Under Loos, the Govs have had 10 winning seasons in the last 13 years, including the 2007-08 team's 24-11 mark–tying for the most wins in school history. It marked the Govs' fifth 20-win season under Loos.
His 2006-07 OVC Coach of the Year honor was his fifth such honor. He is the only coach in APSU history to earn more than one OVC "Coach of the Year" honor and is the only coach in OVC history to win five such honors. He also was named the 2002-03 Tennessee Sports Writers Association "Coach of the Year."
When the Governors played Murray State at home, February 7th, 2008, it was Loos' 700th game as a college head coach. He has coached such notables as Charles "Bubba" Wells, APSU's all-time scoring leader and former NBA player who now is a Governors assistant, and Trenton Hassell, who is in his ninth season in the NBA, playing this season for the New Jersey Nets. Loos, in fact, has coached Austin Peay's top three career scoring leaders–Wells, guard Nick Stapleton and forward Drake Reed, the three-time first-team All-OVC player who now is playing in Germany.
Loos also is APSU's athletic director. In his 14th year in the dual athletics director-basketball coach role, Loos also has the OVC's longest tenure as athletic director.