September 3rd, 2011 • 6:00pm CDT
Cincinnati, Ohio • Nippert Stadium (35,000)

Cincinnati, OH – This is Austin Peay's 75th season of college football, including nine non-scholarship seasons (1997-2005). They enter the season with a 271-467-16 record.

Austin Peay is 27-45-2 in openers in its previous 74 years of football, including last season's 38-6 home victory against Cumberland. The Govs have won the season opener five times in the last 16 seasons.

This is the third time Austin Peay has opened the season with Cincinnati, the previous two being in 1985 and 1993.

A win at Cincinnati would give Austin Peay three straight season-opening wins the most consecutive season-opening wins since the Govs claimed four straight from 1981 to 1984.

Only 11 times in the 27 years when Austin Peay has won its season opener have the Governors gone on to record a winning season.

The Govs are 3-1 in season openers under fifth-year head coach Rick Christophel. The Govs opened 2007 with a 43-19 win against Bethel before losing 41-6 at North Dakota State the following season. In 2009, the Govs won 34-23 against Newberry and then captured a 38-6 decision against Cumberland a year ago.

Austin Peay has enjoyed only 18 winning seasons in 74 years of football and only two winning seasons since the turn of the century–a 7-5 mark in 2002 as a non-scholarship program and a 7-4 record in 2007 in Rick Christophel's first season.

After owning a school-record 26 seniors in 2009, the Govs had half that many (13) in 2010. This season the Govs have even fewer, eight.

Austin Peay last won a football game, 26-23, against Tennessee State, September 18th. They enter the 2011 season amidst an eight-game losing streak.

APSU head coach Rick Christophel (1971-74) was the first of three brothers who migrated from Reading, Ohio, to play quarterback at Austin Peay. Randy Christophel played quarterback at APSU from 1975-78 while Rob played the position from 1981-82.
Bearcats to Watch
Multi-dimensional senior quarterback Zach Collaros set Cincinnati's single-game marks for completion percentage (.750/225 of 383) while throwing for 2,902 yards. Running back Isaiah Pead (1,029) was one of only four BIG EAST running backs to finish with a 1,000 or more yards a year ago. Wide receiver D.J. Woods caught 57 passes for 898 yards and 8 TDs a year ago.
Defensively, the top eight defensive linemen on Cincinnati's two-deep return, including end Brandon Mills, who had six sacks and 12.5 tackles for loss in 2010. Outside linebacker Walter Stewart is expected to start at defensive end to create more pressure and help out the secondary. All eight defensive backs return with at least one game as a starter.
Setting the Scene
The Series: APSU trails the series, 0-4
Last Meeting: September 4th, 1993: Cincinnati 42, Austin Peay 10
The Govs rejoined the Ohio Valley Conference for football in 2007 after returning to scholarship football in 2006. The Govs finished eighth in the OVC a year ago with a 1-7 league mark and were 2-9 overall.
The Govs are picked to finish ninth in the 2011 OVC Preseason Poll. Meanwhile, Cincinnati, coming off a 4-8 season, is picked fifth in the Big East preseason poll. Second-year coach Butch Jones owns the league's top passer and runner. Quarterback Zach Collaros threw for 2,902 yards and 26 touchdowns, in 2010 while tailback Isaiah Pead ran for 1,029 yards and six TDs.
Offensive Notes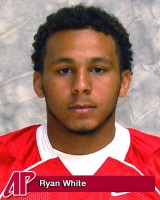 Austin Peay enters the season with a streak of scoring in 62 straight games. The last time APSU was shutout was by Drake, 54-0, Sept. 24, 2005.
APSU's two preseason All-Ohio Valley Conference selections are both on offense: senior running back Ryan White, who begins his third season as starting tailback, and junior center Tim Schmid, who has anchored the middle of the offensive line the last two seasons
Senior running back Ryan White enters the 2011 season fifth all-time in Austin Peay rushing with 2,450 yards. However, he needs only 543 yards for second place behind all-time leader Chris Fletcher (4,688/2004-07). White has rushed for 1,850 yards over the last two seasons, including 1,081 in 2009. He also enters the 2011 season fifth in career rushing attempts (504).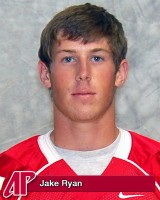 Despite starting a little more than one season, junior quarterback Jake Ryan already is 11th in APSU history for career completions (154). He also is 15th all-time in passing yards (1713).
Junior wide receiver Devin Stark is Austin Peay's leading returning receiver after leading the wideouts in catches (19) a year ago. He also had two TD catches.
Austin Peay's offensive line has 65 career starts, led by center Tim Schmid (21), tackle James Barker (18), tackle James Washington (12), guard Jacob Langston (6), guard Chris Hartman (6), tackle Ben Stansfield (2) and tackle Michael Harrison (1).
Despite a young offensive line in 2010, the Governors still finished third in the OVC in rushing, averaging 167.1 yards per game.
Ryan White finished sixth in the OVC in rushing in 2010, finishing with 769 yards, averaging 69.9 yards per game.
The Governors ranked eighth in FCS in sacks allowed in 2010, permitting only .82 per game.
Defensive Notes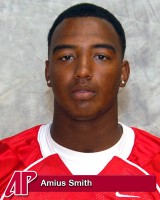 After playing the 2010 season with just two defensive starters back from the 2009 season, the Governors will return nine starters in 2011. It would have been 10 starters had defensive end redshirt senior Preston Keck, who graduated in May, elected to play this season.
Although the Govs defense will be more experienced in 2011, the depth chart still reveals much youth. In fact, only one senior, weak safety Amius Smith, is listed as a starter and only one other senior, reserve safety Delton Teeter, is listed on the depth chart.
Austin Peay returns 8 of its top 10 tacklers from the 2010 season, including three Govs–linebacker Darrick Dillard (84), free safety Antwaun Majors (84) and weak safety Amius Smith (82). who had 80 or more tackles a year ago.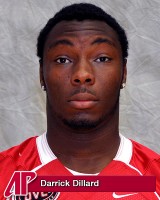 Youth translated into disturbing defense trends for Austin Peay in 2010. The Governors finished ranked 100th or worse (out of 117 teams) in seven different defensive FCS statistical categories–defense third-down efficiency (117), first downs permitted (116); total defense (113), scoring defense (112), rushing defense (111), pass efficiency defense (107) and sacks (112)
In their respective first seasons as starters, junior linebacker Darrick Dillard and junior free safety Antwaun Majors finished sixth in the OVC in tackles with 84, 7.6 stops per game. Meanwhile, weak safety Amius Smith finished ninth in the OVC in tackles with 82.
When senior weak safety Amius Smith ended with 82 tackles a year ago, it was the second straight season he ended with 80 or more tackles. He had 88 in 2009 in his first season as a starter.
Senior safety Amius Smith was named to the Phil Steele Preseason All-OVC team as a linebacker.
Sophomore tackle Reese Bulmash is taking over as the starting nose tackle in 2010 after serving as a reserve a year ago. The Marietta, GA, native has as his backup redshirt freshman Robbie Bryant, who played offensive line a year ago. Bulmash and Bryant were prep teammates at Sprayberry High School two years ago.
Inside linebacker Zac Burkhart and his back up, Zach Lane, both are from hometown Clarksville. Burkhart, however, attended Clarksville Academy, playing for current Govs linebacker coach Gary Shephard, while Lane played at Clarksville High School.
Special Teams Notes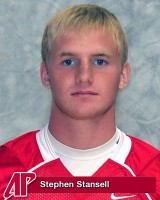 For a second straight season junior placekicker Stephen Stansell is on the Fred Mitchell Outstanding Placekicker nominee list and College Football Performance Awards Watch List. Stansell finished 2010 making 12 of 18 field-goal attempts, opening the season connecting on 8 of his first 9.
Stansell was named OVC Specialist of the Week and College Football Performance Awards Place-Kicker Co-Performer of the Week after his four field-goal performance against Tennessee State, the Govs' only OVC victory.
Stansell booted three field goals of 50 yards or more in 2010, setting an APSU record for most 50-yard field goals in a season. In fact, his 51-yard field goal against Wisconsin was Austin Peay's only points and likewise against Jacksonville State when his 50-yard boot were the Govs' lone points.
Stephen Stansell will have a new holder in 2011 as quarterback Jake Ryan takes over for the graduated T.C. Jennings.
Senior Nick Newsome begins his fourth season as the Governors starting long snapper.
With four-year starter and APSU record holder Ryan Key gone as the Govs punter, Stephen Stansell is expected to do double duty at least early in the season. Freshman Ben Campbell, who also is a tight end, also is on board as a punting specialist.
Graduated senior kick return specialist Terrence Holt set an NCAA record with four straight 1,000-yard kickoff return seasons, including 1,100 a year ago. His potential successors, Tee Howell, Terrence Oliver and Sheldon Wade have a combined 67 yards between them at the college level.
Sections
Sports
Topics
Amius Smith, Antwaun Majors, APSU, APSU Athletics, APSU Men's Football, APSU Sports, Austin Peay State University, Bearcats, Ben Campbell, Ben Stansfield, Big East, Brandon Mills, Butch Jones, Chris Fletcher, Chris Hartman, Cincinnati, Cincinnati OH, Clarksville Academy, Clarksville High School, Cumberland, D.J. Woods, Darrick Dillard, Delton Teeter, Devin Stark, Fred Mitchell, Gary Shephard, Governors, Isaiah Pead, Jacob Langston, Jake Ryan, James Barker, James Washington, Marietta GA, Michael Harrison, Nick Newsome, Nippert Stadium, North Dakota State, Ohio Valley Conference, OVC, Preston Keck, Reese Bulmash, Rick Christophel, Robbie Bryant, Ryan Key, Ryan White, Sheldon Wade, Stephen Stansell, Tee Howell, Tennessee State, Terrence Holt, Tim Schmid, Walter Stewart, Zac Burkhart, Zach Collaros, Zach Lane