APSU Sports Information
APSU Volleyball – Lady Govs

Clarksville, TN – Austin Peay State University's volleyball team has one final opportunity to tune-up with a 6:30pm, Wednesday contest at Lipscomb, before the start of Ohio Valley Conference play this weekend. The Lady Govs will begin OVC action with a 6:00pm (CT), Friday match at Eastern Kentucky followed by a 1:00pm, Saturday (CT), affair at Morehead State.
The Lady Govs have not had an easy go of it in the non-conference slate to date, posting a 2-8 record. Austin Peay has two losses to Southeastern Conference foes (Auburn and Alabama) and a loss to Big 12 member Missouri among its eight losses this season.
The Lady Govs enter this week's contests with a three-match losing streak after failing to record a win at the Butler Invitational last weekend.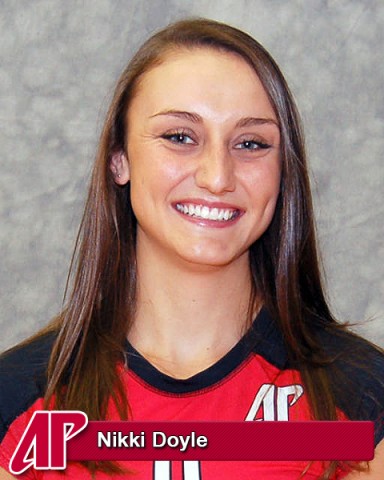 Junior outside hitter Nikki Doyle has been a source of consistency for Austin Peay, reaching double-digit kills in each of the season's first 10 matches. Through the season's first three weeks, Doyle is ranked second among the league's hitters, averaging 3.67 kills per set.
She is pacing an Austin Peay offense that ranks fourth among OVC teams in kills per set (12.19) and ranks second in attack percentage (.192).
"Nikki is one of the stronger leaders on the team, not vocally, but in how she plays," said Lady Govs head coach Bill Egbert. "She has been doing a great job leading the team in her own way and we hope she'll continue to do that as we get into conference play."
Austin Peay saw the return of a key player last weekend as senior outside hitter Ilyanna Hernandez returned from an illness that cost her four matches. She returned midway through the Lady Govs second match at the Butler Invitational and promptly recorded 17 kills (2.66 kills per set) in the two matches she played.
"Ilyanna is a verbal leader on this team," Egbert said. "Her personality and what she can bring intangibly she brings when she is on the court are important. Having another senior out there is very important for us to do well in the conference this year. It's great to get her back in competition and in practice."
Lipscomb will provide a formidable challenge in the Lady Govs final non-conference test. The Lady Bisons have made NCAA tournament appearances the last two seasons and have not allowed the Lady Govs to win a set in their last two encounters. Lipscomb did lose the 2010 Atlantic Sun "Player of the Year," but has seen junior outside hitter Kaycee Green fill the void. Green is averaging 3.68 kills per set – fourth in the Atlantic Sun – while posting a .232 attack percentage.
"[The Lipscomb match] is really a chance to iron things out," said Egbert. "It's an opportunity to get where we need to be confidence-wise and one last competitive match before we get into the conference schedule. I want to see us competing at a high level against a good team."
Eastern Kentucky was a thorn in the Lady Govs side last season, winning both regular-season matches. The Lady Colonels return eight letterwinners but only three starters from that team. Sophomore outside hitter Ashley Edmond leads EKU with 130 kills (3.17 kills per set) in their 11 matches.
Morehead State will seek to exact some revenge upon Austin Peay after the latter won the OVC tournament championship in Morehead, KY last season. The Eagles return eight letterwinners and four starters from last season's squad that won the OVC regular-season championship. Junior outside hitter Ellie Roberson is one of those returnees and is enjoying a stellar start to the 2010 campaign, leading all OVC hitters with 150 kills (4.05 kills per set).
"We want to start (the conference schedule) off well, especially with the tough preseason schedule we've had," Egbert said. "The better we start off the more confidence we can instill in the kids and show them their hard work is actually paying off when it's supposed to."
Season Notables To Date
Austin Peay's offense enters the week ranked second among the league's squads in hitting percentage (.192) but the defense has struggled in the same category, allowing opponents to hit .261 which ranks ninth among all teams.
Hillary Plybon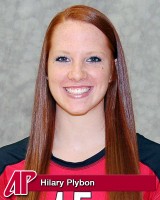 Freshman middle blocker Hillary Plybon has heated up in the last two weeks, posting 61 kills (2.44 kills per set) and a team-best .301 attack percentage. She ranks fourth among conference hitters with a .273 attack percentage this season and is the only freshman ranked among the league's top five in the category (the other four are seniors).
Lauren Henderson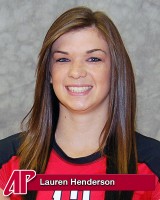 Sophomore middle blocker Lauren Henderson ranks second among the league's blockers, averaging 1.00 block per set. She leads a Lady Govs front-row effort that ranks fifth among OVC teams with 1.44 blocks per set.
Cami Fields
Freshman setter Cami Fields continues to do her learning on the job and ranks fourth among the league's setters with 9.56 assists per set and is one of only two freshman – along with Eastern Kentucky's Abbey Cvelbar – ranked among the league's top 10.