October 22nd, 2011 • 1:00pm CDT
Cape Girardeau, MO • Houck Stadium (10,000)

Clarksville, TN – Since rejoining the OVC in 2007, the Govs have played Southeast Missouri four times and the teams have split those contests. Ironically, APSU's two wins have come in Cape Girardeau and SEMO's two in Clarksville. The Govs won in Cape two seasons ago, 24-14.
This is Austin Peay's second of three homecomings in October. On October 8th, the Govs lost at UT Martin, 61-23. The Govs also will play their own homecoming, October 29th, against Eastern Illinois.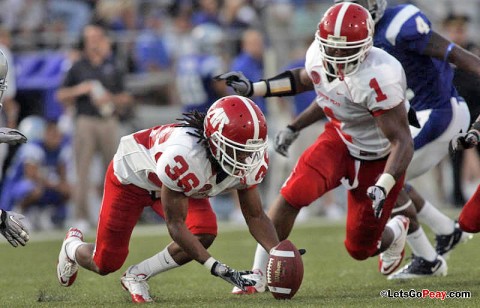 The 44-14 loss to Jacksonville State was APSU's second straight loss and first at home in 2011.
When Austin Peay defeated Tennessee State, 37-34, it allowed the Govs to open 2-0 in the OVC for the first time since 1977.
When APSU rallied from being down 27-6 to beat Tennessee State, October 1st, that 21-point deficit was the largest overcome by the Governors in school history. The previous largest deficit was 17 points, October 28th, 1978, when the Governors rallied from a 17-0 deficit to defeat Middle Tennessee, 28-17.
After owning a school-record 26 seniors in 2009, the Govs had half that many (13) in 2010. This season the Govs have even fewer, eight.
Redhawks To Watch
Senior quarterback Matt Scheible currently stands with 6,155 yards of total offense, 2,054 yards rushing and 4,101 yards passing. He is the first quarterback in OVC history to achieve 2,000 rushing and 4,000 passing yards in a career. He had 249 yards in total offense against Eastern Kentucky. D.J. Foster is his favorite receiver with 18 catches for 244 yards. Levi Terrell, the team's top running back, suffered a broken collarbone two weeks ago.
Safety Tylor Brock, a preseason All-OVC selection after a tremendous 2010 season, has 26 tackles and five pass break ups. However, it is linebacker Blake Peiffer, son of former NFL offensive lineman Dan Peiffer, who has had double-figure tackles in five of six games. He had 16 against Eastern
Setting The Scene
The Series: APSU trails the series 6-12-3
Last Meeting: October 16th, 2010; Southeast Missouri 41, Austin Peay 24
The Govs rejoined the Ohio Valley Conference for football in 2007 after returning to scholarship football in 2006. The Govs finished eighth in the OVC a year ago with a 1-7 league mark and were 2-9 overall. The Govs were picked to finish ninth in the
2011 OVC Preseason Poll.
Meanwhile, Southeast Missouri, defending OVC champs for the first time (7-1) and finishing 9-3 overall, were picked to finish fourth in the 2011 league preseason poll. Since rejoining the OVC, the Govs and Redhawks have split their four meetings, with the Govs winning both in Cape Girardeau and SEMO both in Clarksville.
Offensive Notes
Austin Peay enters the game with a streak of scoring in 68 straight games. The Govs' last shutout loss was at Drake, 54-0, September 24th, 2005.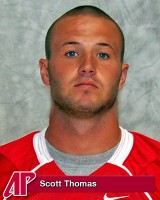 After tallying 85 first downs over the previous four games, the Governors gained only 14 against Jacksonville State, including just one in the deciding second quarter.
After committing one turnover total in their first two OVC games, the Governors have committed eight in the last two games, including six against Jacksonville State.
Austin Peay leads the OVC in turnovers with 17, including a league-high 11 interceptions. The Govs are last in the OVC in thirddown conversions at 26.6 percent.
Austin Peay is eighth in the OVC in scoring at 18.8 ppg, one spot ahead of Southeast Missouri (16.3 ppg).
When junior wide receiver Devin Stark made an acrobatic first-quarter 15-yard TD reception against Jacksonville State, it was his fifth scoring catch this season, the most by a Govs' receiver since Lanis Frederick had seven in 2006.
Senior wide receiver Scott Thomas caught four passes for 54 yards against Jacksonville State. That not only gave him a career season-best 21 receptions but his most single-season yards (242) as well. Last season, he had 18 catches for 223 yards.
Senior wide receiver Devin Stark has been held to four catches in each of the last two games. Still he has 35 receptions on the season, the most by a Gov since Lanis Frederick grabbed a career-best 70 in the 2006 season.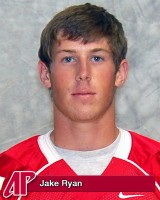 Quarterback Jake Ryan threw his career-best 10th TD pass against Jacksonville State. He had seven TD tosses a year ago.
Jake Ryan threw for a career-high 314 yards on 21-of-41 passing, including two touchdowns against Tennessee State, October 8th.
When Jake Ryan threw for 314 yards against Tennessee State it was the first time a Governors quarterback threw for more than 300 yards in a game since Mark Cunningham's 308-yard performance, October 28th, 2006 at Charleston, W.Va., meaning Ryan's passing effort was the best by a Govs quarterback since returning to scholarship football.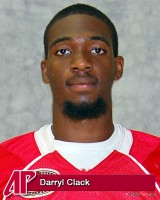 Devin Stark is ranked second in the OVC and 21st in the NCAA statistics for receptions per game (5.83). He also is 34th in receiving yards per game (74.50).
A week after freshman wide receiver Darryl Clack caught his first career TD pass–a 72 yarder against Tennessee State–another freshman, Jamaar Embry, was on the receiving end of his first career TD catch,a 10 yarder from Jake Ryan against UT Martin, October 15th. In addition, sophomore wide receiver/kick returner Kamron Johnson also caught his first career TD pass against the Skyhawks.
When Ryan White rushed for 132 yards on 27 attempts against Eastern Kentucky, September 24th, it was the senior running back's 11th career 100-yard game and first of 2011. He now has 2,786 career rushing yards and needs just 206 yards to move into second place all-time behind Chris Fletcher's 4,688 yards.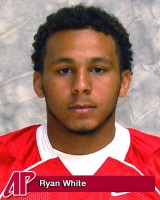 Senior running back Ryan White now is seventh all-time in career all-purpose yardage with 3,259 yards. Along the way, he passed the only two football Govs to have their respective jerseys retired, Harold "Red" Roberts (3,061) and John Ogles (2,960).
Junior quarterback Jake Ryan moved past his coach, Rick Christophel, in two career passing categories against Memphis, pass completions (Christophel had 175) and passing yards (Christophel had 2,073). Christophel played quarterback for APSU from 1971-74.
Junior wide receiver Devin Stark set a personal best with a nine-catch, 109-yard effort against Memphis. It was his first career 100-yard receiving effort.
Senior wide receiver Scott Thomas also set a personal best with five receptions against Memphis.
When Ryan White caught a 13-yard scoring pass from Jake Ryan with 4:55 left in the third quarter at Memphis, it was his first TD reception in his four-year career.
Defensive Notes
After failing to force a turnover against UT Martin, the Govs' defense forced four against Jacksonville State–three fumbles and one interception.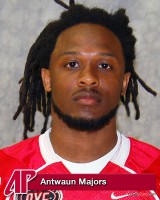 Austin Peay ranks eighth in the OVC in scoring defense (42.5 ppg), one spot ahead of Southeast Missouri (43.5).
The Govs rank eighth in the OVC in sacks and have not recorded a sack in the last three games.
After permitting more than 300 yards passing the previous two games, the Governors allowed just 137 yards passing to Jacksonville State.
Junior free safety Antwaun Majors collected his season's third double-digit tackling performance with a 10-tackle performance against Jacksonville State that included eight solo stops.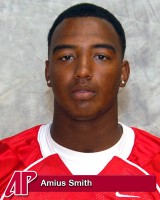 Senior weak safety Amius Smith tallied his first double-digit tackle effort against JSU. The local product also had one fumble recovery but failed to record a tackle for loss for the first time this season.
Over the last two games, sophomore linebacker Josh Carroll has tallied 17 tackles for APSU, including a team-leading nine at UT Martin. In fact, since moving into the starting lineup against Eastern Kentucky, Carroll has 34 tackles.
Sophomore defensive end Rip Rowan blocked an extra point and returned it for the defensive two-point conversion against UT Martin. He also had a tackle for loss and two quarterback hurries against the Skyhawks.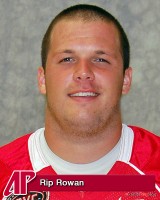 After two straight games with 11 tackles, junior free safety Antwaun Majors collected seven at UT Martin, including a team-high five solo stops. He had an interception against Eastern Kentucky and recovered what proved to be the game-turning fumble versus TSU.
After recording nine tackles for loss in the season's first two games, the Govs almost matched that number against Eastern Kentucky. They finished with eight, which was four more than Eastern Kentucky, the FCS leader in that category entering the contest.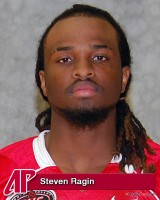 When sophomore cornerback Steven Ragin intercepted a pass in the first quarter against Eastern Kentucky, it was the Govs' first interception this season. Junior safety Antwaun Majors later recorded the Govs' second interception.
APSU's top three tacklers versus Eastern Kentucky, safety Antwaun Majors, linebacker Josh Carroll and end Earnest Smith, are former walk-ons who are now on scholarship.
With five tackles against Memphis, senior weak safety Amius Smith surpassed the career 200-tackle mark. He now has 219.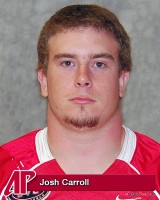 Senior safety Amius Smith was named to the Phil Steele Preseason All-OVC team as a linebacker. Smith led the Governors in tackles in the opener, with eight at Cincinnati.
Sophomore tackle Reese Bulmash has taken over as the starting nose tackle in 2011 after serving as a reserve a year ago. The Marietta, GA, native's back up is redshirt freshman Robbie Bryant, who played offensive line a year ago. Bulmash and Bryant were prep teammates at Sprayberry High School two years ago.
Special Teams Notes
For a second straight game freshman punter Ben Campbell was a bright spot for the Govs. With consistent considerable hang time, he averaged 39 yards per punt. He had punts of 57 and 53 yards against UT Martin the previous game in averaging
42.2 yards per boot.
Rip Rowan blocked an extra point and returned it nearly 90 yards for the two-point defensive conversion during the third period against UT Martin, October 8th. It was APSU's first defensive extra point conversion since Tyrone Wilson returned a blocked kick against Western Kentucky, September 21st, 1996.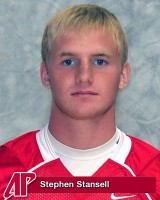 Junior placekicker Stephen Stansell broke his streak of misses at three with a 46-yard field goal in the first quarter against Tennessee State. He proceeded to hit three straight, including the game winner from 35 yards out with 10.1 seconds left. As a result of his three field-goal effort against Tennessee State, Stansell was named OVC Specialist of the Week.
For a second straight season junior placekicker Stephen Stansell is on the Fred Mitchell Outstanding Placekicker nominee list and College Football Performance Awards Watch List.
The usually reliable Stephen Stansell missed three straight field goals, including missed both field goal opportunities against Memphis and then missed a 47 yarder against Eastern Kentucky. He also missed a 49 yarder against UT Martin.
When a botched snap prevented Stephen Stansell from attempting an extra point after the Governors only TD at Memphis, September 17th, it meant the APSU kicker failed to score in a game for only the second time in his career.
Stansell booted three field goals of 50 yards or more in 2010, setting an APSU record for most 50-yard field goals in a season.
Stephen Stansell has a new holder in 2011 as quarterback Jake Ryan takes over for the graduated T.C. Jennings. Meanwhile, senior Nick Newsome is in his fourth season as the Governors starting long snapper.
With four-year starter and APSU record holder Ryan Key gone as the Govs punter, Stephen Stansell did double duty against Cincinnati. Freshman Ben Campbell took over at Memphis and has punted the last three games.