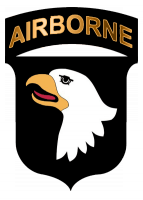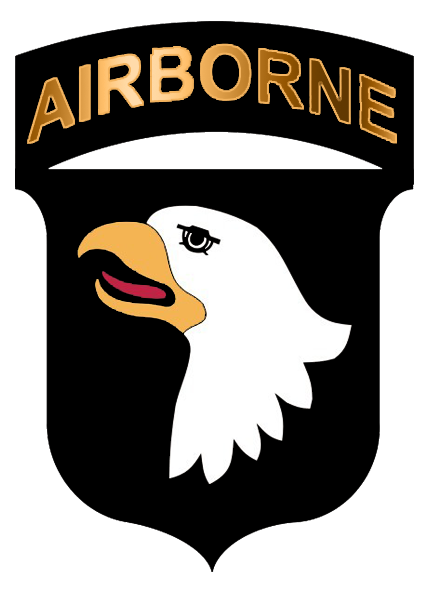 Fort Campbell, KY – A ribbon-cutting ceremony was be held at Fort Campbell, yesterday for a new 80,000 square-foot Training Support Center that has been dedicated in honor of Col. Robert E. Jones, U.S. Army (Ret.)  whose name will grace the facility.
The Col. Robert E. Jones Training Support Center will be one of 77 Army-wide facilities that provides Soldiers and leaders with modern mock-ups, devices, simulations and equipment, which will support the training needs and operations of the 101st Airborne Division (Air Assault) and other Fort Campbell units.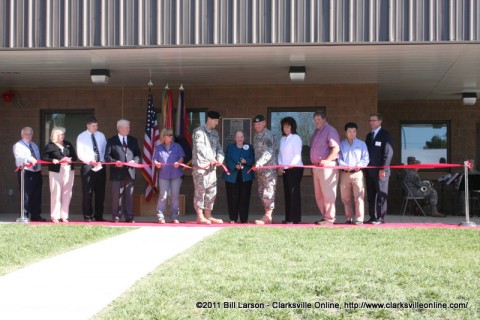 The new support facility replaces  a facility that was originally built during WWII.
The TSC here has been a major training enabler on Fort Campbell, since 1962 and a large volume of its work was devoted to the design, fabrication and delivery of mock-ups and devices, audio-visual support, photography, training films and aids that allowed for a more realistic and battle-focused approach to training Soldiers. Today's modern TSC has a similar mission, but the products have changed and the output is heavily weighted to delivering training and capabilities directly to the customers.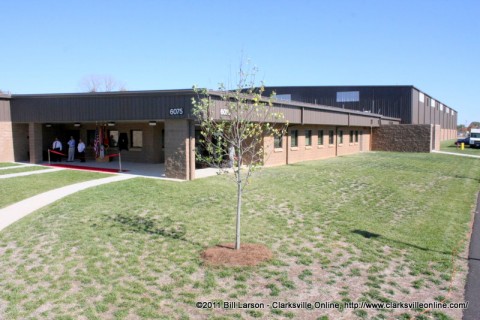 The TSC products include a large number of virtual simulators that place Soldiers in a virtual environment with accurate facsimiles of weapons and equipment that function exactly like the real items, or provide a training device that accurately simulates the look, feel, effect and capability of the live weapon or piece of equipment.
Technology has had a significant impact on the training support product line and has greatly changed the structure of the work force. Today, the Training Support Center operates training support activities from 14 facilities on Fort Campbell, including the warehouse issue and storage facility, engagement skills trainers, cal for fire trainers, flight simulators, virtual drivers trainers, vehicle convoy trainers and vehicle egress trainers. Employees conduct training on these devices for individual Soldiers as well as conducting training for unit cadre to effectively operate the devices during unit-led events. The combined government and contractor work force of 30 employees typically serves 50,000 to 80,000 Soldiers per year.
About Col. Robert E. Jones U.S. Army (Ret.)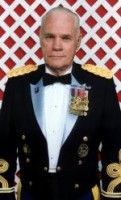 Born 19th July 1917, in Montreal, Canada, Robert Ellis Jones was commissioned in the United States Army as a 2nd Lt. Infantry, 22 May 1939. Jones served in Troop F, 111th Cavalry, NMNG, CCC, and 33 years active duty. Upon graduation from Parachute School 23 May 1942 and assignment to 502d PIR, he served in various assignments, to include participation in Normandy and Rhineland Campaigns WWII. Jones was wounded in Holland during Operation Market Garden while commanding "H" Company, 502d PIR, and returned to the US in February 1945 for hospitalization.
He was assigned to The Parachute School, Fort Benning, GA, May 1945 to May 1948, then to 511th PIR, 11th Airborne Division, Camp Haugen, Japan. He was subsequently assigned to the 32d Infantry Regiment, 7th Infantry Division in April 1949. Jones engaged in five offensive campaigns in Korea. He participated in the Inchon landing as Company Commander "C" Company, 32d Infantry. As a participant in the Chosin Reservoir attack in North Korea as S1 of the 1st Battalion, 32d Infantry, Jones led the remnants of that Battalion, himself, two other officers and 18 soldiers, out of Chosin Reservoir while attached to the 7th Marine Regiment, 1st Marine Division. He remained in Korea as Executive Officer and Battalion Commander until his return to the United States in June 1951.
He served as an Airborne Instructor at the Command and General Staff College 1951-1954, followed by a three year tour in Hawaii as a National Guard Advisor, G3 Staff Officer and as G5 US Army Pacific. His next assignments were with the 1st Airborne Battle Group, 327th Infantry 1957-1960, and as Executive Officer, Deputy Commander and Group Commander, Fort Campbell, KY.
In 1960, Jones was assigned as an Infantry Unit Advisor to the Turkish Third Army. In 1961, he was selected to attend the US Army War College; upon completion he was assigned to Special Warfare Directorate, Office of the Chief of Staff for Operations, Department of the Army at the Pentagon 1962-1964, then to the Joints Chiefs of Staff J3, actively engaged in planning and operations of the Vietnam Conflict. Initially assigned to USAEUR Heidelberg In August 1966, Jones assumed command of the 10th Special Forces Group (ABN) Bad Toelz, Germany. Upon return of the Group to the US in September 1968, he traveled to Vietnam to serve as Deputy Director, Phoenix Directorate, COORDS, HQ MACV until June 3, 1970. He then departed to be Chief of Staff and Deputy Installation Commander, Fort Lewis, Wash.
He received his Bachelor of Science degree from New Mexico A&M College in 1939, with Post Graduate work at the University of Texas. In 1965, he received a Master of Arts degree in International Affairs from George Washington University.
His awards and decorations include: Distinguished Service Cross, Silver Star, Legion of Merit with two clusters, Bronze Star with cluster, Joint Service Commendation Medal with two clusters, Purple Heart with cluster, Army Commendation Medal with Metal Pendant, Presidential Unit Citation (Army), Presidential Unit Citation 1st and 2d Awards (Navy), Belgian Fourraguere, French Croix DeGuerre with Palm, Netherlands Orange Lanyard, Republic of Korea Presidential Unit Citation, Vietnamese Police Medal of Honor 1st Class, Vietnamese Rural Revolutionary Development Medal, and various other Service Medals. He received the Combat Infantry Badge with Star, the Master Parachute Badge and a Glider Badge. Jones was awarded the Departments of Army General Staff Identification and Joint Chiefs of Staff Identification Badges.
After retirement from active duty in 1973, He resided in Clarksville, where he continued his public service through many military and community pursuits. He was granted and assigned the distinction of being the original Honorary Colonel of the 502nd Infantry Regiment, a Distinguished Member of the 502nd Infantry Regiment and a Distinguished Member of the 327th Infantry Regiment, 101st Airborne Division.
Jones was past President and Chairman of the Board for the 101st Airborne Division Association; Chairman of the Board for the 32d Infantry Regimental Association; and a Member of The Chosin Few, survivors of the Chosin Reservoir action. In 1997, a building at Fort Drum, NY was named for Colonel Jones by the 1st Battalion, 32d Infantry Regiment to recognize his leadership in bringing the Battalion's last remnants out of Chosin Reservoir.
He was named by Rotary International as a Paul Harris Fellow. A past Worthy Patron of Eastern Star; 32d Degree Mason for more than 50 years, a Sojourner and a Knghts Templar. Jones was named by the 101st Airborne Division Association as The Airborne Man of the Year when he was president of the Association. He received the ultimate honor of being named The Airborne Man of the Year from The Static Line, an organization of all airborne associations comprising many tens of thousands of warriors.
He was also co-incorporator and Chairman of the Board of Directors for the Fort Campbell Historical Foundation, which is building the Wings of Liberty Military Museum at Fort Campbell.
[wpaudio url="http://www.mediafire.com/file/gomv2pvhyfq2yb2/Rita%20Nicholson.mp3″ text="Rita Nicholson speaking about her father Col. Robert E. Jones, U.S. Army (Ret.)" dl="0″]
 Photo Gallery