Austin Peay Lady Govs at Bowling Green
Saturday, December 9th, 2011 | Tipoff: 6:00pm (CT)
Bowling Green, Ohio | Arena: Stroh Center (4,387)

Clarksville, TN – Austin Peay seeks an end to its six-game losing streak as it continues a four-game road trip with a visit to the Buckeye State where they will face Bowling Green in a 6:00pm (CT), Friday contest. It is the return contest from last year's meeting between the two teams in Clarksville – a contest the Falcons won, 69-42. Bowling Green enters Friday's contest after winning its fifth consecutive game, a 73-61 victory at Youngstown State, to improve to 5-2 this season.
Austin Peay surrendered 20 turnovers at Middle Tennessee, Tuesday – it was only the second time this season APSU has committed 20 or more turnovers. Austin Peay made only six shots (26.1 percent) in the first half but was nearly unstoppable in the second half, making 60 percent of its attempts (15 FGM).
The Lady Govs lost the rebounding battle at MTSU, the seventh consecutive game APSU has lost a rebounding matchup. Austin Peay's defense also recorded double-digit steals for the seventh time this season and is now averaging 11.9 steals per game. Austin Peay made more than 70 percent of its free throws for the third consecutive game, converting 19-of-27 against Middle Tennessee, including a 6-of-6 performance by senior Whitney Hanley.
It's The Drought That Kills
During each game of the Lady Govs current six-game losing streak, Austin Peay has suffered through an offensive drought that has cost it the contest. Three times during the streak, Austin Peay was either in the lead or tied in the second half when its shooting woes hit.
As Cold As Ice
Austin Peay may be suffering from shooting droughts during its losing streak, but it's a small sign of a larger problem for the Lady Govs who enter Tuesday's game shooting an ice-cold 36.5 percent this season.
The Lady Govs are averaging just 20.8 made field goals per game and averaging a paltry 59.9 points per game. Currently, the ignominious "record" for lowest field goal percentage in a season is 37.1 percent  held by the 1978-79 squad – the first team whose records are available.
About Bowling Green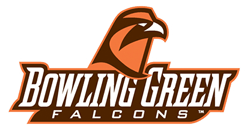 Bowling Green will be playing its fourth game in nine games when its meets Austin Peay, Friday. The Falcons opened the season with consecutive losses, failing to score more than 53 points in the two games. However, BGSU has found its offensive engine during its five-game win streak, averaging 71.6 points per game.
The Falcons lost six seniors, including four starters, from last year's team that won the MAC tournament and reached the NCAA Tournament. On this season's opening day Bowling Green had four players in its starting lineup who were making their first collegiate start. Junior Chrissy Steffen, the lone holdover from last season's starting five, leads the team with 16.9 points per game this season.
Fast Break Points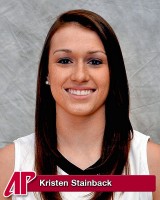 If the projected starting lineup takes the floor Friday it will be the sixth different starting lineup head coach Carrie Daniels has used this season as freshman guard Shira Buley will make her first collegiate start.
Eight players have recorded a start this season – sophomore Nicole Olszewski and freshman Kristen Stainback the only players to start all eight games this season.
Senior guard Whitney Hanley became the 14th Austin Peay women's basketball player to reach the 1,000-point plateau with her 21-point performance at Lipscomb, November 14th. Her 1,078 career points ranks 13th all-time. She needs 23 points to reach the 12th spot, currently held by Lady Govs head coach Carrie Daniels (1,111 points, 1991-96).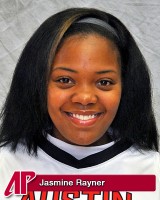 Senior forward Jasmine Rayner has a little more work to do – needing 93 points to reach the 1,000-point mark. At her current pace (8.0 ppg), she will reach the mark in the season's 20th game – January 21st at Eastern Illinois.
Austin Peay returns its four leading scorers from last season's team: Hanley (12.2 ppg), Rayner (10.5 ppg), junior forward Meghan Bussabarger (8.0 ppg) and sophomore guard Nicole Olszewski (8.0 ppg).
Hanley was named to the Preseason All-OVC team after receiving second-team All-OVC honors last season.
Austin Peay is 20-52 (.278) against non-conference teams under head coach Carrie Daniels.
The Lady Govs are 11-25 (.306) in December under Daniels.
An Austin Peay Win Would…
End its current six-game overall losing streak… be its first victory since  November 14th at Lipscomb… make it 2-4 away from the Dunn Center this season… improve Daniels' record to 66-101 overall… make the Lady Govs 419-574 overall since 1976-77.
An Austin Peay Loss Would…
Be its seventh consecutive loss after opening the season with consecutive wins… assure it a losing record in non-conference play in 2011-12… make it 1-5 away from the Dunn Center this season… drop Daniels' record to 65-102 overall… make the Lady Govs 418-575 overall since 1976-77.
Last Time Out
Lady Govs at MTSU – December 6th, 2011
Murfreesboro, TN – Austin Peay could not recover from a poor first-half effort in a 69-63 non-conference loss to Middle Tennessee, Tuesday night, at the Murphy Center.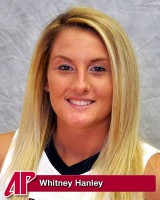 Austin Peay (2-6) did not make a field goal until senior Whitney Hanley's jumper at the 13:33 mark but trailed just 6-2 as Middle Tennessee struggled from the opening tip. Hanley and senior Jasmine Rayner made the Lady Govs next two shots to tie the game, 6-6, with 11:21 left.
But as has been the case during its now six-game losing streak, Austin Peay struggled at both ends of the court over the next 4:29, surrendering a 16-2 run to Middle Tennessee. The Lady Govs were 1-of-6 shooting and committed four turnovers during that stretch. The Blue Raiders made seven consecutive shots during the run, including three by Ebony Rowe, as they built a 22-8 lead with 7:02 left.
Middle Tennessee (5-4) pushed its lead to 21 points on a Rowe layup with 3:29 remaining. Austin Peay closed the half with a 9-2 run – jump started by six consecutive points by Rayner – to slash the deficit to 14 points, 33-19, at the half.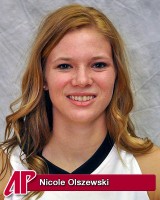 The Lady Govs opened the second half with a completely different effort on the offensive end – using a 15-3 run over the opening seven minutes to cut the lead to two points, 36-34. Austin Peay made 5-of-9 from the field and 4-of-8 at the free throw line during the burst. Hanley led the effort with seven points and Nicole Olszewski added five points.
The Blue Raiders ended the charge with back-to-back three-pointers from Kortni Jones and Ebony Rowe added a basket to push the lead back to nine points, 44-35, with 11:58 left. Middle Tennessee pushed the lead back to 15 points with 2:59 remaining before Austin Peay closed the game with a 13-4 run to set the final margin.
Hanley led all scorers with 23 points, making eight of her 12 shots and all six free-throw attempts. Rayner added 15 points and four steals while Nicole Olszewski chipped in 12 points.
Rowe led Middle Tennessee with 22 points and 10 rebounds, but scored only three points in the second half. Jones added 17 points with four three-pointers.
Lady Govs Last Meeting With Bowling Green
December 11th, 2010
Austin Peay State University women's basketball team allowed 14 three-point field goals and dropped a 69-42 non-conference contest to Bowling Green, Saturday, at the Dunn Center.
Bowling Green (10-1) ran its win streak to 10 games primarily on the back of its three-point shooting. The Falcons shot more three-point field goals (30) than they did two-point field goals (26). However, it worked out for the visitors as they made 46.7 percent from outside compared to just 38.5 percent inside.
Austin Peay (2-9) lost its third consecutive game and remained winless at the Dunn Center in three tries this season. The Lady Govs again suffered through a seven-minute scoreless streak in the first half and another six-minute drought in the second half, allowing the Falcons to build double-digit margins each time.
The Lady Govs did open each half impressively, scoring seven of the game's first 10 points in the opening 3:34. APSU's second half start was even better, a 9-0 burst over the first 3:32 that cut the lead to seven points, 34-27.
However, they went into their second-half drought right after scoring their ninth point of the frame.
Sophomore Meghan Bussabarger led the Lady Govs with 14 points and seven rebounds, reach double-digits in scoring for the fourth consecutive game.
However, she was the only Lady Govs player to reach double-digit territory.
Austin Peay was held to a then season-low 26.9 percent (14-of-52) from the field, including just 23.1 percent (3-of-13) from three-point range.
Senior Lauren Prochaska – the two-time Mid-American Conference Player of the Year – rebounded from a five-point first-half effort to finish with a gamehigh 22 points. Jen Uhl scored 14 points, all in the first half.
Carrie Daniels Show Airs Wednesdays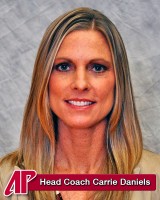 The Carrie Daniels Show airs at 6:00pm, each Wednesday, live from Edwards Steakhouse on Franklin Street in downtown Clarksville.
Hosted by Brian Rives for the fourth consecutive season, the show will air live on WVRY 105.1 FM and be simulcast over the internet at LetsGoPeay.com.
Next Game
APSU On To The Hoosier State, Meet Ball State, Sunday
Austin Peay continues its northern swing with a 11:00am (CT), Sunday contest against Ball State in Muncie, IN. The Cardinals have won four of their last five since opening the season with three straight losses.
One of those first three losses was to OVC member SIU Edwardsville, Ball State dropping a 68-56 decision at Edwardsville, November 16th.