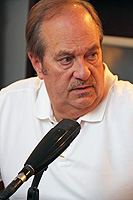 Clarksville, TN – The City of Clarksville has been advised by attorneys "not to discuss issues that might be the subject of negotiations between the City and TMS."  This according to mayor's spokeswoman Jennifer Rawls, when asked about the status of Liberty Park.
In exclusive reports from WJZM and Clarksville Online, TMS Contracting has been embroiled in a legal battle with a former sub-contractor, Rust of Kentucky, over wrongful termination.  A bankruptcy judge ruled on February 7th  in favor of Rust, awarding the Kentucky company 4.8 million dollars in damages.  TMS and it's insurance carrier Zurich, are appealing that ruling.
Sources indicate that Thom Spigner is finished with the project, and has sold all of his equipment, including personal items, to pay legal bills, and keep from filing bankruptcy.
Spigner did confirm that he has not filed bankruptcy as has been rumored.  This has led to questions about the city's relationship with TMS and when the project will be completed, officially.   Sources indicate that approximately over one million dollars is still owed to TMS.  Crews are still working at the site, although it's unclear who they're working for, and who is supervising the project.  The city would not comment on any of those questions.
The marina project has been the subject of debate ever since it was approved by the Clarksville city council.  Construction delays have plagued the project, with the 2010 floods setting the project back over two years.  The city has also had to re-negotiate with a new marina operator after the first operator, Greg Batts, was not able to put his deal together.  The city council voted to let Batts out of his contract and recently awarded the marina contract to a Knoxville based company.
We will have more on this story as it develops.
For more on the story, see: