Clarksville, TN – On October 4th, 2012, Clarksville Mayor Kim McMillan will join Fire Chief Michael Roberts and Clarksville Fire Rescue in presenting a check to the Susan G. Komen Foundation. October is designated as National Breast Cancer Awareness month.
Members of the Clarksville Fire Rescue Department devised an idea for special t-shirts which could be sold to their staff and supporters. Another staffer helped design the shirt.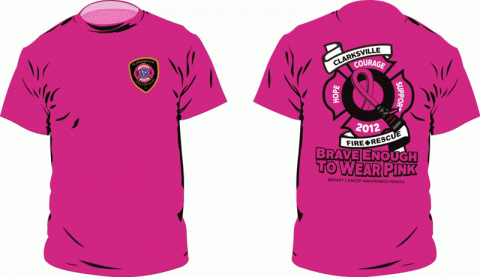 The Department has offered the shirts for sale at RiverFest and people from other states have contacted them to ask where the shirts can be purchased. So far, the Department has collected about $5,800.00 for their efforts.
"I want to congratulate and support Chief Roberts and all of the administrative staff, firefighters and rescue personnel who support the fight against this devastating disease," said Mayor Kim McMillan. "I understand that the Department had 100% participation in this effort. They have proven, once again, that they are committed to making a difference in the health and safety of our community every day and in so many ways."
Clarksville Fire Rescue personnel will be wearing their pink "Are You Brave Enough to Wear Pink" shirts throughout the month of October.