Austin Peay Lady Govs vs. Murray State
Saturday, February 2nd, 2013 | 2:15pm (CT)
Murray, KY | CFSB Center (8,600)

Clarksville, TN – Austin Peay women's basketball team begins the second half of the Ohio Valley Conference race when it meets Murray State in a 2:15pm, Saturday contest at the CFSB Center.
The Lady Govs hope to carry forward the momentum of their season's first OVC win – a 78-71 victory at Jacksonville State, Monday. They will face a Murray State squad that has won four-straight OVC outings and climbed into second place in the OVC West Division race.
Saturday's meeting will be the second meeting this season, Murray State winning a 77-72 decision, January 12th, in Clarksville.
Lady Govs Ledger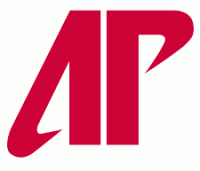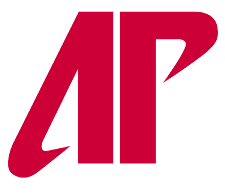 After losing seven straight to begin OVC play, Austin Peay notched its first OVC win at Jacksonville State, Monday. The Lady Govs' defense has struggled in the team's 1-7 OVC start, allowing seven of their first eight OVC opponents to shoot better than 40 percent from the floor (47.0 percent combined) and average 71.9 points per game.
APSU has won the turnover battle in 13 games this season – forcing its last three opponents into a total of 50 turnovers – and owns a plus-3.0 turnover margin. In addition, the Lady Govs defense has recorded 10-plus steals in its last four games (13.0 spg) and 12 times this season.
Five APSU players have played in every contest. Seven players are averaging five or more points per game, with two averaging double figures (Meghan Bussabarger and Leslie Martinez at 12.8 and 11.2 points per game, respectively).
Racers Rigmarole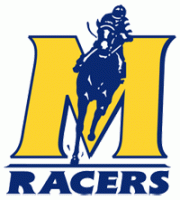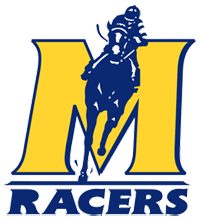 Murray State has won four straight, scoring 68 points in each of its last three games and averaging 71.5 points per game during the streak. In conference play, Murray State is ranked fifth in offense (66.8 ppg), despite ranking 12th in field-goal percentage (37.1).
The Racers defense has picked up the slack, ranking fourth in scoring (64.2 ppg) and third in field-goal percentage (37.2) allowed.
Senior guard Mariah Robinson is the OVC's fourth-leading scorer (17.6 ppg) in league action and ranks 14th in field-goal percentage (44.3). Freshman guard Erika Sisk ranks 10th among league scorers in league play, averaging 14.3 points per game. The two have combined to take 221 of Murray State's 529 shot attempts (41.7 percent) in conference play.
An Austin Peay Win Would
Give it back-to-back wins for the second time this season. … be its second OVC win this season… be its second straight road win… be its third win away from the Dunn Center (3-8)… be its fourth straight win at the CFSB Center… improve Daniels' record to 79-130 overall and 52-66 in OVC play… make the Lady Govs 432-603 overall since 1976-77.
An Austin Peay Loss Would
Be its third straight loss to Murray State, its longest win streak to the Racers since 2008-09 (four games)… be its first loss at the CFSB Center since Jan. 10, 2009, ending a three-game APSU win streak in the facility… make it 1-8 in OVC play… make it 2-9 away from the Dunn Center…  drop Daniels' record to 78-131 overall and 51-67 in OVC play… make the Lady Govs 431-604 overall since 1976-77.
Previous Meeting Against Murray State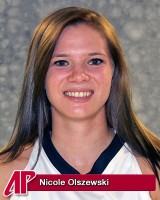 Clarksville, TN – Austin Peay women's basketball team could not hold on to a double-digit second half lead, dropping a 77-72 decision to Murray State, January 12th, in Ohio Valley Conference action at the Dunn Center.
Austin Peay (5-10, 0-3 OVC) built an 11-point, 52-41, lead in the second half courtesy nine consecutive points. Junior Nicole Olszewski and senior Meghan Bussabarger each hit three-pointers and freshman Tiasha Gray followed with a conventional three-point play in the burst.
Murray State (9-6, 2-2 OVC) erased that lead with a 19-8 run over the next four minutes, capped by Tessa Elkins' layup and three pointer in a 40-second span, tying the game 60-60 with 6:25 left.
The Lady Govs built another five-point lead, 66-61 with 4:46 left, but wasted several opportunities to either expand that lead of maintain that lead down the stretch. In the final stretch, Austin Peay converted only 2-of-9 shots, including two missed fast-break layups.
Murray State had no trouble with its offense, closing the game with a 16-6 run over the final 3:54. The Racers made only 3-of-5 field goals in the closing stretch but converted on 10 of its 12 free throws and outrebounded APSU 12-2 to secure the win.
The two squads traded scoring runs in the first half, Murray State opening the game with a 14-4 run in the opening 12:08 as Austin Peay was a cold 2-of-12 from the floor. The Lady Govs offense warmed up over the next eight minutes, composing a 23-6 run to build a 27-20 lead with 4:12 left. However, the Racers closed the half with an 11-4 run and the two teams went to the break tied 31-31.
Bussabarger led Austin Peay with 14 points. Sophomore Kristen Stainback (12), freshman Alexis Hardaway (11) and Nicole Olszewski (10) also reached double digit scoring territory. Senior Leslie Martinez finished with nine points and 10 rebounds while Gray played a career-high 33 minutes and ended the night with nine points, four steals and three assists.
Erika Sisk led Murray State with 15 points and six assists. Elkins added an 11-point, 10-rebound double-double effort. Keiona Kirby (14) and Jessica Winfrey (12) broke through to double-digit scoring territory.
Last Time Out
Austin Peay Lady Govs Down Jacksonville State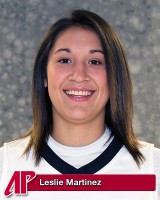 Jacksonville, AL – Senior Leslie Martinez scored 16 second-half points to help Austin Peay State University women's basketball team record its first Ohio Valley Conference win, 78-71, against Jacksonville State, Monday night at Mathews Coliseum.
Austin Peay (6-15, 1-7 OVC) trailed by eight points at halftime and Martinez was largely quiet in the opening half, playing just nine minutes and scoring two points. However, the Lady Govs senior guard opened the second half with a bang, scoring the team's first 10 points – making a jumper, a lay-up, a conventional three-point play and hitting a three-pointer – to pull the Lady Govs back into a tie at 49-49 just 4:23 into the half.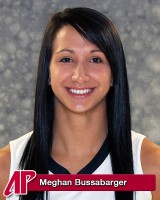 The Lady Govs would take the lead for good on sophomore Shira Buley's layup at the 14:45 mark but could not build a secure advantage until late in the contest. The Lady Govs used a 7-0 run with Martinez and senior Meghan Bussabarger scoring on jumpers to build a 10-point, 72-62, lead with 3:29 left.
However, Jacksonville State scored the game's next six points and slashed that lead to four points, 72-68, less than two minutes later. Bussabarger stopped the run with a fast-break layup and freshman Tiasha Gray secured the six-point lead with another layup and the Gamecocks would not threaten the game's remainder.
Jacksonville State (0-22, 0-10 OVC) nearly shot Austin Peay out of the gym in the opening period, making nine three-pointers and shooting 64.3 percent from outside the arc in the frame. The Gamecocks built a 10-point lead 10 minutes into the period following Amanda McCarty's three-pointer.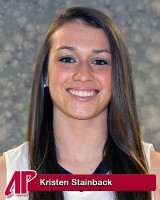 Austin Peay's bench pulled it back into the game, scoring the game's next nine points. The Lady Govs reserves accounted for 24 of the team's 39 points in the opening frame. Sophomore Kristen Stainback scored 11 points and Gray added nine points in the half. However, Jacksonville State closed the half with an 8-0 run to take a 47-39 halftime lead.
Martinez led all scorers with 18 points, on 7-of-15 shooting, and handed out a game-best seven assists. Bussabarger added 17 points while Gray chipped in 12 points and seven steals.
Media Center
Radio: Governors Sports Network (David Loos, play-by-play)
Live Stats: www.GoRacers.com
Live Audio: www.LetsGoPeay.com
ipTV: www.OVCDigitalNetwork.com
Head Coaches
Austin Peay – Carrie Daniels (Austin Peay, 1996) is 78-130 (.375) in her seventh season as a head coach at Austin Peay.
Murray State – Rob Cross (Murray State, 1991) is 71-72 (.497) in his fifth season at the school and as a head coach.
Series
APSU leads, 39-37 (MUR leads 23-11 in Murray) | Streak: MUR, two wins | Daniels vs. MUR: 7-6