Knoxville, TN – #8 Tennessee secured the outright regular-season SEC championship with an 82-72 victory over #13/15 Texas A&M on Thursday night before 12,213 at Thompson-Boling Arena. The Lady Vols claimed their 17th SEC regular-season crown overall.
Senior Kamiko Williams scored a career-high 18 points and classmate Taber Spani scored eight as the duo won their third SEC regular-season crown.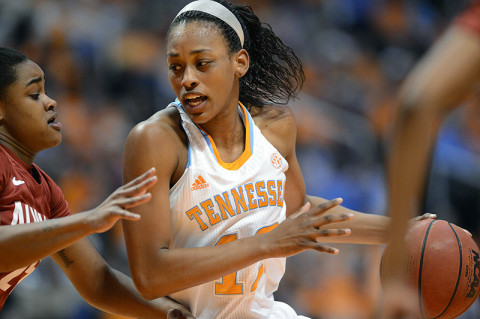 The Lady Vols (23-5 overall, 14-1 SEC) have won 18 of their last 19 games against conference foes dating to last season. That includes a perfect 8-0 mark at home in the SEC contests this year.
First-year head coach Holly Warlick became the second coach in SEC history to win the regular-season title in her first year as a head coach in the league, joining Pokey Chatman, who won it at LSU in 2005.
Tennessee will be the No. 1 seed in the SEC Tournament which starts on March 6th in Duluth, GA. The Lady Vols will play the winner of the 8/9 game in the first game of the Third Round on Friday, March 8th at 12 Noon.
Texas A&M, which had won 21 of their last 25 games, fell to 21-8 overall and 11-4 in the SEC.
Meighan Simmons netted 17 for her 17th game in a row in double-figures. Cierra Burdick had her fourth double of the season and second in three games with 15 points and a career-high 14 rebounds.
Freshman Bashaara Graves tallied 14 points for her 25th game this season with 10 or more points.
Leading The Way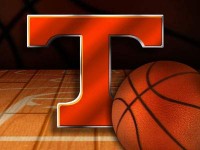 Tennessee needed two gutsy performances from the lone members of their senior class to come away with a win in an intense, highly contested bout against Texas A&M.
For Taber Spani and Kamiko Williams, they clinched the SEC regular championship for the third time in their Lady Vol careers, and they will enter the SEC tournament as the No. 1 overall seed after nobody knew what to expect from the team back in the offseason.
"This one is different obviously because it's under Holly (Warlick) and not Pat (Summitt)," Spani said. "But if you look at it with those other two, we were so unexperienced. Now, this team is so young. We had to kind of show them the way and take everyone under our wing, so it makes it that much more special."
The two were honored before the game with their families on senior night, and Williams scored a career-high 18 points, while also leading all the Lady Vols in scoring.
She continually came up with baskets all night when the Lady Vols needed them most, but none of her baskets were bigger than the one she made right before halftime.
With about 10 seconds left, Ariel Massengale attacked the defense and dished it out to an open Williams standing in the left corner. Then, Williams knocked down a 3-point buzzer beater to give UT a 37-32 lead and much-needed momentum going into the half.
"The two of us have grown so much with each other over the years," Williams said. "We both had some injuries that we had to help each other get through, and we've always shared that bond. Even off the court, we would have bible studies at each others house. She is like my sister."
Williams and Spani also shared a special connection on the court in their last regular season game at Thompson-Boling Arena. With 6 minutes left in the second, Spani managed to come down with a defensive rebound and tossed a half-court pass to Williams, who was already running in transition. Williams made the layup to put the Lady Vols up, 72-64.
Playing her first home game in a month, Isabelle Harrison returned with 10 points — all in the second half for UT's fifth player in double-figures. After missing close to a month with an injury, Harrison was hurt late in the action and missed the final 1:52.
Texas A&M was led by Adrienne Pratcher, who scored a game-high 20. Leading scorer and rebounder Kelsey Bone was limited to 14 points and five rebounds.
Keyed by a 12-2 run just prior to halftime, the Lady Vols never relinquished the lead in the second half. A 13-2 run by the Lady Vols expanded the lead to 66-52 on a Burdick jumper with nine minutes left in the half.
Texas A&M continued to threaten, but the Lady Vols took the Aggie punches and stood strong.
Down by as many as 14, Pratcher scored eight points in a row to bring the Aggies back within four with 7:45 remaining.
But the Lady Vols wouldn't be deterred, after another Pratcher bucket cut the deficit to three, 67-64, Tennessee ripped off seven points in 51 seconds to regain a double-figure lead at 74-64 with 5:52 left.
UT's lead was cut to four with 3:50 left, but again, Tennessee withstood as Williams put the final dagger in the Aggies on a jumper with 10 seconds left for the final of 82-72. UT had the game's final six points.
Tennessee finished the first half on that 12-2 run capped by a 3-pointer from Williams at the buzzer to take a 37-32 into intermission. That marked the largest lead of the half for the Lady Vols. The lead changed hands seven times and the game was tied six times in the first 20 minutes.
Neither team led by more than four points for the game's first 17 minutes. A pair of free throws by A&M's Karla Gilbert put the Aggies up by five at 30-28. But that was answered with a 3-pointer from Simmons with 2:22 left in the half, cutting the margin back to two, 30-28.
After being down by five, the Lady Vols reeled off the next nine points to take a 34-30 lead with less than a minute left in the half. Simmons had seven of the nine points.
Tennessee suffered a blow as Ariel Massengale went down with an apparent injury and did play the final 7:44 of the game. Harrison also went down with an injury with 1:52 left in regulation.
It was just the third meeting between the teams and first as opponents in the SEC. The Lady Vols beat A&M in a 2008 NCAA Regional final and in a regular-season game in 1997 in Alaska.
The Lady Vols close the regular-season on Sunday at #10 Kentucky in Lexington at 3:30 p.m. That game will air on ESPNU and can be heard on the Lady Vol Network.