Clarksville, TN – Austin Peay State University's football team will scrimmage for the first time under new head coach Kirby Cannon, 5:00pm, Friday, in Governors Stadium.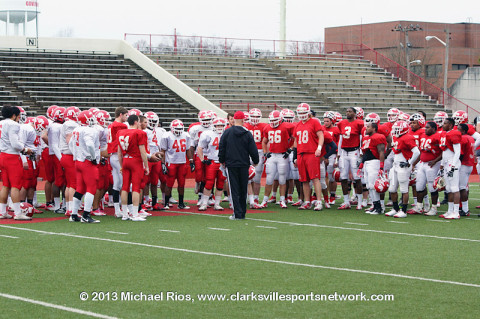 The scrimmage will be scripted from the standpoint of controlling down and distance as well as offensive and defensive play calling. The Governors staff is expected to run in the neighborhood of 25 plays, respectively, for both the first and second-team units.
"I think what we want out of the players in the first scrimmage," said Cannon, "is a lot of great effort, try to limit the turnovers and mistakes on offense—keep it clean—and defensively, more than anything else, get to the football—pursue. You don't give them anything new mentally that day and just try to make it a fast-paced scrimmage. "
Both units return much of their personnel from last season's 2-9 campaign. But the offense now has different leadership behind center as redshirt sophomore Jacob Sexton is taking over for four-year starter Jake Ryan at quarterback. In addition, the Govs also are attempting to compensate for standout receiver Devin Stark's loss—he had 10 TD catches a year ago.
Sophomore Reco Williams (501 yards), senior Terrence Oliver (341) and junior Ean Pemberton (228 yards) head a ground game that could relieve pressure from the quarterback situation.
"We are installing so much right now (on offense) there is going to be a certain amount of raggedness," Cannon said. "That has been out there. As we finish the installation and the kids are able to get some reps I expected the offense to be much more proficient than they have been.
"You can dominate early on defense because you know what you are doing. You can play faster and you typically don't have the mistakes on defense that you do on offense. The offense will catch up, I am confident of that."
Defensively, the Governors will continue to evaluate recent and not-so-recent shifts. Steven Rich, who started at weak safety a year ago, is now at linebacker. Rip Rowan, a defensive end two seasons ago before shifting to linebacker last season, is now back at defensive end.
Malcolm Goines began last season at defensive end before moving inside while Iosua Siliva reversed that course. Both have continued that transition. Tyreon Clark, who began last season as a cornerback but moved to safety when Antwaun Majors went down, has continued his progress at the position.
In addition, former wide receiver Tremond Robinson, who shifted to safety last fall after a rash of injuries, is continuing his transformation.