Two budget amendments filed for teachers and disabled Tennesseans
Hope Scholarship for military dependents on calendar for this week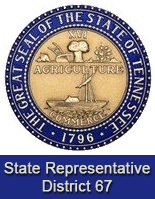 Nashville, TN – Flow Motion passed last week.
"The House passed what is commonly known as the "flow motion" this week signaling the end of session is near," said Tennessee State Representative Joe Pitts (D-Clarksville).
A "flow motion" means normal procedures for advancing legislation have been suspended and schedules will become more hectic than the new brisk pace.  Normally a bill takes a few weeks to cycle through the assigned committee process.
The suspension of those rules, or the flow motion, means the same bill can now pass through 5 committees in one day and be voted on by the House in the same day. Normally this process will take up to 6 weeks to complete because every time a bill is heard in a committee, it is not heard in the next committee until the following week.
"Leadership has expressed its wish for the Tennessee General Assembly to adjourn for the year by the end of next week," said Pitts. "While 'with all deliberate speed' is usually a good thing, haste sometimes creates unintended consequences."
House Bill 427/Senate Bill 57 will address eligibility of military dependents for the Hope Lottery Scholarship even if their Home of Record is not Tennessee.
House Bill 427/Senate Bill 57 will be heard in the special Hope Scholarship Finance Subcommittee meeting next week.  "I sponsored this legislation again this session to address an inequity in the current eligibility rules for the HOPE Lottery Scholarship. Currently if you enter the armed forces in another state, your Home of Record stays with you even if you own property and reside in Tennessee, vote in Tennessee, pay taxes in Tennessee, meaning your dependent is ineligible for the Hope Scholarship.  This legislation will fix that issue," Rep. Pitts said.
Two Budget Amendments filed for Teachers and Persons with Disabilities
Rep. Pitts filed budget amendment #66 which would appropriate enough money to reimburse teachers for the cost of the certain Praxis tests.
"In 2012, Public Chapter 1020 was enacted which requires teachers to sit for and pass a Praxis exam, when that teacher is asked by their local education association (LEA) to teach a course of study outside their subject specific license  endorsement," Pitts said. "Teachers are already buying supplies out of their own pockets and I believe we should help them with the expense of this test, especially when they are being asked by the school district to teach a specific course," said Pitts. "I am hopeful the Finance Committee will see it this way and pass this budget amendment."
Budget amendment #65, also filed by Rep. Pitts, would appropriate $5 million to the Department of Intellectual and Developmental Disabilities (DIDD) for the sole purpose of providing home and community based services waivers for individuals currently on the waiting list.  DIDD has had no new money to expand services since 2007, and $5 million in state funds totals $15 million when matched with federal dollars.
As of December, 2012, there were 7,274 people and increasing monthly.  Also, 94 individuals are categorized as "crisis", meaning their primary caregiver passed away, they are homeless, or experience such aggressive behavior that they are a danger to themselves or others.  "Giving families with a developmentally disabled family member hope is what this amendment is about," said Pitts.  "We must take care of our most vulnerable citizens and their families."
Update:  Health Care "Navigator" legislation advances
When Congress enacted the Patient Protection and Affordable Care Act, it approved an important new provision in the law that creates the role of a "navigator" in helping consumers find the right health insurance policy.  The National Association of Health Underwriters asked Rep Pitts to sponsor HB0881 which will grant the Commissioner of the TN Department of Commerce and Insurance rule making authority in providing proper oversight of these entities.
"The risk of consumer fraud is high if a navigator, who will have access to sensitive and personal information of the consumer, is left unchecked in our state," said Pitts.  "This measure will prohibit navigators from selling policies and will provide the state sufficient leverage if they overstep their bounds."
House Bill 0881 cleared two hurdles this week and will be heard on the House Floor next week.
Update:  School Testing Security
House Bill 0425, part of Rep. Pitts' legislative package for 2013 also cleared two hurdles this week and will be heard on the House Floor next week.
This legislation requires the Department of Education to review all measures that are in place to prevent breaches in the security of standardized tests administered in grades K-12 in the public school and to reports its findings and recommendations for improvement of test security to the general assembly before the second Tuesday in January 2014. This information is viewed as a list of best practices to maintain confidence in the testing environment.
"This legislation is a pre-emptive move to prevent test fraud, like the recent scandals in Atlanta, GA and Washington, D.C. public school systems, where people were convicted of selling tests or committing other acts of fraud," said Pitts. "As we remain over-reliant on standardized tests, and hold educators accountable for students' scores, we must help our local school districts maintain testing integrity."
Mrs. Dottie Mann, a Clarksvillian, set to be reappointed to the State Forestry Commission
Senate Joint Resolution 178, to reappoint Dottie Mann to the State Forestry Commission, passed the House this week and is on its way to the Governor for his signature.  Governor Bill Haslam nominated Dorothy N. "Dottie" Mann to the State Forestry Commission for her second term.  "I am honored to carry this resolution in the House and would like to take this time to congratulate Dottie on her appointment and willingness to serve," Pitts said.
Constituent groups visited the Capitol this week, and other news.
A large contingent of student nurses from Austin Peay State University visited the legislature this week as a part of their "Day on the Hill" activities with the Tennessee Nurses Association.  These outstanding students expressed support and concern about legislation that impacts the healthcare industry.
Another group of special Tennesseans, the faculty, staff and students from the Academy for Academic Excellence (AAE) visited our state capitol this week.  The students were recognized from the House floor on Thursday, and were treated to a tour of the state capitol.
The 39th Annual Tennessee Prayer Breakfast was held at Lipscomb University in Nashville on Thursday. Governor and First Lady Haslam were the guest speakers and the more than 700 in attendance were treated to a moving music experience by Grammy and Dove awards winner Nicole C. Mullen.
If you have questions about any item above or other issues of concern, please call me at 615.741.2043, or email me at rep.joe.pitts@capitol.tn.gov