Nashville's Prince Goes Yard For Second Straight Night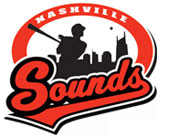 Nashville, TN – The Nashville Sounds allowed a season-high 16 hits to the Albuquerque Isotopes Friday night at Greer Stadium to lose the homestand opener 10-7.
The Sounds never recovered from Albuquerque's early jump on Sounds starting pitcher, Frankie De La Cruz (1-6), who allowed four runs in the first inning, one in the second, and two in the third. The right-hander took the loss, his sixth, with two walks and one strikeout.
Reliever Johnnie Lowe entered in the fourth and held Albuquerque scoreless through 2.1 innings of work, allowing three hits and walking none. Tim Dillard, Michael Olmsted and Jesus Sanchez also saw work out of the pen and did not surrender a run.
The Isotopes found their final runs against Travis Webb in the sixth with a two-run homer from Chili Buss. Webb added a bases-loaded walk later in the frame to give the visitors a 10-3 lead. He finished with four walks, a hit by pitch, and two strikeouts through 1 1/3 innings.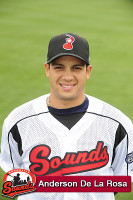 Offensively, the Sounds plated three runs in the second inning, started by catcher Anderson De La Rosa's leadoff single. The catcher moved to second on a fielder's choice and third on Elian Herrara's throwing error. Cole Garner hit an infield single to score De La Rosa and later scored on Blake Davis' single to center.
Hunter Morris scored for the home team in the second inning on an Angel Castro wild pitch and extended his hit streak to a season-best five games with his single in the third.
Centerfielder Josh Prince extended his hit streak to nine games, the longest active streak by a Sound, with a three-run homer off the top wall in left field. The bomb was his second in his last two games and pulled the Sounds to within four.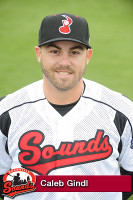 Blake Davis drove in the Sounds' final run in the seventh with a single through the gap at second. Davis and Caleb Gindl each had three of the Sounds' 13 hits.
Angel Castro (4-2) picked up the win for Albuquerque, limiting Nashville to three runs, two earned, on six hits across six innings. He fanned four Sounds and walked two. Peter Moylan picked up the save, his second.
Half of the Isotopes' hits went for extra bases. Short stop Justin Sellers led the way, going four-for-five with two runs and three RBIs.
The Sounds play game two against the Isotopes on Saturday night at Greer Stadium and will wear giraffe-style jerseys to benefit the Nashville Zoo as a part of the Sounds CARE Program. RHP R.J. Seidel (0-1, 5.14) gets the start for Nashville against Albuquerque's RHP Matt Magill (0-0, 2.84).
The game will be followed by a postgame fireworks show presented by Nashville's NEWS 2. In addition, the first 2,000 fans through the gates will receive a paintable Ozzie bobblehead courtesy of PPG Porter Paints.
Box Score
Nashville Sounds (13-33) 7, Albuquerque Isotopes (24-24) 10
May 24th, 2013
1
2
3
4
5
6
7
8
9
R
H
E
Albuquerque Isotopes
4
1
2
0
0
3
0
0
0
10
16
2
Nashville Sounds
0
3
0
0
0
0
4
0
0
7
13
1
BATTING
2B: Castellanos, A (4, De La Cruz, F), Sellers 2 (8, De La Cruz, F, De La Cruz, F), Federowicz 2 (7, De La Cruz, F, Webb).
3B: Gwynn (1, De La Cruz, F).
HR: Herrera, E (4, 2nd inning off De La Cruz, F, 0 on, 2 out), Buss (8, 6th inning off Webb, 1 on, 2 out).
TB: Castellanos, A 3; Federowicz 4; Barden; Herrera, E 5; Sellers 6; Gwynn 4; Ryal; Buss 4; Amezaga.
RBI: Castellanos, A (21), Buss 3 (27), Sellers 3 (8), Herrera, E (22), Amezaga (20), Castro, A (1).
2-out RBI: Herrera, E; Buss 2; Castro, A.
Runners left in scoring position, 2 out: Barden; Gwynn 6; Buss; Amezaga 2; Castellanos, A 2.
SAC: Castro, A 2.
SF: Buss.
Team RISP: 5-for-16.
Team LOB: 14.BASERUNNING
SB: Herrera, E 2 (11, 2nd base off Lowe/De La Rosa, A, 2nd base off Olmsted/De La Rosa, A).FIELDING
E: Herrera, E (4, throw), Amezaga (8, throw).
Outfield assists: Castellanos, A (Gindl at 2nd base).
DP: (Herrera, E-Barden).
a-Popped out for Dillard in the 7th. b-Struck out for Sanchez, Je in the 9th.
BATTING
2B: Davis, B (6, Castro, A), Gennett (7, De La Cruz, K).
HR: Prince (3, 7th inning off De La Cruz, K, 2 on, 0 out).
TB: Prince 4; Garner; De La Rosa, A 2; Gennett 2; Davis, B 4; Davis, K; Gindl 3; Morris, H.
RBI: Garner (13), Davis, B 2 (14), Prince 3 (14).
2-out RBI: Davis, B.
Runners left in scoring position, 2 out: Garner; Prince; Lalli 2.
SAC: Lowe.
GIDP: Gindl.
Team RISP: 5-for-13.
Team LOB: 9.BASERUNNING
SB: Prince (4, 3rd base off Castro, A/Federowicz).FIELDING
E: Garner (1, fielding).
Outfield assists: Prince (Castellanos, A at home).
WP: Castro, A, De La Cruz, K, De La Cruz, F.
HBP: Amezaga (by Webb), Sellers (by Dillard).
Pitches-strikes: Castro, A 105-65, De La Cruz, K 33-22, Moylan 25-18, De La Cruz, F 77-45, Lowe 37-22, Webb 52-26, Dillard 9-5, Olmsted 23-14, Sanchez, Je 9-6.
Groundouts-flyouts: Castro, A 11-3, De La Cruz, K 0-0, Moylan 0-2, De La Cruz, F 5-2, Lowe 3-2, Webb 0-0, Dillard 1-0, Olmsted 1-1, Sanchez, Je 1-0.
Batters faced: Castro, A 27, De La Cruz, K 9, Moylan 7, De La Cruz, F 19, Lowe 11, Webb 11, Dillard 2, Olmsted 5, Sanchez, Je 3.
Inherited runners-scored: Webb 1-1, Dillard 2-0.
Umpires: HP: Tom Woodring. 1B: D.J. Reyburn. 2B: Gerard Ascani. 3B: Joel Hospodka.
Weather: 71 degrees, clear.
Wind: 3 mph, Varies.
T: 3:53.
Att: 5,015.